Today's bridal rings aren't just about the traditions, but more about personality. Brides-to-be are inclined toward choosing rings with unique shapes and settings. The classic diamonds are of course trendy and they will remain on the market for a long time, however, nowadays even the timeless engagement rings styles are seeing a comeback. A majority of the trends being seen today are not necessarily new, but an updated version of traditional style. People are looking for customization options and uniqueness in their bridal rings. They are also seeking modernization. Shoppers are going for fancy-shaped diamonds rather than the traditional round styles. Whether you want the pear, oval, cushion, emerald, or marquise shapes, the secret in finding the right engagement diamond ring is to go with your taste and personality. These seven diamond engagement rings are a choice for every bridal taste.
1. 0.50 Carat, 14k Yellow Gold Round Cut Diamond Ring
If you're looking for a unique diamond ring that matches a wedding ring, you can choose this 14k Yellow gold round cut diamond ring. The ring brings together the shinning polished gold and the gleaming diamonds set in an unbroken circle. It comes with a shinning 0.50 carat round diamond stone at the center set within a six-prong setting. Its shank has a beautiful braided design glowing with glossy accent diamonds. You can complete your engagement ring style with a contoured wedding band lined with diamonds to make it a perfect match and bring out your personality.
2. 0.30 Carat, 14K White Gold Round Diamond Split Shank Ring
A suitable choice for the feminine style, the White Gold Round Diamond Split Shank Ring is a unique piece built with 14k white gold with the eyes perched on the shimmering diamond at its center. The ring features accent diamonds flanking each side of the central infusion. Ladies will love this piece with its 0.30-carat diamonds and the brilliantly polished shine.
3. 0.45 Carat, Sterling Silver Round White Diamond Ring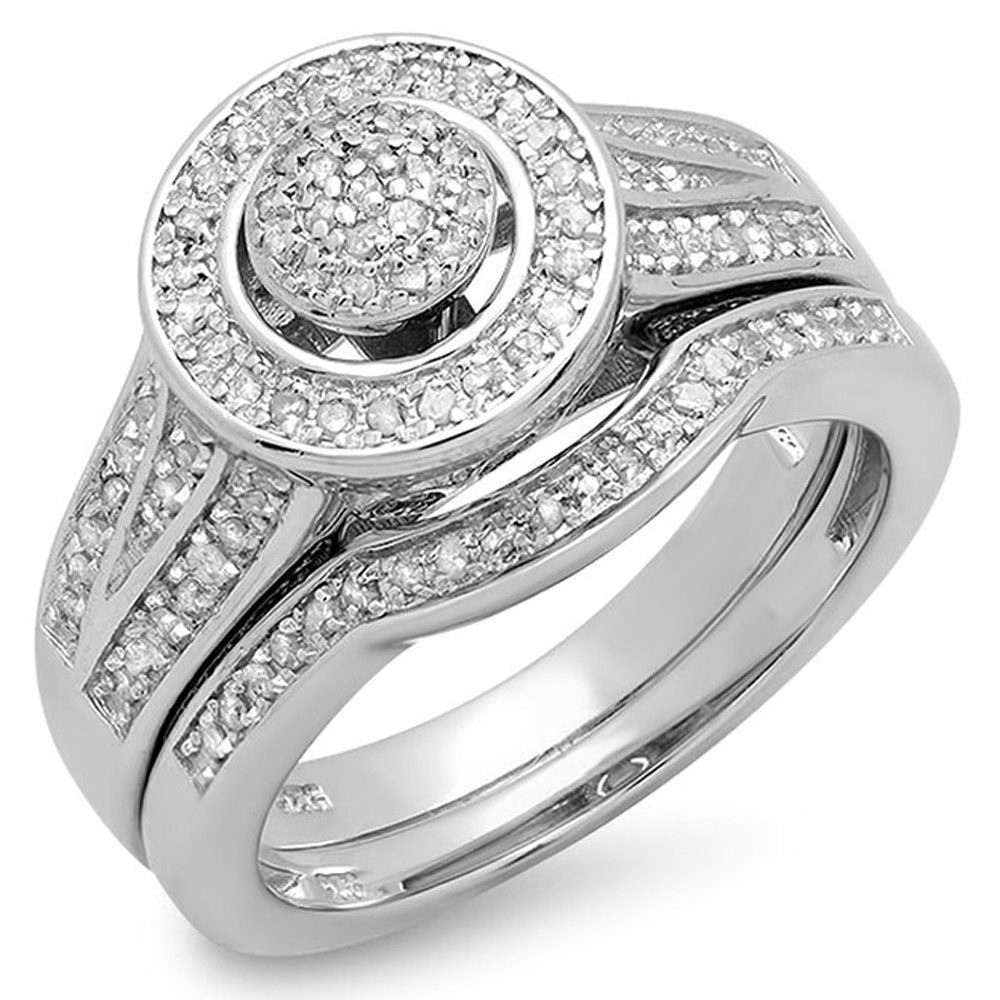 Looking forward to drawing the attention of the crowd towards her unique and sophisticated style? This beautiful white diamond bridal ring is an ideal choice. It's made of sleek sterling silver featuring round-shaped white diamonds perched at the center where they border a frame with more accent diamonds.  The right comes with a braided shank shinning with additional white diamonds. You can complement the style of the right with a contoured diamond-lined wedding band to make a unique, perfect ensemble for your wedding event. This ring set is designed to flicker for a lifetime with its 0.45 carat of diamond a polished, glossy finish.
4. 0.25 Carat, Round White Diamond Sterling Silver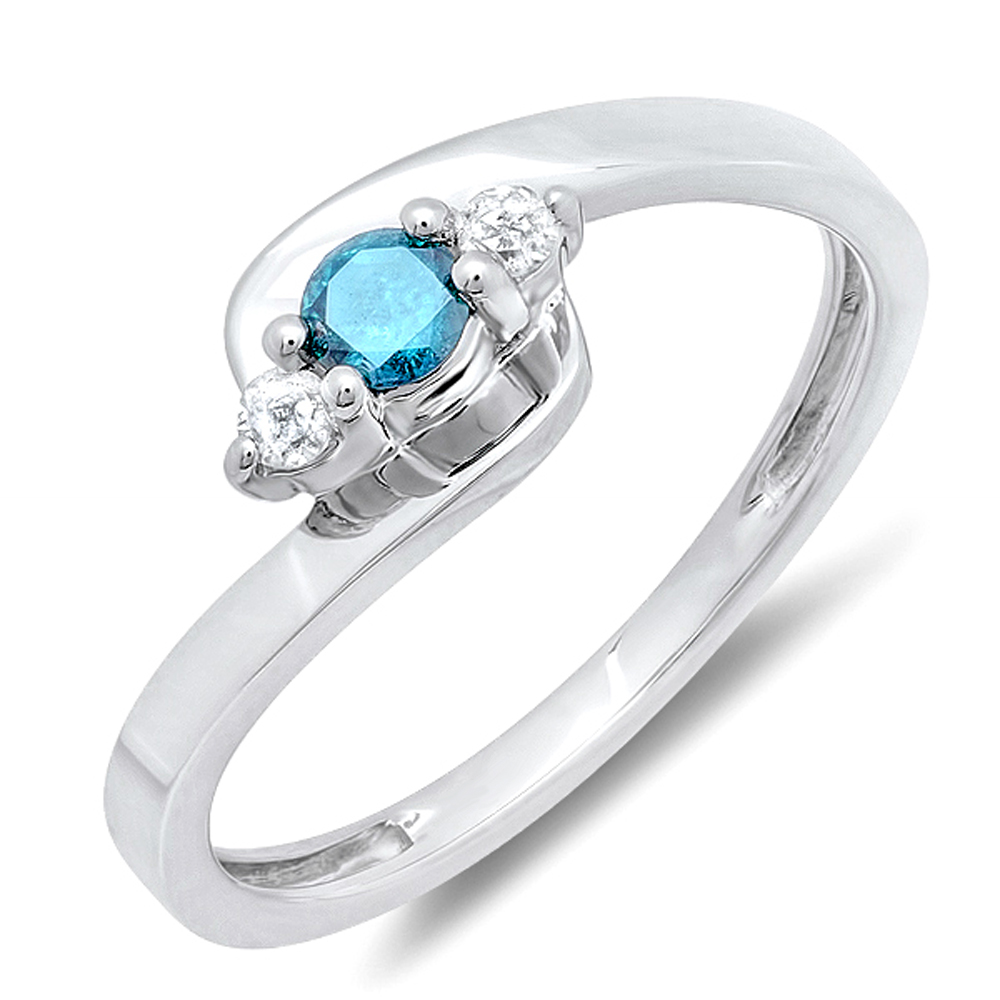 Get the opportunity to express all the love you've stored in your heart for her with a charming Round White Diamond Sterling Silver Ring.  Built-in sterling silver this piece displays round accent diamonds perched in a square frame.  It also features additional accent diamonds. You will find this right lovely when you wear it alone, but you can also pair it with an appropriate wedding band to accentuate your style and accessorize your wedding attire. The right comes with a 0.25 carat diamonds and a polished shiny finish.
5. 0.30 Carat, 10K White Gold Princess And Round Diamond Ring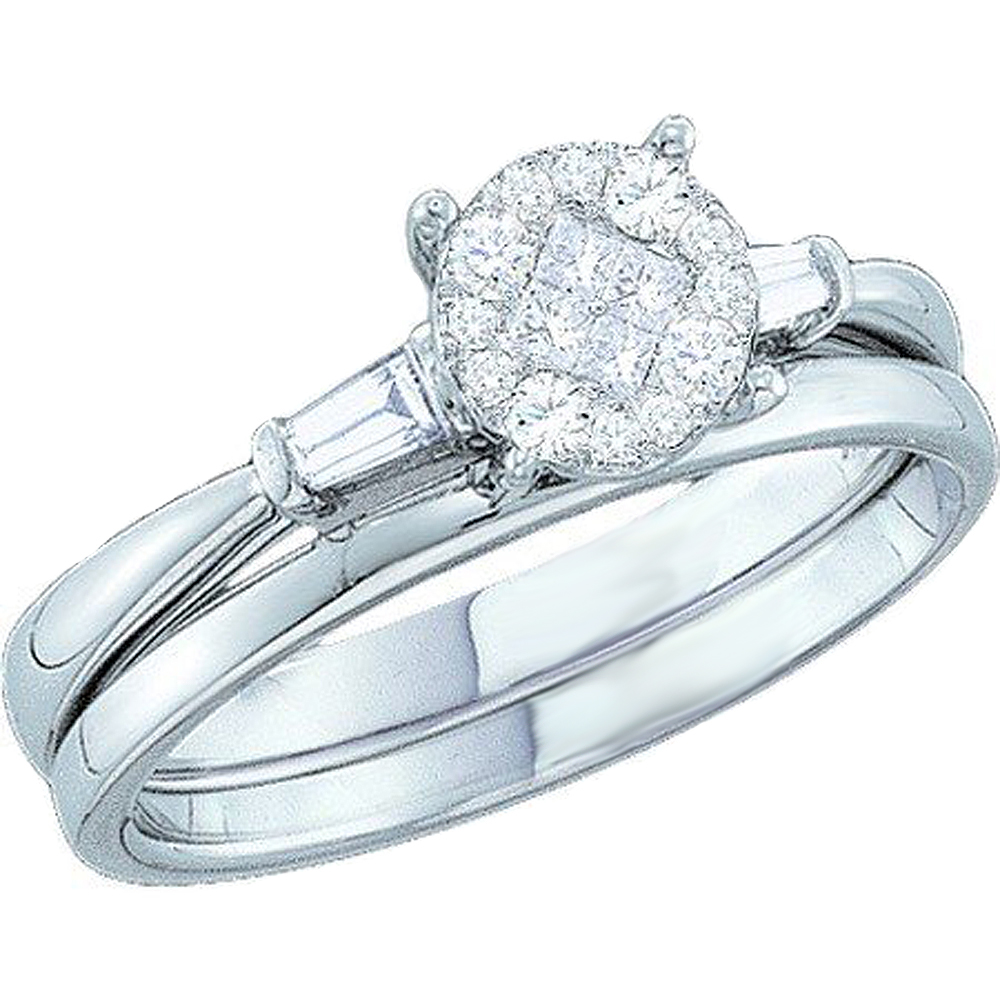 Do you want an extraordinary engagement ring to draw her attention to you and other people? The White Gold Princess Round Diamond Right is a sure way to ask for her hand. It's built-in white gold that harmonizes with beautiful diamonds of 0.30 carat. The ring has a raised quartet princess cut diamonds lined in a polished frame. It also features a collar set with extra round diamonds perched on the side. This is your ideal piece if you are looking for something unique that stands the test of time.
6. 0.60 Carat, 18K White Gold Real Round Red Ruby & White Diamond Ring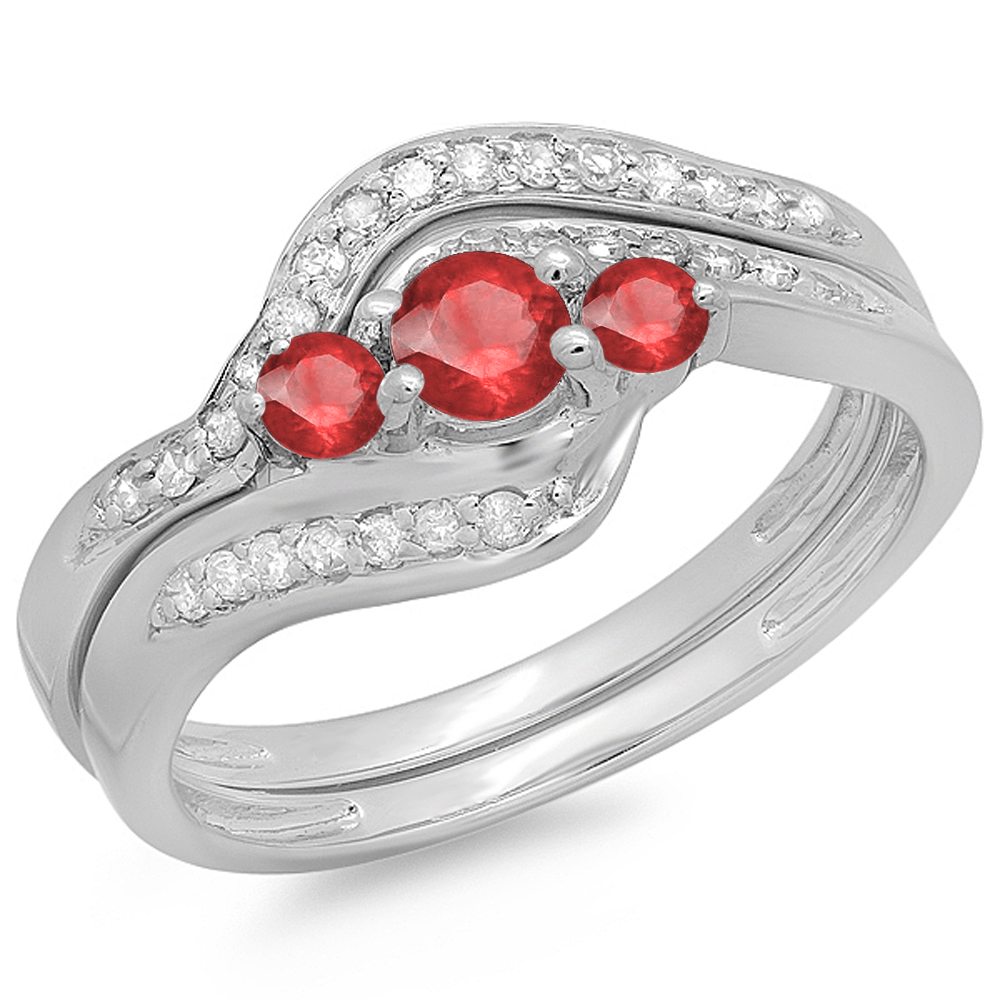 Your woman is just the lady you will forever and there is no special way you can express your love to her than offering her the White Gold Round Red Ruby and White Diamond Ring. Built-in an 18k white gold, the right features swirling diamond ribbons embracing a trio of diamonds to symbolize your past, present, as well as future. It features a center stone with 0.60 carat round diamond solitaire alongside two red rubies perched on the side shining above the rest. The shank features more additional diamonds to complement the diamond accent. Featuring a combo of stones and metal, this ring is a perfect choice and will shine wherever you are and whoever you are with.
7. 1.50 Carat, Sterling Silver Round Cut Black & White Diamond Ring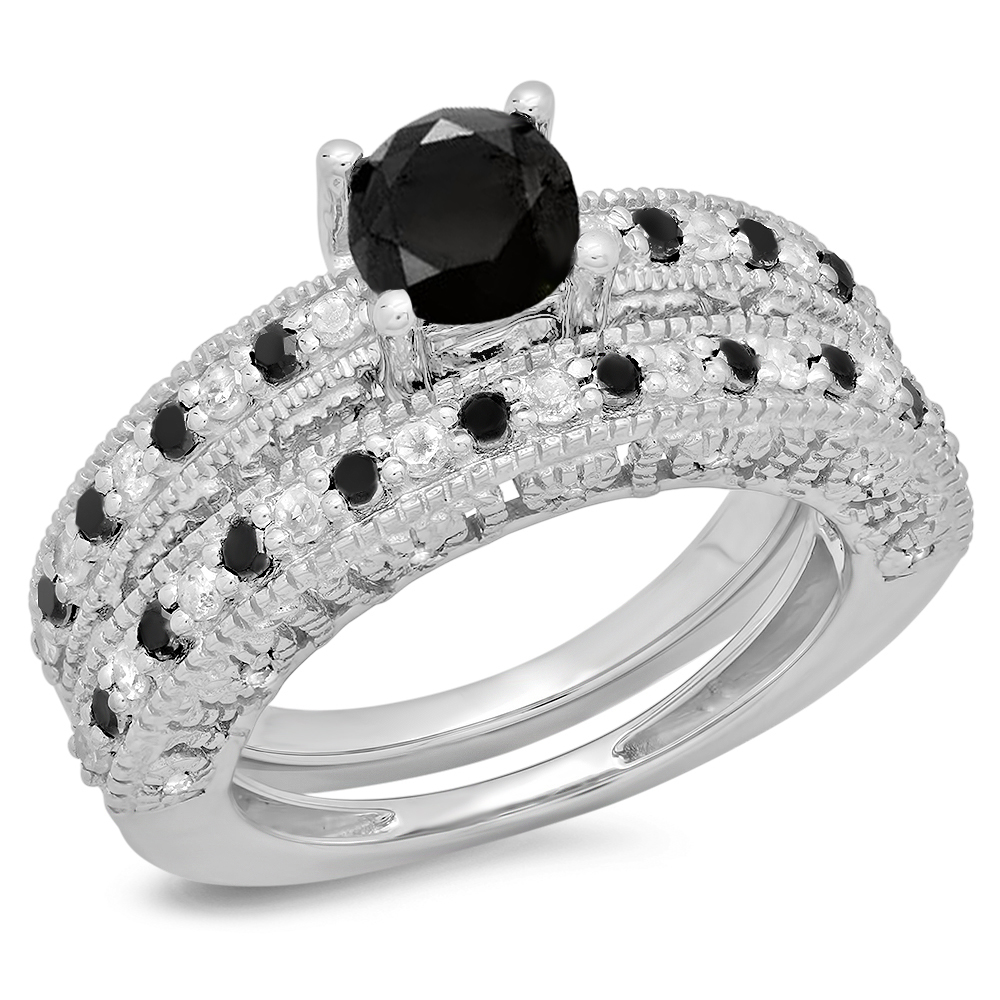 If you are looking for something that features a vintage inspiration in design, you can opt for the Sterling Silver Round Cut Black White Diamond Ring. It brings you the epoch ring styles with a modern twist. It's built-in sterling silver with the eye drawn to the 1.50 carats round-cut black diamond center stone. It features a shank glittering with additional white and enhanced black diamond accent. Its mill grain detailing brings more heirloom appeal. You can pair this ring with a coordinating white and enhanced black wedding band to complete the ensemble.
These diamond ring sets are a great choice for your wedding day. Whether you're looking for diamond promise rings or bridal rings for your occasion, you can find your unique styles and sets from a trusted online engagement ring store. The diamond engagement rings come in different styles and feature different accents to bring out a unique look and feel. Get a 4cs of diamond or a 0.3 carat of diamond ring for your wedding to express your personality, feeling, style, and taste.  Whether you want the flashiest ring possible or you are looking for something big and shiny for that special day, you can get a right that your lady adores. Keep with your budget when choosing your wedding ring bearing in mind that it's not the only item you will need for your wedding.