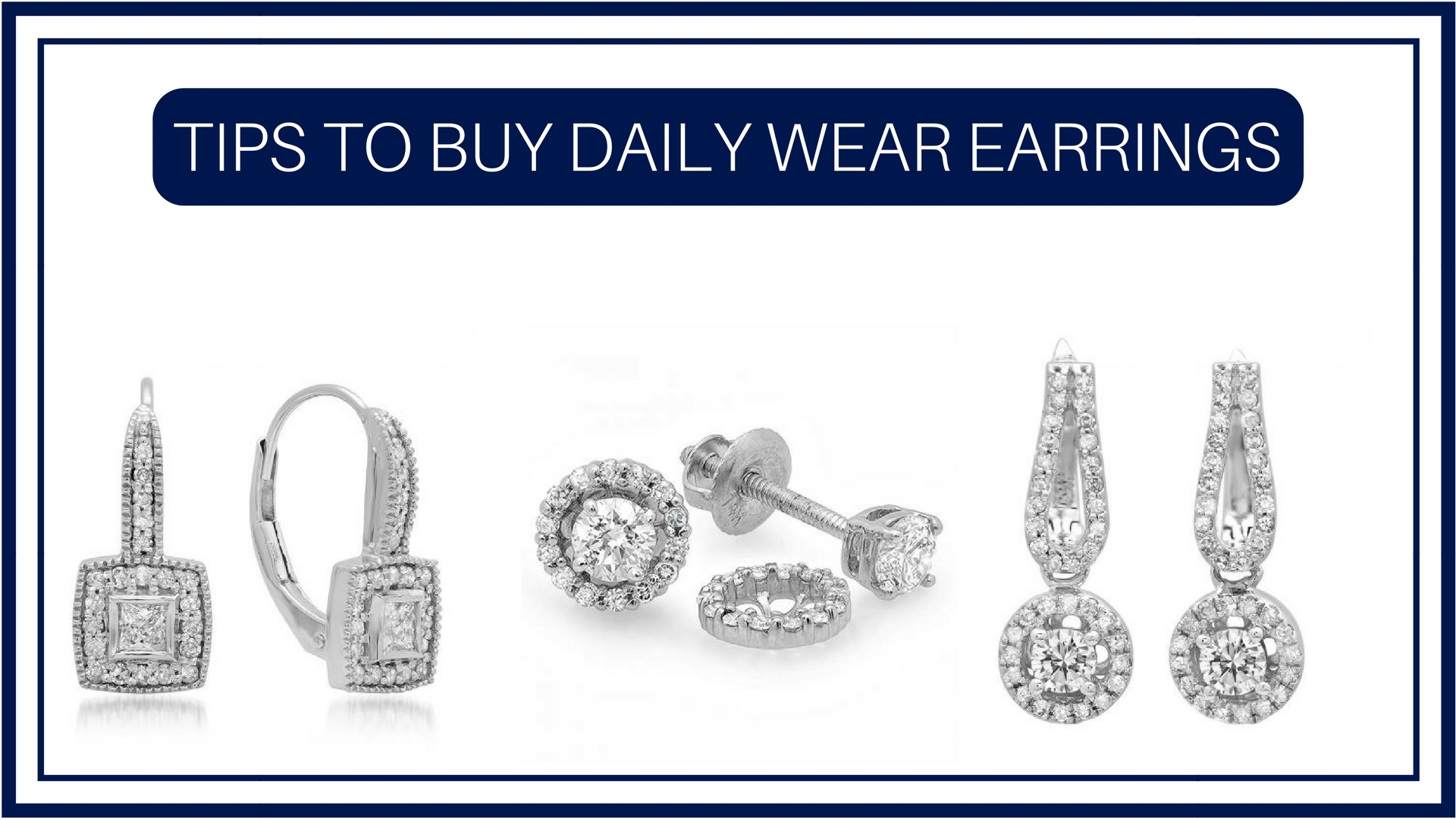 Earrings are a part of the everyday look for any woman. It completes the overall look. The right pair of earrings can perfectly complement your everyday attire. For those women who love earrings, getting the right pair of daily wear earrings is a little challenging. The earrings should be comfortable yet stylish at the same time.There are several points that you need to consider before you actually look for the right pair of daily wear earrings.Check out some of the most important points which you should consider.
Decide your budget
The budget should also be your concern if you are looking for daily wear diamond earrings of gold earrings. Research a lot and be sure of your preferences before you go for the right earring. Go for authentic and renowned names in this domain so that you do not get overpriced items. Fixing a budget before will help you to understand your needs and get the right pair of earring for everyday wear.
Choosing the perfect style
The very first thing that you need to check is your wardrobe. Check the kind of clothes you have and the type of earrings you would love to wear. Style personality is an important point to consider before you pick the right pair of earrings.
While some women are in love with an elegant pair of earrings others want to set a dramatic look with an exquisite pair of earrings.
For others, statement jewelry is something they prefer. The simple plain design of the earrings gives a wow factor to your overall outfit. Often women love to go with the same pair of earrings every day while there are some girls who love to go for geeky school girl style. You have to ensure your preferences before you choose the right pair.
Consider your face shape and choose the best match
Choose your earrings as per your face shape which can make your face look sleek, long, wide or fat. You need to go for earrings that go well with your face structure. If you have a face, you need to go for earrings that make your face look sleek and slimmer.
Long drop or dangle earrings will work wonders on round face. Do not opt for hoops, large circular earrings or button studs which can only emphasize the roundness.
Girls with faces having a square edge should go for oval-shaped, circular or hoop earrings.
Girls having a long and narrow face must opt for earrings that can make your face look wider. Studs, clustered earrings, short dangles look great on the long and narrow face.
Oval shaped dangle earrings, triangular earrings or simple studs perfectly suit anybody with an oval-shaped face.
Go for a chandelier or teardrop earrings if you have a heart-shaped face.
Choosing the right kind of earrings according to your face can perfectly complement your overall personality. If you are not sure of the kind of face you have, diamond studs are the ideal option for you.
Go for the best combination of metal and stone
While some love gold earrings others love to go for diamond stud earrings. A lovely pair of gold-plated ruby earrings or emerald teardrop earrings always looks great on any individual. Be sure of the metal and the stone that you want when choosing for everyday wear earrings.
The right combination of metal and stone can add beauty to the overall beauty of your everyday look. Gemstone earrings are something that women love a lot. A simple ruby or emerald stud can create a statement look to your normal day attire. Diamond earrings, especially studs look great on any individual. It can accentuate the overall look and the sparkle of diamonds adds beauty to your overall look.
Be it gold, silver, gemstone earrings or diamond earrings, you need to pick up the right combination for your everyday use.
It should be comfortable for daily wear
Comfort is a very important factor for people who are looking for daily wear earrings. Earrings should be easy to carry and also lightweight at the same time.
One must be comfortable with the earrings as it will stay on ears for major part of the day. No matter whichever style you choose, comfort should be your first priority. It should not entangle with things and hurt you when you are working out, jogging, reading a book or even at your workplace.
These are some of the consideration that you need to take before you actually pick up the right pair of daily wear earrings. The right pair of earrings completes your look and adds flair to it. So grab the pair that suits your face and goes well with your personality.