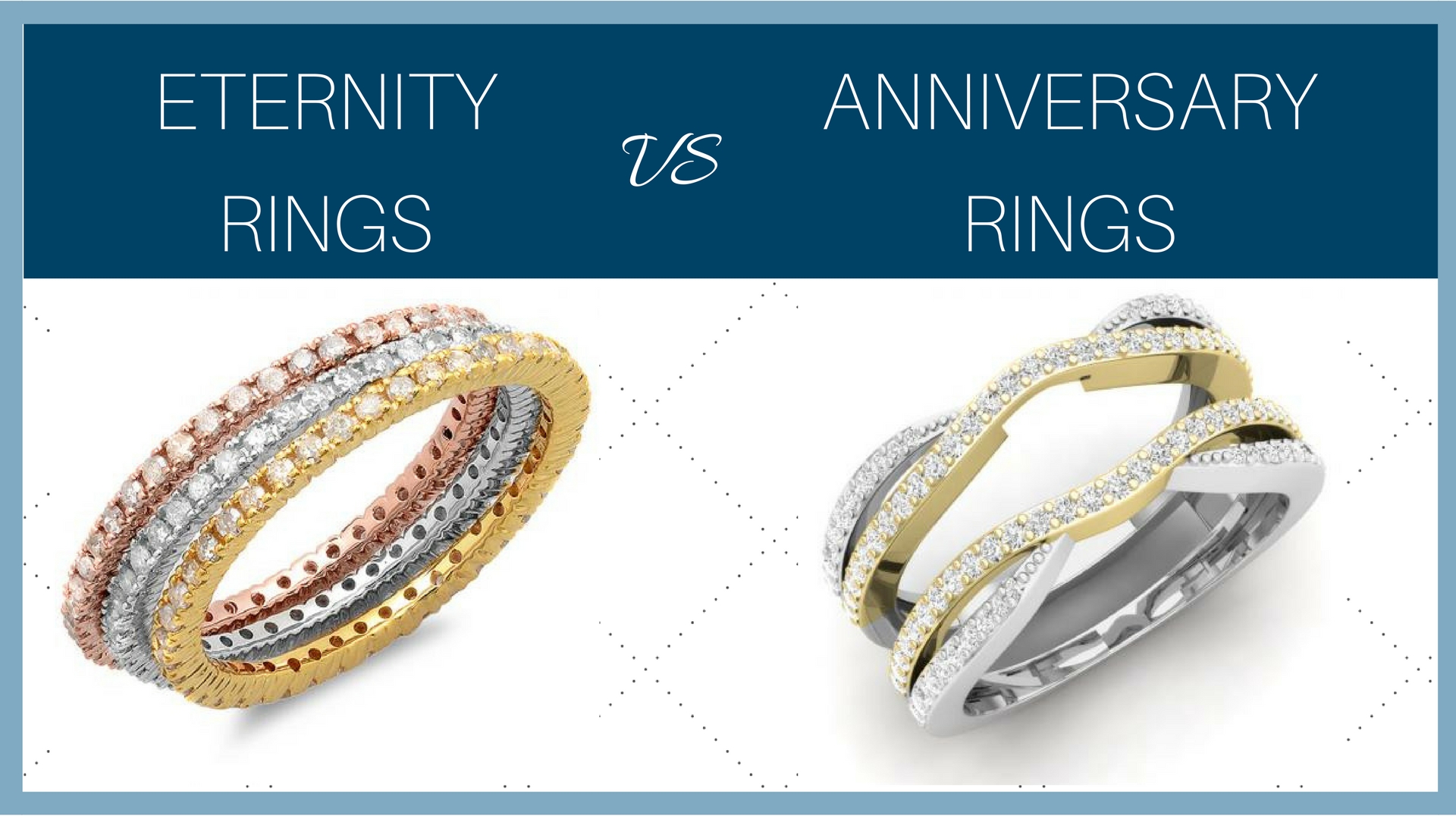 Jewelry is typically given as a gift to your loved ones on special days to make the day even more special. Such special occasions include engagement, wedding or anniversaries.The jewelry items like necklace,
diamond rings
or bracelets are not just a token of love, it reminds one of the special days even years later. You can also gift the jewelry to express your love for your partner. It does not require a special day to gift a ring to your loved ones.
Diamond eternity rings are in vogue these days. It is something loved by every individual and considered as a heartfelt prized possession.
Eternity rings and anniversary rings are some of the major styles that tend to overlap each other. Check out below to learn the difference between eternity and anniversary rings:
WHAT IS AN ETERNITY RING
An eternity is basically a complete circle of diamonds encircling the ring. The metal of the ring is mostly platinum, palladium, white gold, yellow gold or even rose gold in some cases. The precious gemstone is usually diamonds.
However, instead of diamonds, it can be other precious stones encircling the entire metal as well. But mostly it is diamonds of round shape that encircle the entire circumference of the ring. The diamonds encircling the complete circumference of the ring signifies the never-ending love for your partner. It is considered to be the pledge of a man to a woman.
The circle of diamonds symbolizes the eternal, unending love for each other. The eternity rings can consider as an engagement ring, wedding ring or even an anniversary ring. You can also gift an eternity band to your loved ones on their birthday, Valentine's Day, a child's birth or such other important occasions. It signifies their eternal love for your loved ones.
Not always you need a day to gift eternity rings to your loved ones. You can gift it on any day to your close ones. The sparkling diamonds throughout the ring speaks volumes about the unending love towards your partner.
It is very important to know the correct size when ordering an eternity band. This is because this particular style is very difficult to size later as diamonds encircle the entire ring. If sizing has to be done later, the symmetry of the diamond stones will go off leaving an obvious spot.
WHAT IS AN ANNIVERSARY RING
Anniversary rings are a creative way to express your profound love for your partner. Many people believe the fact that rings are the best gifts for anniversaries. Whether you go for a stone studded ring or a simple platinum band, the rings are the token of love and commitment that brings back memories years later.
You can find a lot of varieties and options when it comes to anniversary rings. Anniversary rings can be either three stone rings or a single precious stone with small stones accentuating the side of the ring. Diamonds can also encircle only half of the ring while the other half remains plain for anniversary ring. Emeralds, rubies, diamonds or even a simple gold ring can be an anniversary ring.
DIFFERENCE BETWEEN ETERNITY AND ANNIVERSARY RINGS
The major difference between eternity rings and anniversary ring is that there is a strict pattern for eternity rings which is not the case with anniversary rings. The small diamonds encircle the entire ring and very less part of the metal is seen. The shape of the diamonds may vary but the pattern is the same in any case for eternity bands.
This is not the case with diamond anniversary rings where an array of options is available. You can also give an eternity ring as an anniversary ring to your loved ones. Eternity wedding bands have a fixed setting known as the channel setting. Anniversary rings can be of any other setting apart from the channel setting. Both eternity rings and anniversary rings require extra care to clean. You can clean them with warm soapy water.
Let her know how special she is with a special gift. Be it an eternity ring or any other kind of anniversary ring, the ring will speak of your journey of togetherness, love, and commitment towards each other. Go for renowned names that can help you to get an elegant eternity ring or a beautiful anniversary ring.
It is time to express your love for your close ones from a reputed jewelry store. You should fix your budget to get rid of getting expensive items.