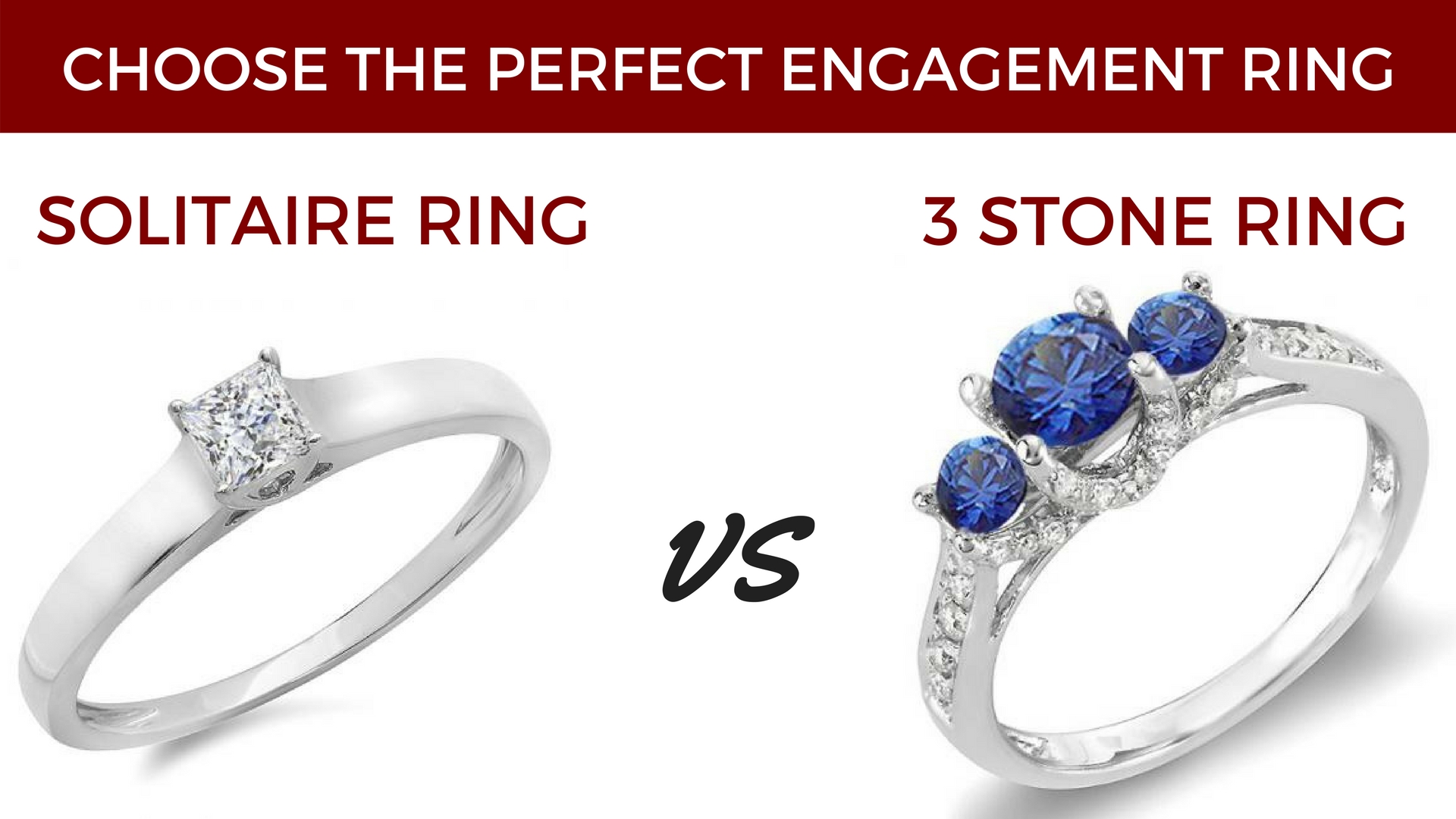 First things first, if you a looking for an engagement ring, you can never go wrong with a diamond ring. Diamonds are a girl's best friend and while this might sound cliché, it has repeatedly proven to be the hard truth. Still, if you want to melt your spouse's heart, then you have to go the extra mile beyond buying just any diamond ring. The choice of style will largely determine the reaction you get when you present the ring. As you wait expectantly for the answer to the big question, your spouse's eyes will inadvertently be drawn to the elegance of the ring you have chosen for this momentous moment. Well, you have a choice between choosing a solitaire vs three stone rings.
Both of these types of rings are classic diamond engagement rings that have always driven men to the edge when it comes to making a choice. If you are preparing to pop the question, you are most likely facing an even more terrifying situation; choosing the right ring for the occasion. You need not worry about this anymore; just keep reading to get invaluable tips to help you resolve this conundrum.
Choose The Right Engagement Ring
The choice of an engagement ring says a lot. This is why you have to use all your creativity to get it right.
Recently, Prince Harry proposed to Meghan Markel and while the lucky bride's nationality was of interest, the ring used for the occasion hogged all the headlines. It was a dazzling diamond from Botswana flanked by two equally amazing diamonds from Princess Diana's personal collection. The ring's base is yellow chosen because it is Meghan's favorite color.
A custom engagement ring of this kind not only proves the bond between the two but also speaks a lot about Prince Harry's commitment, as he was ready to use the family's jewels for it. Your engagement ring does not have to be this exquisite or expensive but you need to put a lot of thought into it. Take time to learn about your spouse's personality and character in order to get the right ring. Such a choice is appreciated even more, and will always conjure sweet memories, to keep your love growing.
Let's Discuss the solitaire vs three stone rings to decide which should you buy? With this in mind, it is important to learn more about these classic engagement rings so that you can find a piece that truly marks this milestone in your life.
Solitaire Engagement Ring
Diamond solitaire rings flaunt a single stone that stands out due to its elegance and simplicity. It might not be trendy but it has a timeless appeal and thus never goes out of style. The diamond you choose for the ring is the center of attention on the entire piece and if you make the right choice, the sparkling stone will definitely win over your spouse's heart.
Some of the reasons to go for a solitaire ring include:
1. Simplicity and practicality
The design is simple and forthright and the diamond hogs all the attention.
2. Unmistakable intention
This is the classic engagement ring. When worn, it simply indicates there is a wedding on the horizon. There is no mistaking what a solitaire ring stands for. That is exactly what you want to convey when you propose your love to your spouse.
3. Classic appeal
The appeal of the design of this type of ring never gets old, and embodies grace and sophistication at all times. It is easy for this ring to match any type of personality, making it an easy choice.
4. Versatility
Finding matching or coordinating wedding bands that go with this ring is easy.
5. Ability to dress up
The options available for dressing up wedding bands with this ring is simply limitless. For more sparkle, you can go with a curved or straight wedding band while extra gems on the wedding band that add some personality and color to the set of rings.
Check our article: Should you buy Solitaire Rings For Engagement?
Three Stone Engagement Ring
As the name implies, these rings have three stones instead of one, with a larger diamond in the center, flanked by smaller but still sparkling gemstones. There are many variations of these three stone diamond rings of course, with some even featuring equal-sized stones. The reason these rings remain popular is their easy symbolism. Each stone, for instance, can represent a phase in a couple's lives – the past, present, and future.
This ability to represent some meaning makes these rings highly sentimental and romantic. It is no wonder then that they have become so popular.
Other benefits of three stone rings include:
1. More opportunities for customization
You can customize each of the stones in terms of size, shape, color, and type to suit your requirements. You could also customize the setting of the ring to reflect your spouse's personality or achieve any other purpose.
2. An ability to tell a story
Three stone rings, trinity rings, or trilogy rings, as are also called, tell a story and can represent friendship, love, and fidelity or the past, the present and the future of the relationship.
3. Affordability
Three stone rings are cheaper as you can vary the stones to suit your budget without compromising on the beauty of the entire ring.
4. Uniqueness
Your bride will have a unique ring and would stand out because of the choice of beautiful stones on the ring.
Which Ring Should You Buy: Solitaire vs Three Stone Rings?
When comparing solitaire rings and three stone rings, it is obvious that each has its own advantages.
The solitaire is a bit pricey but also more elegant. Three stone diamond rings, on the other hand, are affordable, symbolic, unique and easier to customize.
If you are getting ready to pop the question, it is advisable to borrow from Price Harry's proposal to Meghan Markle and use a three stone ring. The ultimate decision is yours to make.
However, remember the engagement ring you choose should not only be magnificent but must also have some deeper meaning.