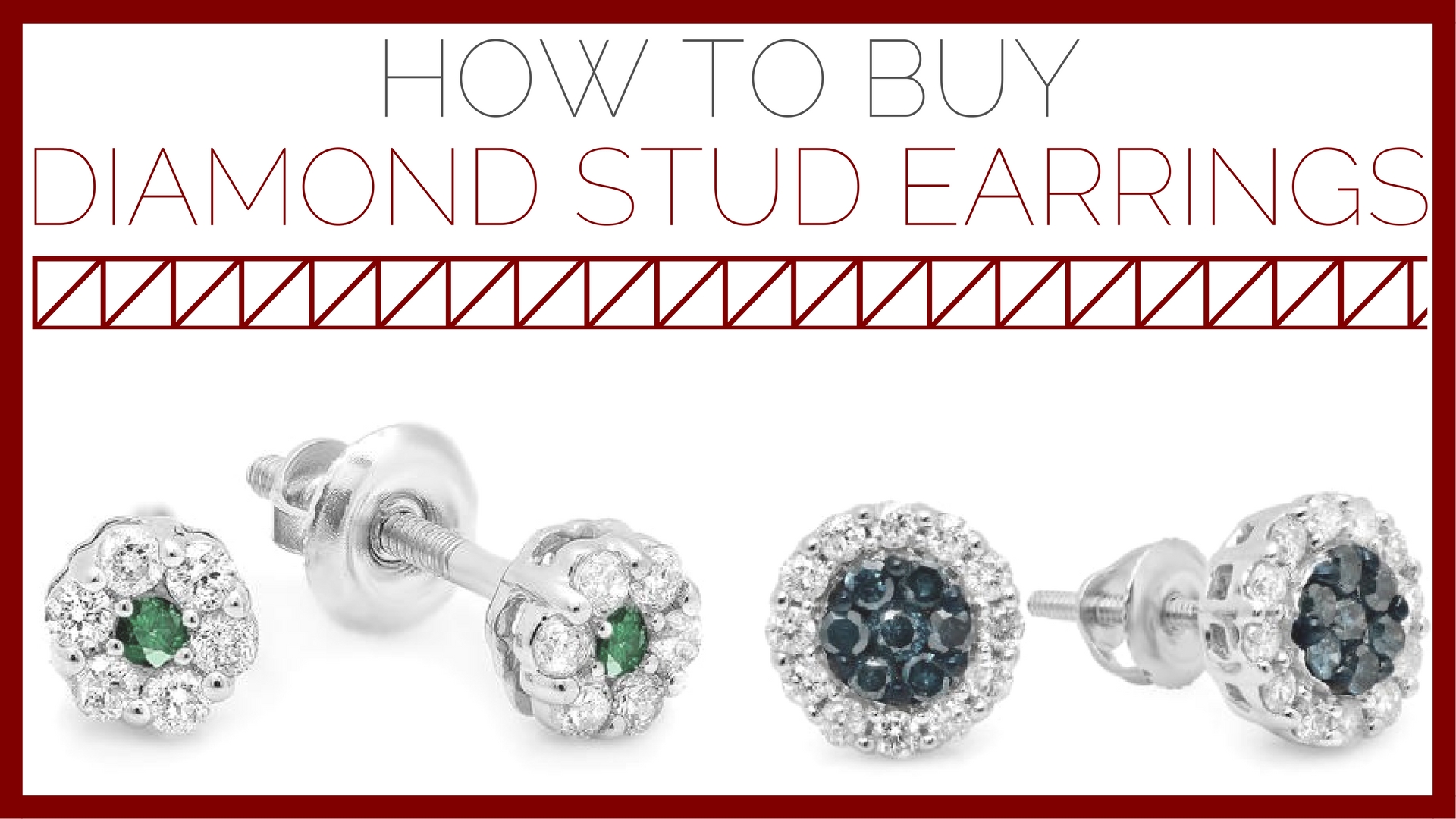 Whoever said 'diamonds are forever…' was right on point. A diamond is, without doubt, a quintessential gemstone that is not only dazzling but also timeless. To appreciate how much the world loves this gemstone, consider this; consumers in 2015 paid more than $56 million for diamonds.
According to Statistica, the production of 128 million carats of diamonds took place across the world in 2016. This highlights the high demand for this precious gemstone. Despite the high cost of this precious gemstone, its dashing beauty is just too much to resist. This makes jewelry items like diamond Stud earrings a must-have for the stylish modern woman. Diamonds are a girl's best friend and you can leverage the timeless beauty of diamond studs to redefine your style so that you stand out from the crowd.
However, there is a problem; buying the best diamond jewelry is tough and if you are not careful, you may lose money in the process. This guide will help you purchase the right diamond studs for you while guaranteeing the best value for money.
Why Should You Buy Diamond Studs?
Well, diamond studs are not just any form of jewelry. The trouble you take to make the right purchase is worth it.
Here are some reasons why:
1. All-time jewelry
You can wear the beautiful diamonds earrings you buy for any occasion. Whether you want to look stunning at work or to stand out at the evening soirée, these simple yet dazzling earrings will serve the purpose.
2. Durability
You do not have to worry about your stud earrings losing their luster or being damaged. They may look petite, elegant and dashing but this belies the toughness beneath the surface.
3. Designs galore
You can opt for different settings and backs to get a unique custom style for your earrings.
4. Easy accessorizing
Whether you want to wear a wedding gown, work suit, evening dress or any other type of attire, your diamond studs will easily blend in to complete the look.
5. Jewelry for all ages
Diamond studs are perfect for all ages. Teens will rock them elegantly, as will brides and even older women. Their style straddles all generations.
Tips To Buy Right Diamond Studs
The classic allure of diamond jewelry has seen the emergence of many unscrupulous jewelers who are out to swindle unsuspecting buyers. Exercise a bit of caution while making a purchase, because this type of jewelry is expensive. To make the right purchase, consider the following:
1. Set a Budget
One of the main reasons consumers fall for a scam is because they search blindly for price bargains. Before hitting the jewelry stores, you have to decide on a maximum price that you are willing to pay for your diamond earrings. Make sure you have a budget and stick to it when you hit the shops. Make sure you research price ranges and set a realistic figure. This will help you avoid most bargain scams in the industry. It is advisable to talk to friends who have experience buying diamond jewelry as they can help you work out an approximate of the cost of diamond studs.
2. Diamond Certification
If you want to buy quality diamond earrings, your first step should be to check the certification of the gemstones used. Make sure you check for certification from the Gemological Institute of America (GIA) or American Gem Society (AGS) whenever you are shopping for diamond jewelry. This reduces the chances of being ripped off.
3. Choose your Diamond Earring Cut
The best thing about diamond jewelry is that it is highly customizable. The most common diamond shapes include princess cut, round and Asscher diamonds. Marquise and pear-shaped diamonds are not very common because it is difficult to find a matching pair of stones to make a pair of stud earrings.
A diamond cut that gives two equal portions is best for a stud earring.
When choosing a diamond cut, it is advisable to get a cut that closely resembles your facial structure.
For instance, wider faces work best with rectangular diamonds while shorter faces are perfect with rounded diamond studs.
4. Go For Larger Carat Weight
When it comes to the best carat weight, there is a significant difference between the ideal carat weight of diamonds in rings and those in stud earrings. For engagement rings, a stone of a smaller carat weight can be hidden well in the setting. For diamond earrings, however, the design is minimalist and you need a stone with a larger carat weight to ensure optimum visibility. Fortunately, you can save money on the clarity and color of the stone to ensure you get stunning larger carat diamonds.
5. Choose the Right Diamond Color
The best diamond color for stud earrings is white.
Such earrings are clear and visible. You can still go for bolder colors such as black, yellow, pink, or blue but these are high-value diamonds and they can be pricey.
6. Choose the Best Settings and Back
The settings and back you choose for a diamond stud earring will determine the beauty of the entire piece. If it is a gift, make sure you know what type of setting your lady loves. Take a look:
a. Pushbacks setting: This is popular for its ease of use
b. Clip and lever back: For more comfort and security
c. Screw backs: For the best security but requires effort to get into place
The metal choice is also crucial with beautiful white/yellow gold (with low nickel content to avoid allergic reactions) and durable platinum being the most popular. The size of the setting also matters with the smaller setting being ideal to give the diamonds more prominence and visibility while larger metal settings providing more security.
Final Thoughts
Shopping for diamond stud earrings do not have to be so hard after all. You just need to carry out some research first, identify the type earrings you need, set a budget, choose the quality, stone color, setting, and back, and finally identify a reputable jeweler like Dazzling Rock to work with. When well chosen, diamond studs sparkle and instantly become the center of attention on the wearer's body.