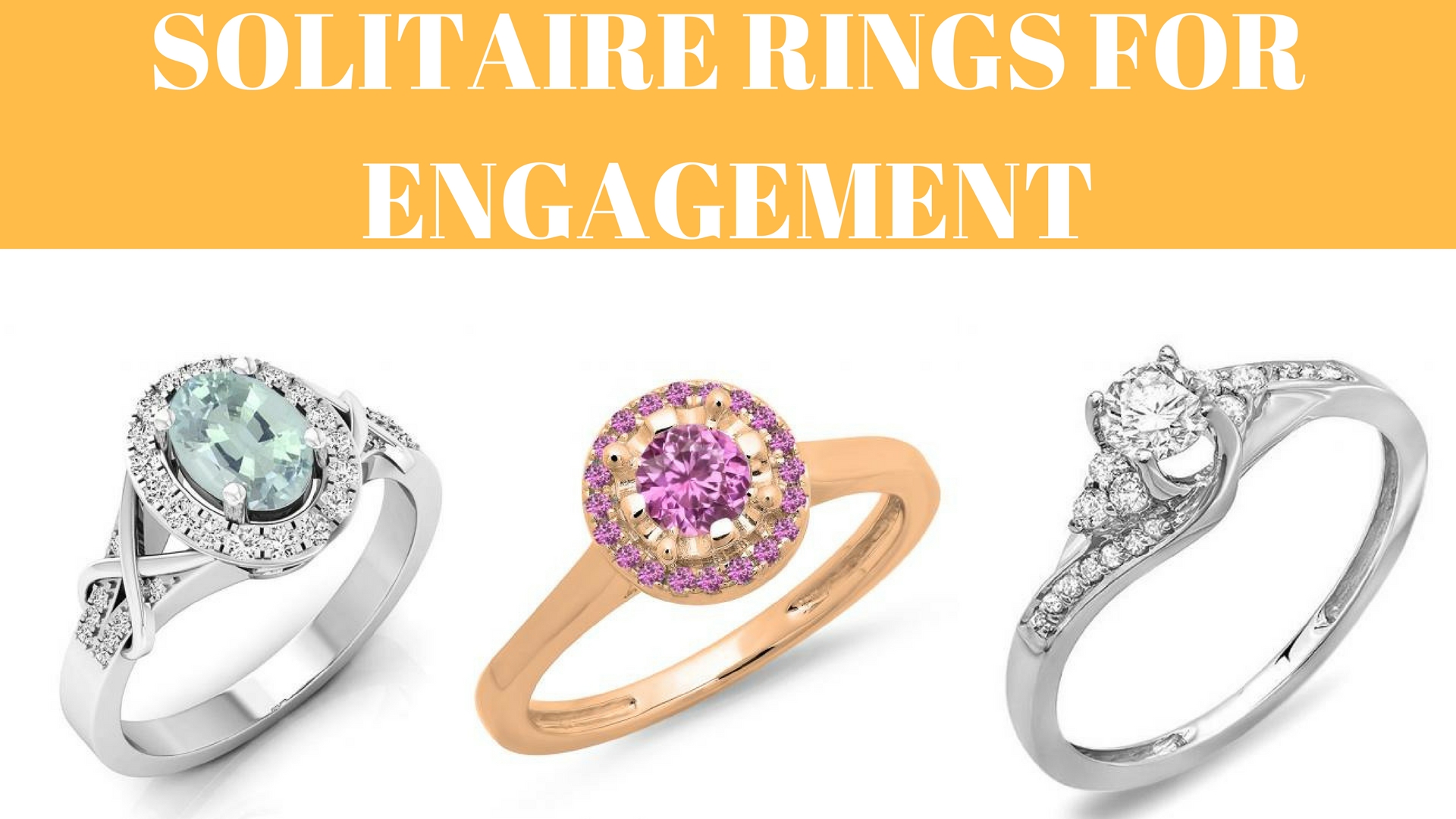 You definitely wish to sweep your special someone off her feet when you spring the proposal, right?
So how would you like to go about the act?
Would you rather go with the eternal solitaire engagement ring or delight her with a full circled engagement ring?
This blog will help you choose the right option from the array of diamond engagement rings available for you.
Would you rather go full circle or take the solo route?
As you plan your engagement day celebrations, the first question that would probably pop into your head would relate to the choice of diamond ring that you would like to invest in. All that you need to do is browse through the bridal section of an online jewelry store of repute or visit a preferred local store to get your hands on a huge selection of engagement and wedding collections. Here, we will help you consider the right approach for making the impact that you wish to make on your sweetheart.
As you filter your search, you will find two distinct categories of rings that would be fit for the occasion – diamond solitaire and other types of diamond rings.
What will you choose?
In most cases, it is the solitaire, stand-alone diamond ring that most couples in love would have their minds set on when they plan to buy a diamond ring.
The most preferred design with the solitaire setting is the classic one which has a beautiful diamond set in a plain or lightly adorned manner. This coveted design has been the cynosure of all eyes and has fascinated betrothal for many decades. Budget and imagination serve to be the only limits; yes, if you manage to put in the right efforts and research, you will be able to get a fine engagement ring to suit your lifestyle, personality, taste, and pocket!
The good thing about the purchase of engagement rings is that there are plenty of other options to choose from if you looking for sound alternatives to solitaire diamond rings. You may want to take a look at rings with colored gemstones or multiple diamonds set within, eternity diamond rings, three-stone diamond rings, or the ones that have colored gemstones crafted all around the circumference. Another good alternative lies in choosing an anniversary band that can easily pass off as a stylish ring. With so many and more options on the racks, you would surely be confused as to which way to go. Here are some helpful tips to guide your purchase.
Solitaire Rings For Engagement
Arguably, you will never go wrong if you decide upon a nice-looking engagement ring with a handsome rock set as its crown. The diamond surely steals the show in case of solitaire engagement rings and is considered as the traditional and more happening way to go. This kind of ring gives off a striking and pure look. It is an unmistakable symbol of love that cannot be replaced by any other. You may buy a ring wherein the gem sits in style on a plain or ornately crafted band; however, there should be a singular diamond on top. The only catch is that when you choose to buy a solitaire, you may end up spending more money on the diamond than on the engagement ring itself. But then, isn't it worth the cause?
Why Should Consider Solitaire Ring?
It is a good idea to buy a solitaire ring because of the following reasons:
1. Allowing women to flaunt their ring finger to the fullest and feel dressed up immaculately, such rings ably complement the wedding band and other enhancer rings and are considered to be coveted head-turners. In case you are uncertain of the style and preferences of your soulmate or future bride-to-be, you can find yourself on firmer grounds by choosing a timeless solitaire ring to befit the occasion.
2. If you wish to emphasize the gemstone that's added to the design of the engagement ring chosen by you, you would not mind investing in an exquisite diamond with a view of showing it off.
3. You would love to invest in a solitaire if you are aware of the personality and style of your special someone and know that the elegance and classic simplicity of such rings will be appreciated to the hilt.
4. Go ahead and buy one such ring if she has already set her eyes on a diamond-studded wedding band and you would like to gift her with an engagement ring that would complement its flashy appeal appropriately.
Add Extra Bling
If a solitaire ring is not what you seek, you may want to check out the glitter and dazzle of different kinds of engagement rings studded with smaller diamonds or other gemstones. The collective brilliance of precious and semi-precious stones can be customized to create unique and personalized designs to perfection. In other words, by choosing to keep solitaires at bay (or go the classic and simple route) you are opting for rings that have more design to their credit.
The exclusive style of such rings goes a long way in helping women express themselves in the most extraordinary of ways. In case you fail to find the best engagement ring studded with diamonds or other stones in stores, you may want to order a customized one to sync with your budget and imagination.
Why Should Consider Non-Solitaire Ring
You are probably desirous of getting a bigger and more flashy diamond look on the ring finger of your sweetheart. If this is the case, then you may want to check out different types of three stone diamond rings or those that have beautiful central diamonds flanked by micro-pavé halo designs.

You are keen to get the maximum bling for your investment in an exclusive and exquisite-looking engagement ring. To aid this cause, it is a good idea to attain the larger diamond look by using different shaped stones of varying sizes.

You are imaginative and creative and want to gift your fiancée-to-be with a ring studded with her birthstone or favorite color gemstones.

You want nothing less than a smart, definitive, designer look for the engagement ring in the reckoning, say something luxurious or romantic, or having an enviable vintage appeal.
Simple Gemstone Band
It's not uncommon for diamond-studded engagement rings to look similar to anniversary bands or the wedding band. With this in view, it may be wise to explore the designs that have uniformly sized diamonds or other gemstones running set around the ring. Oft referred to as eternity rings, they usually have a much lower profile than their more expensive counterpart – solitaire diamond rings. Nevertheless, these adorable rings cast their everlasting appeal and end up providing a lot of dazzle and shine depending on their design. Quite different from solitaire engagement rings that traditionally highlight and uplift a big-sized stone as their centerpiece, eternity rings flaunt a class of their own.
As eternity rings have more gemstones and diamonds set on their face, they fall into a category of engagement rings that are less expensive than the ones with a singular diamond. More so, as the diamonds are plentiful and smaller in size, it is possible to make small compromises in terms of the 4 Cs – cut, clarity, carat and color. Such rings make for an excellent choice in case:
1. You desire to invest in a unique and good-looking engagement ring for your beloved who would not like to wear anything that's less traditional or appealing than a sparkling diamond solitaire.
2. You are planning to get engaged to a lady who would rather wear an understated diamond band on a daily basis because of her lifestyle reasons.
Whichever way you choose to go with the category of "other types of diamond rings," you will always find enough space to create your own style. For instance, you may like to add some extra stones, be it diamonds or gemstones, to customize and create a special looking engagement ring. Your future anniversaries would whip up several opportunities for accessorizing such a ring with other gemstone or diamond bands. Also, as your fiancée may want to stack up different types of anniversary bands in future, such bands would be the right choice for you; well, they are surely capable of spicing things up as and when required!
Ready To Shop?
Now that you are all set to buy the ring of your dreams, you will find it helpful to consider the points mentioned above before taking the plunge. Consider all relevant factors along with your fiance if possible before taking the decision to buy a solitaire or different kind of diamond-studded ring. After all, she is the one who will be wearing it along with the wedding diamond band and anniversary band.
All the best!