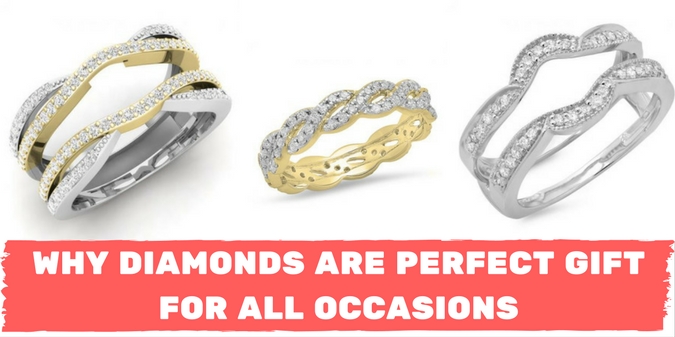 Diamonds –oft branded as a girls' best friend, are downright charming and irresistible. Arguably the most alluring of all known gems, they serve to the best stones for anniversary, wedding and engagement rings. Apt for women and men alike, diamond anniversary rings are becoming more popular by the day, and how.
As a relationship grows and matures from engagement to marriage, there is a lot more responsibility attached to it. The foremost responsibility is to keep the relationship as loving and caring as before. This is where anniversary celebrations come into play and help you revive the romance in your wedding. Is there any better way of going about the act than gifting your spouse an attractive and elegant diamond ring?
Be it for any gender, diamonds have been ever victorious in creating the right mood for romance in couples. Symbolizing internal love and marital bliss in no uncertain terms, diamond rings presented on an anniversary, either by the wife or hubby rejuvenates love—all over again.
Why Diamonds for your Anniversary Ring?
Diamonds are precious. They boast of high intrinsic worth that makes them a coveted possession for all generations. These days, diamonds are equally loved by the darker sex and occupy a pride of position in their rings, bracelets, and cufflinks. So, in case your anniversary is just around the corner, you can consider gifting a diamond ring to your spouse too. Yes, diamond rings will surely be accepted well and will leave a long lasting impact on his / her mind and heart alike. The following parts explain why diamonds prove to be the ultimate gift for all occasions.
Reputation
Diamonds are symbols of absolute purity, beauty, and rarity, just like the way you want your relationship to be. Reputed for their eternal charm, brilliance, and worth, diamonds have the ability of alluring just about everyone. They serve as the ultimate romantic gift when you wish to celebrate your relationship via your wedding anniversary. Also, as the hardest substance available on earth, diamonds symbolize things that are unconquerable and indestructible. They are known for their highly tensile and comprehensive strength too. Overall, diamonds, lasting for more than millions years in a row, are the true ideograms of a perfect relationship. All this makes them a perfect choice for your anniversary!
Authenticity
Contemporary buyers, like you, are aware of the need for collecting the quality certificate that comes along with their purchase of diamonds. They check the seal of the diamond ring package to justify its genuineness and get the certificate verified from a gem detector. If purchased from authenticated online stores, or from the racks of reputed jewelry stores in your city, diamond rings provide a lot of value for your money. To ensure that you reap the best benefits, you should also focus on buying a jewel that has a high resale value. In a nutshell, authentic diamond rings are what you should be looking for if you desire to give your spouse a beautiful and valuable gift!
Considering the 4 C's
Cut, color, carat, and clarity are the four prime considerations that help you choose the perfect diamond ring for your spouse. It is well advised to go through the different measures of brilliance and light refraction index too. A high-quality diamond ring, purchased after careful consideration of the 4 Cs (and which is well within your budget) imparts optimum value. There are plenty of online jewelry stores that can put you across to some of the best designs of diamond rings. Browse through the official websites of reputed diamond brands, review their catalogues for the latest designs, and choose the one that catches your fancy!
Get going
Buying the perfect unique diamond rings to gift to your spouse on your anniversary is no longer a daunting task. Spend time in homework and self-research. Be cautious and prudent as you invest money into buying something that's so expensive. With the right considerations in place, you may look forward to getting home an excellent gift that both of you will cherish forever.
What's more? Well, during your anniversary celebrations, you can expect many heads to turn your way as for taking out a glittering ring to gift to your spouse. Yes, diamonds prevail—always!
Be wise and shop intelligently!