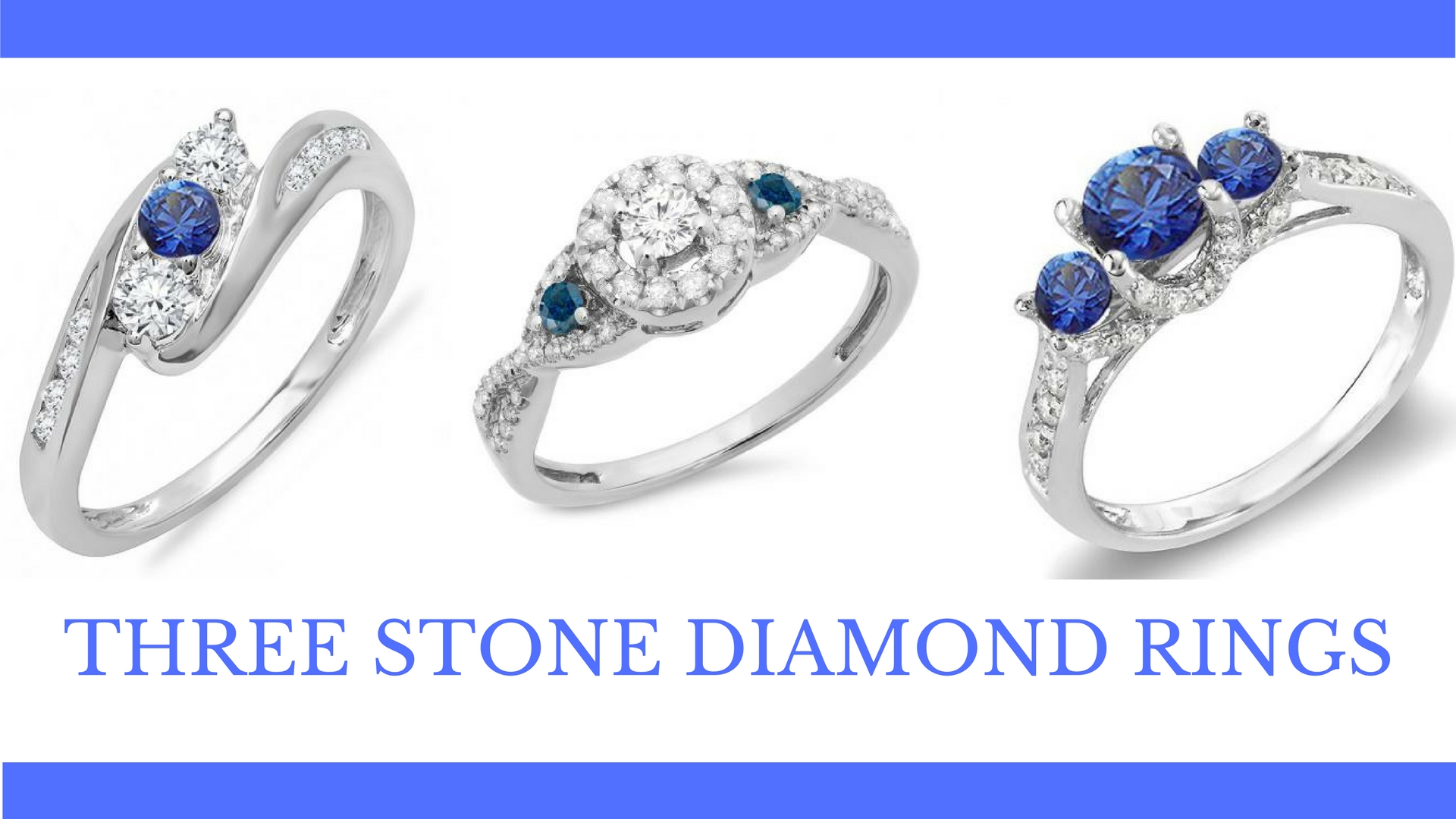 Three stone diamond rings are a good option to diamond solitaire rings. They can be worn on all occasions and suit all kinds of apparel. Perfect for a smart choice of rings.
Three stone diamond rings are making it to the well-manicured fingers of celebrities and fashion mongers like no other. Though they still rub shoulders in popularity with typical diamond solitaires, these beautiful rings are definitely more unusual and give off plenty of options for customization. Be it a unique wedding ring, promise ring, engagement ring, or just any other ring to suit a relevant occasion, It is certainly the right way to go. So, if you are all set to figure out and purchase an elegant and pretty ring for your special day or an upcoming event, you may want to choose from a long list of diamond rings in online or offline jewelry stores. You may want to search specifically for the rings that are designed to perfection with three sparkling diamonds or other semi-precious/ precious stones.
The most enduring symbol of love
In all probability, you are looking for a strong and exotic symbolization of the love you share with your soulmate. While going for a ring that is fit for representing and celebrating the love you share, you need to keep quite a few factors in mind. For instance, you may want to select the perfect ring, from the latest collection of diamond rings online to suit your combined tastes and preferences. One of the most important factors that need to be kept in mind at this stage includes your budget.
If you are thinking of investing in diamond rings as wedding ring sets, then do know that they come at a price that may cut into the budget allocated for your other wedding plans. Given this scenario, it is advisable that you go for three stone diamond rings that would fit your individual styles, budget, the rest of the jewelry pieces you wish to wear on your D-Day, etc. As this enduring and long-lasting symbol of your love is available in sets of three delightful stones, you can be assured of externalizing your love in the past, present and future!
Make a different style statement
If you look around carefully, you will find that traditionally, or as a fashion statement, most couples prefer going for the tried-and-tested diamond solitaire rings. Then there are many other couples who would rather choose something different to stand out in the crowd. They are ready to explore newly available options and love the striking appeal that most three stone rings have to their credit. The chic and savvy three-stone rings are particularly preferred by young couples planning a life together. These rings also make it to the collection of other couples who would like to invest in practical and useful rings that they can wear on a daily basis if needed.
Tell a new story with three-stone diamond rings
The three-stone diamond rings are known to hold interesting meanings that make them more intriguing and exciting for first-time jewelry buyers, for example, those who are buying rings for their engagement day. These not-so-conventional rings have exciting and new stories to unfold. As mentioned before, these kinds of diamond engagement rings symbolize the "past, present and future." They may also represent "love, friendship, and fidelity." In case you both happen to be the sort of couple who would rather exchange rings that have deep-rooted, more personalized meanings, then this a three-stone engagement ring may just be the appropriate choice for you.
Flaunt your preference
As a bride, you would obviously want all eyes to be set on you when you exchange your rings and vows. There is no better way of getting all the attention than by choosing to exchange diamond rings. Simple yet elegant, classy yet affordable, these rings are perfect for die-hard romantic couples who want nothing but the best to go on their fingers. In most cases, these beautiful and subtly crafted rings are designed to perfection and showcase your lasting commitment.
Other side stones for three stone rings
Though a diamond a three-stone ring mostly comprises of a bigger center piece and two smaller-sized diamonds on each side; or three diamonds of the same size; there are many other designs that look equally good. If budget happens to be a constraint, you may want to invest in one diamond and two matching stones to get an altogether unique look. The side stones chosen for this purpose can be your individual birthstones or any other stones that have special meaning for you both. If you love blue, then Sapphire would an excellent choice for setting as side stones. Take your pick as per your taste and budget to get a winner on hand.
Always stay within your budget
In case you have a set and tight budget for your diamond engagement ring, wedding ring sets, or that second ring of your dreams, then investing in a three-stone ring that is both affordable and exquisite would be a good option at all times. Further, you may reduce the budget by buying typically less expensive stones as side stones instead of diamonds. The good thing about the rings is that whatever design you decide to go for, you can expect equally stunning results. Additionally, if you insist on sticking to the more traditional diamond rings, you may look forward to getting two to three carats of total weight for three diamonds and still spend much less than what you would otherwise spend for a singular 2-ct. to 3-ct. diamond ring.
3 stone diamond rings are apt for all occasions
If budget is not a constraint, you may take a look at the vast range of three stone solitaire diamond rings with three dazzling stones as their high point. In most catalogues, such rings are characterized by diamonds-gemstones or a solitaire diamond combination. These trinity or three stone rings are apt for use and wear on all kinds of occasions. They can be proudly worn as engagement rings, diamond promise rings, anniversary rings, birthday rings, and so forth. Be it a corporate event or a social occasion, they would complement the rest of your jewelry and still cast their appeal in more ways than one. In other words, as there is no specific meaning that it's linked to these rings, they can be worn anywhere, anytime.
Metals for three stone diamond
The choice of metal in such diamond rings with three stones would depend on your budget and preference again. From sterling silver to platinum and white gold that has a futuristic and modern appeal, to rose and yellow gold for lovers of vintage jewelry, there is a wide range of metals to choose from when you are customizing your three stone rings. Of particular interest to couples in love are the 3 stone diamond rings with an antique or Victorian look; they fitfully complement art deco diamond rings to make elegant ring sets. While the Victorian rings look good on admirers of softer motifs, those with a passion for bold contrasts and geometrical shapes love to freeze their choice on art deco rings.
Shape and sizes of 3 stone diamond rings
In case of a three-stone diamond ring or trinity ring, buyers can enjoy a high level of flexibility in terms of stone size. For instance, the larger center stone can be fitfully flaunted by two smaller diamonds to create the right accent. Then, there are many diamond ring lovers who would rather go for three stones of equal size, however big or small, to highlight their designer ring in a conventional way. For people who wish to break from the norm and go with diamonds of different shapes, there are designs with a round centre stone flanked by smaller pear-shaped diamonds. The more romantic couples would give it all to get a 3-stone heart shaped ring made of diamonds on their fingers – are you one of them?
In case you prefer traditional and classic types, then it is best to buy rings with equal-sized round shaped diamonds, followed by cushion or oval. Those addicted to experimenting with new designs of 3 stone diamond rings may opt for stones with marquise, princess or emerald cuts.
Last word
Diamond rings have always been loved for their deep meaning and elegant aesthetics. They easily compete with the grandeur of solitaire rings and can be worn on just about any occasion with flair. Now that you have had a closer look at the benefits and features of it, it would be a good idea to explore the many designs that are available in the online jewelry stores of your choice. Assess your budget and taste before moving ahead and you will not be disappointed with your purchase.