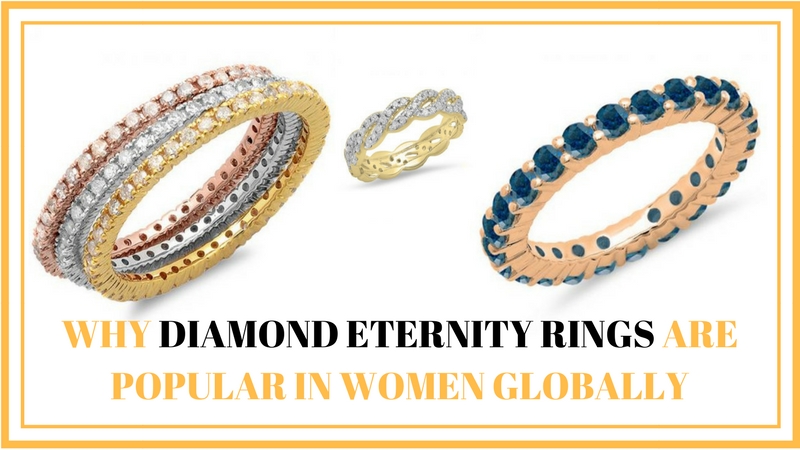 Eternity rings, the rings that symbolize eternal or everlasting love, is a smart way of marking one's life's significant milestones. Whatever the setting, cut, color, carat, or clarity, these diamond eternity rings are forever. This article talks about the celebration of love by presenting or wearing eternity rings. Are you ready to savor the magic of these beautiful creations?
Be it as an anniversary gift, birthday present for a special someone, or just a simple way of expressing love on any given day, there are very few jewelry pieces that are as loved or impactful as eternity rings set with diamonds. Usually, these rings are purchased as anniversary ring sets for him and her.
The most coveted and purchased style of eternity rings would be in the form of a band which is carefully inlaid with diamonds or other precious/ semi-precious stones. The band can be made of sterling silver, gold, platinum, palladium or other metals of preference. The diamonds on these bands may be set in the paving or channel setting to complete the look. Buyers with a budget to consider may opt for sapphires or rubies that may cover the whole ring or be placed on the top side of the band for a more enhanced look.
When to Buy it?
De Beers, the reputed diamond firm had initiated the concept of eternity rings way back in the 1960s. This circular band studded with diamonds was earlier on launched for the niche segment comprising of older, married women. In those days, these rings were being marketed with the help of the slogan that said, "She married you for richer or poorer. Let her know how it's going". Over time, these rings are being bought for just about any reason. In other words, there are no laid down rules, conventions or days for buying an eternity ring for wearing or gifting purposes.
Traditionally speaking, a couple's 60th wedding anniversary happens to be the diamond anniversary that has to be celebrated with this precious stone. As per the current trend, couples are too excited to wait for decades to get dazzling diamond eternity rings on their fingers. Given this, it is common to see people buying the best eternity rings for celebrating an anniversary, be it the 5th, 12th, 34th or even the 1st. What's more, the birth celebrations of a child may also be marked with eternity ring set with diamonds and other gemstones placed alongside for added appeal. Generally, blue sapphire laden eternity rings are for boys while the ones with pink sapphires are for the birth of girls.
Why Are Eternity Rings So Popular?
Platinum and diamond rings are quite popular because of the durable nature and striking physical properties of the metal put into use. Additionally, the fact that the overall sparkle of gemstones and diamonds is further enhanced by platinum makes in an ideal of choice for most jewelry designers and buyers. However, with rising prices being a concern, and with people looking for other alternatives to platinum, many customers are going for rose gold diamond eternity bands to add to their collection. There are many other unique styles of eternity rings that are being commonly purchased for their unusual cuts and designs.
What Hand Do You Wear An Eternity Ring?
Most eternity rings are purchased to offer something softer than wedding solitaires, engagement rings with emerald cut diamonds, etc. They are fast becoming a much sought-after jewelry item as they impart high levels of elegance, high feminine quotient, and an altogether exquisite look when worn on a daily basis or for special occasions. To bring out their appeal in the best possible way, these rings are usually worn on the hand opposite to the one on which the bigger stones are worn.
Married couples prefer to don their eternity rings in between or above the wedding band and engagement ring on the left ring fingers. In case the band is thick enough and does not impart a sleek and sober look, it can be worn on the right hand or on the third finger of the left hand. For creating a seamless trio of wedding, engagement and eternity rings, it is a good idea to invest in eternity rings that happen to have the same style and choice of metal band to create a harmonious look. Nowadays, it is common for jewelry designers to craft wedding ring sets that are specifically sold for aiding this purpose.
Different Types Of Eternity Rings
While the eternity ring with diamonds set all around, or semi-precious stones encircling the circumference of the band, represents eternal love in the most traditional of ways, it's not the only design to captivate buyers. Buyers with lower budget love the appeal and feel of half eternity rings that cost two to three-time lesser than full eternity rings. This is because half eternity diamond rings have lesser number of diamonds, are more difficult to resize, and are generally made as per order.
Colorful Diamond And Gemstone Eternity Rings
The eternity rings set with either pink or blue colored sapphires are appropriate for couples celebrating the arrival of their newborn, girl and boy respectively. Beautifully set with sapphires and round brilliant diamonds, these rings look very elegant when worn on a different finger so as not to overshadow the engagement or wedding rings. In case you plan to wear a classic ring trio, then a shared-setting eternity ring, that is designed with an incomplete circle of brilliant diamonds in round cut, would be a good choice for the left hand.
The Fine Line Between Eternity Rings And Wedding Rings
It is interesting to note the way in which the fine line existing between wedding bands and eternity rings is fading with each passing day. With the blur lightening like never before, jewelers are now listing these rings in the wedding band range of their collections and catalogues. Contemporary and striking, eternity rings are being set in platinum bands, with baguette-cut diamonds, and in various other appealing designs to make perfect eternity rings.
Express Your Love With Diamond Eternity Rings
If you look at the world of diamond rings more closely, you would find that not all of them are meant to be used or exchanged as wedding or diamond engagement rings. As all coveted designs of diamond rings are stylish and glamorous, they can be purchased at will to be added to one's collection. There are few better ways of renewing the pledge of being in love forever than declaring unending compassion by gifting it.
So, if you are looking for the right gift option for declaring your undying love, reliving your pledge of commitment or simply showing someone how much you care, then a diamond ring would be the right way to go. Full of significance and value, these diamonds covered rings carry their own meaning. Just like their name, they are gifts to last a lifetime. All said eternity rings are an ideal choice of jewelry studded with diamonds (and other gems) as they showcase sparkling stones all around their bands. Just because the stones are visible clearly from different angles, these rings produce beautiful flashes of light to meet the eyes of onlookers. Truly stunning in every conceivable way, this highly popular style of rings is purchased for the utter brilliance it imparts.
Are you still waiting for the right occasion to buy one such diamond eternity ring? Linger no longer and invest in one today. You will not be disappointed.