Earrings are an essential component of your wardrobe – a piece of jewelry that one girl can skip as part of a stylish and ravishing look. When it comes to fashion trends, we all want to own all the fancy and trendy stuff in our wardrobes. Earrings, as one of the favorite pieces of jewelry, will give you an updated, sophisticated and voguish look.
Earrings have been around for some time, and they are the perfect accessory that never goes out of style. however, their design, shapes, and sizes have changed over time. today's unconventional collections of earrings have been encrusted with a variety of genuine gemstones from dazzling rubies and sapphires to diamond hues.
As earring trends change with time, some go never to return, some go only to make a resurgence on the list, while some trends are evergreen. That said, let's look at today's unconventional trends for gemstone diamond earrings in a fashion that you can accessorize with your favorite black dress and take your appearance to the next level.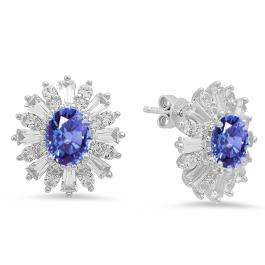 Hoop earrings, having evolved in the late '60s, have remained popular ever since as they give you that retro effect on your overall appearance. The circular hoops are a perfect complement to your jawline and the area perfect fit for those who love minimal makeup.
But today's trendy hoop earrings have had a makeover to create a statement when it comes to jewelry. And as part of the latest gemstone earrings, the hoops have been made bigger and with multiple variations. Most big hooped earrings have been layered with diamond and pearl hues while the small hooped ones have multicolored gemstone modifications that give you a mind-blowing look.
The hoop earrings enhance your look by getting the attention that your facial features deserve, as well as underlining your facial beauty. If you want to go with a prominent look, then the double hoop gemstone earrings would give you an ultra-modern style.
These unique earrings appear to be hugging the ear lobes when worn. Moreover, they have a hinge on the upper side that allows the post to open into halves. And with the diamond gemstone hue, they are magnificent, albeit being smaller, and they are perfect fits for those who like a minimalist look. The Huggies are available in a variety of sizes, and multiple stone hues such as sapphires, gold, rubies, diamond, and pearl.
More often than not, the asymmetrically shaped and sized gemstone earrings were dedicated for the winter months. But today's combination of stone hues makes it a perfect choice for any season.
The asymmetrical earrings are quite dynamic as you can modify them, loosen them, decorate them, and pair them to produce a variety that fits your style.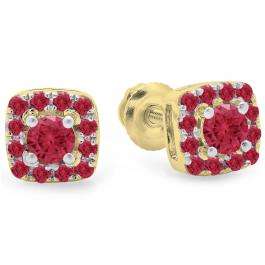 The diamond stud earrings are an all-time favorite for women who prefer to go with a minimalist look. The gemstone diamond earrings come in a variety of stud hues. They are available in precious stones such as sapphires, rubies, gold, platinum, and silver. In terms of their pricing, the size and the quality of the stone determine how much you depart with. Nonetheless, the stud diamonds can be worn to give you a classy and elegant look.
Clip earrings (also called clip-on earrings) are designed to be screwed on the outside part of your earlobes as opposed to the ages-long piercing hole. And the clip earrings are perfect for women who haven't or are disinterested in piercing holes in their ear lobes.
These types of gemstone earrings are designed for women who have multiple piercings in their ear lobes. so, instead of going with the traditional lower holes, you can have your ear cartilage pierced and filled with several earrings.
They are available in different shapes and sizes and can be made from materials such as:
Metal.
Beads.
Pearls.
Diamond.
Chandelier earrings
These massively framed earrings have often thrived by catching the attention of everyone around you. they have a massive frame from which gemstones, pearls, and beads are attached. They are great and give a stunning look when worn with an ethnic outfit or your favorite dress.
Pearls have the timeless ability to impart a stylish vintage look. These earrings, combined with studs or stone hues dangling on them, give a style that never fails to impress. They are a great choice for events such as parties, weddings, and can be worn to give a casual office look.
These retro-style earrings that threatened never to come back have had a resurgence that now rules the earrings industry. They are characterized by huge and brightly multicolored stone hues that give a captivating as well as an intimidating look.
Double-sided pearl earrings
Unlike the regular diamond studs, double-sided earrings are edgier as they can expand to cover your ear lobe. They are available in several patterns and modifications. But the most common modification comes with crystal balls surrounded on the edges by flowers, and pearls put in front of the stone.
The bottom line
Earrings are essential components of a woman's wardrobe. And whereas plain earrings can catch attention, the gemstone diamond earrings have taken over the jewelry industry. And gemstone hues aren't isolated to the earrings as they have been used in bracelets, wedding rings, engagement rings, and other forms of jewelry. Industrywide, gemstones have been used to modernize jewelry, which is the fashion trend nowadays. It is our inherent nature to want to grab anything trendy and stash it in our wardrobes. And what a better way to catch the attention that accessorizes your look with earrings fused with rubies, sapphires, tourmaline, or pearls?