As fashion changes with the seasons so are the fine jewelry designs. Nowadays, modern society of men and women wants something different. So jewelry designers are consequently doing experiments with new materials like tungsten, titanium, cobalt and creating exceptional pieces. But it's not the foundation of the new jewelry designs which has evolved in recent times but also the gemstones that are used to embellish high-end pieces.
Sapphires are now not blue any longer, but pink, yellow, purple, and green, and the finest diamonds that we all love have taken on a more mysterious hue, with black diamonds which have become increasingly more popular.
Nowadays brides are looking for timeless designs to set themselves apart from the rest, and if you want to break the tradition, a glamorous black diamond ring is ideal. Black diamonds are a symbol of eternal, flawless, and unchanging love which makes them perfect for an engagement ring. It is a versatile metal in nearly all cuts, settings, and color variations. 
So in this article, we will cover everything you need to know about the beauty of black gold diamond rings.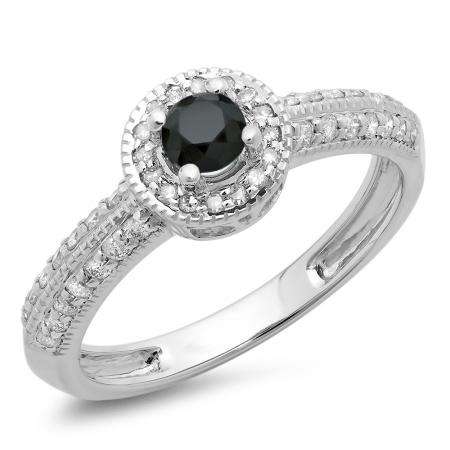 What is black gold?
The natural color of gold is a yellowish hue which everyone associates with gold. There are huge varieties of gold now like rose, green, white, and blue gold. But with black gold, there are various ways to create the metal. Have a look into what they are:
Alloys: To create a black gold alloy, gold is mounted with another metal like cobalt in the ratio of 3:1, 3 parts of gold, and 1 part of other metal. The black layer is on the surface not like other alloys where metals are combined.
Electroplating: This is the most common method of creating black gold. The gold piece of jewelry design is plated with a black finish mostly with black rhodium. Rhodium plating gives the gold a shiny and polished surface. Thus this is the most affordable option.
Femtosecond laser-treated black gold: This method involves using powerful femtosecond laser treatment to manipulate the metal surface with a high amount of focused energy. This results in a metal that is pitch black. This method is the most durable which provides a durable version of black gold.
The Engagement Rings Over Time
It is believed that rings have originated in ancient Egypt, where they were made from wires or plant materials. This was later replaced with gold, silver, bronze, or ivory.
In the 16th and 17th centuries, the fashion of rings became more elaborate and they were frequently engraved with names, religious quotes, and noble titles. Then in the 18th century, the engagement ring took another step towards a new gemstone called a diamond. This sensational diamond engagement ring has become iconic as a symbol of pure and eternal love.
Diamonds occur in various varieties of colors like steel gray, white, yellow, blue, red, green, and black. The origin of black diamond rings is not only new but they are also comparatively rare which makes these beautiful rings even more popular and special.
Black gold diamond engagement rings
The black color is chic and always on-trend. Also, it has an air of mystery and is said that gives protection from emotional stress and comfort. So black gold diamond engagement rings are not for the faint-hearted. They are unique, attention-grabbing, timeless, eye-catching, and a definite talking point. Black gold will highlight and enhance the beauty of your engagement ring.
If you want a ring that has a symbolic meaning don't fret black diamonds are full of meaning. They are symbolic of everlasting love, eternity, transcendence, and also known to have a mystic power.
Get ready to lust after these 3 black diamond rings:
1. 1.15k carat 18k white gold round cut black diamond ladies bridal vintage and antique engagement ring: Stunning in vogue, this white gold black diamond ring will capture the eye of many admirers. This round-cut black diamond is having an 18k white gold infinity band having a black diamond in the center of the ring. This ring has dotted additional black diamonds which grace the engagement ring for a look of sheer elegance.
2. 2.50 carat 18k white gold round black diamond ladies bridal engagement solitaire ring: This classic, simple, delicate modern white gold diamond ring has a round-cut black diamond in the center which shimmers beneath the crown and allows for radiant sparkle to any angle. Make your commitment a special one with this subtle sparkle ring that will draw the eye.
3. 0.50-carat diamond 18k white gold round black and white diamond ladies swirl engagement 3 stone bridal ring: This white gold black diamond ring represents a more classic style having an asymmetrical twist. Purpose her to be yours with this beautiful ½ carat diamond ring which has a stunning black diamond at the center while its split shoulders feature a white diamond stone to the sides for a touch of glam.
Why black diamond rings are becoming more popular
Today, black diamond rings are the world's hottest fashion trend which is featured in various modern bridal collections and celebrity jewelry ranges. As pendants, earrings, wedding bands, and watches have taken a new darker hue, the perspective of natural beauty is changing. Black is the new black in the world of fashionable jewelry, and it's a trend that will last forever.
A chic alternative to traditional silver or gold offerings, black diamond rings can go with all celebratory occasions, be it a wedding day, a milestone anniversary, or an engagement. Despite their modern aesthetic, these rings are timeless in design and give a depth of love and infinite possibilities a couple can share during their lives together.
Conclusion:
So are you ready to buy a black gold diamond ring for your engagement? It doesn't matter how the blackened hue is created, a black gold diamond ring for your engagement will create a stunning setting to showcase a clear white diamond.
Hence, If you are searching for a band full of black diamond stones or a ring with light black diamond accents, we have a wide variety of high-quality black diamond rings that will suit your style and taste. So do not miss to check our collection of amazing black gold diamond rings. A wedding engagement ring is a lifetime decision so you must consider if it is something you will be comfortable with over the years.