Rubies, sapphires, emeralds, and diamonds have studded the engagement rings of the celebrities, fashionistas, the world's most powerful women, and – you guessed it right – princesses! And honestly – who wouldn't want to feel or look like royalty?
From the most loved Disney princesses to real-life beauties like Princess Diana, stunning jewelry has always been an integral part of real and reel royalty. Over-the-top necklaces, stunning bracelets, gorgeous pendants, attention-grabbing earrings, and gemstone-studded rings are some of the jewelry pieces that are associated with a regal look. In fact, when it comes to rings, they have a special category that is referred to as the princess-cut diamond engagement ring!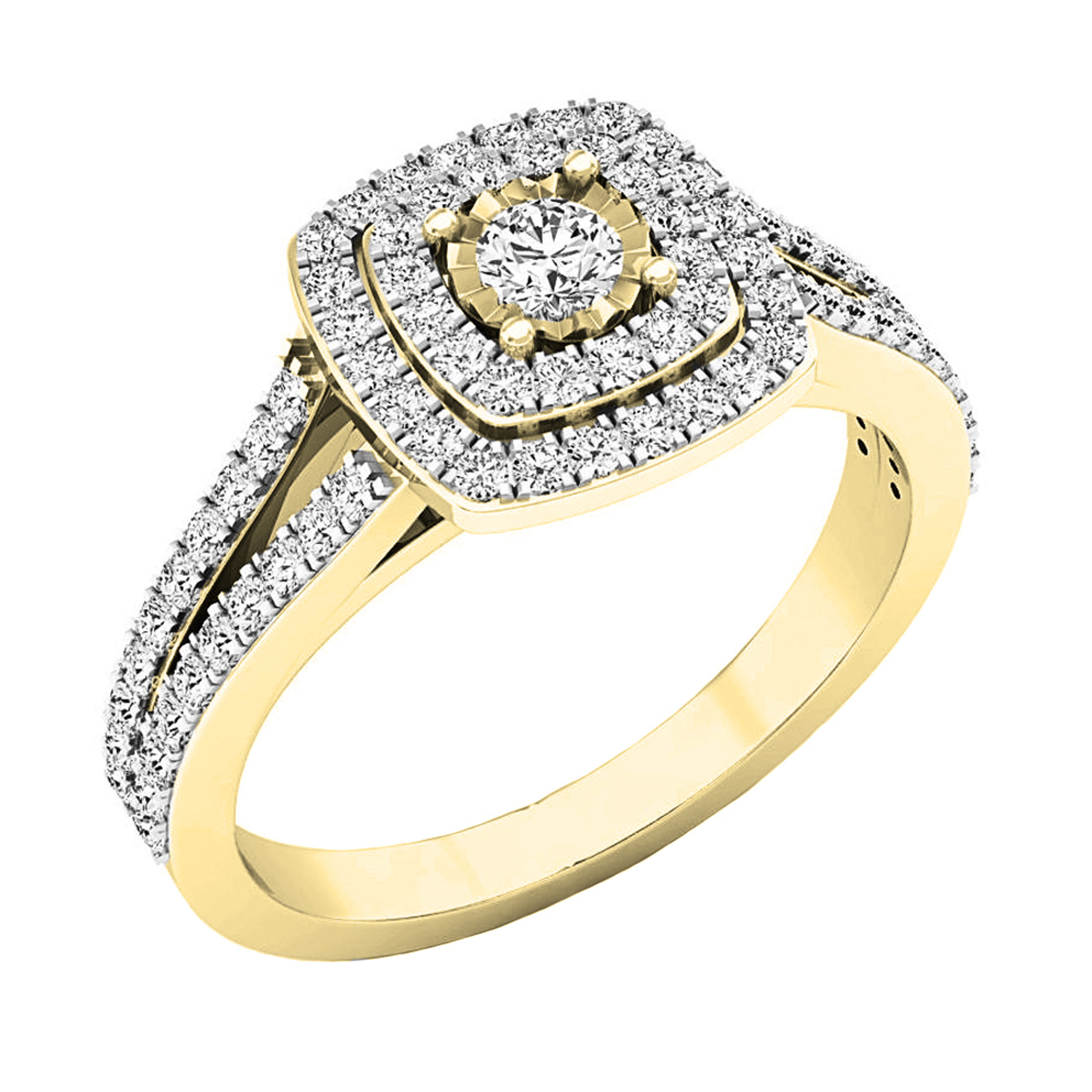 If you, too, are on the lookout for a ring that will enhance your natural beauty and give you that inimitable "princess look," we have you covered. From traditional single-stone rings to unconventional designs, there are options aplenty for you to choose from.
On that note, here are some of the most stunning ring designs for women that incorporate one or more striking gemstones.
7 Attractive Diamond Rings That Will Transform You Into a Princess
This beautiful 4.40 CT ring, priced at $572.99, is the perfect foil for your engagement or wedding gown. Crafted in 14K white gold, the design features a round white cubic zirconia stone in the center. This stone is surrounded by a halo frame and you have more cubic zirconia on the shank. Finished with a shiny polish, this radiant ring is a definite show stopper.
If you are looking for something that is as drop-dead gorgeous as it is unconventional, this one is for you. Elegant and dramatic, this engagement ring features a round-cut blue cubic zirconia center stone. A band of baguette-cut blue and white cubic zirconia stones form the rest of this white gold ring and accentuate its look, making its weight a total of 5.80 carats. Priced at $504.90, this ring is sure to grab a lot of eyeballs.
Made in 18K white gold and with an 8×6 MM amethyst-oval stone at the center, this halo ring is just what you need to steal the show. With shimmering diamond accents along the border of the center stone and the ring's shank, this ring weighs 5.2 grams and is priced at $521.30. The most enchanting thing about this band is its heat-treated oval-shaped stone which is purple in color – something that will instantly catch people's attention.
At $1765.40, this regal diamond ring comes with a four-pronged setting for the center solitaire. Complemented by two rows of tiny white diamonds, the ring weighs around 4 grams. The double-band design is not only unique but also adds two layers of intrigue, making it a sight to behold.
What's better than one spectacular diamond on a ring? Well, how about three shimmering solitaires? This band features an enticing three-stone setting, each princess-cut diamond surrounded by a frame of round accent stones. What's more, the ring's dual shanks are also lined with tiny glistening diamonds to elevate its royal look. At $2152.60, this 14K white gold bridal band is the perfect metaphor for your eternal love!
The modern-day bride is unabashedly unconventional, adventurous, and bold. If your personality reflects these traits, there is no reason why your jewelry shouldn't! This unique ring breaks all the shackles to deliver an unprecedented and awe-inspiring design with its semi-mount structure. With a halo of round-cut diamonds mounted elegantly to compliment any round-shaped 6 MM center stone, say hello to this sparkling, twinkling beauty. Priced at $492.65, this one is a steal!
Stylish, intricately-crafted, and steeped in royal tradition, this is exactly the kind of ring that you would associate with an imperial engagement or wedding ring. With 14K white gold as the base, the ring features a round-cut cubic zirconia center stone that is flanked by a diamond-studded frame. And as if that wasn't dazzling enough, the band's shank is also adorned with more cubic zirconia! The ring is available for just $493.90 which makes it an even more irresistible product. With its elaborate design and 5.1 grams of weight, this is as vintage as it gets.
Certain people prefer wearing plain, stone-less bands these days, but honestly, where's the fun in that? Apart from the fact that diamonds can really accentuate your bridal look, there are several benefits of wearing gemstones. If you are a believer in astrology, you will be surprised to know that they help you steer clear of negative energies, connect with your inner self, generate positive vibes in your body, and deal with anxiety or similar disorders.
Whether you like it conventional or unorthodox, you will never have a dearth of choices at Dazzling Rock. Browse through our selection of diamond engagement rings and take your pick!
If you need any assistance or wish to customize a ring, please call our trained gemologists and jewelry experts at 213-622-3264 today.