Diamonds have been among the most precious, treasured, and sought-after gemstones for centuries and for good reason. The glittering, sparkling, and spectacular appearance of a finished diamond are peerless and the stone serves as a mighty impressive adornment across a variety of jewelry.
Apart from being gorgeous, diamonds are also among the most versatile stones in the market. Diamond jewelry has its own place, perched right on top of the pile of jewelry types. From enigmatic rings and stunning necklaces to trendy bracelets and exquisite earrings, diamond jewelry comes in various makes and styles.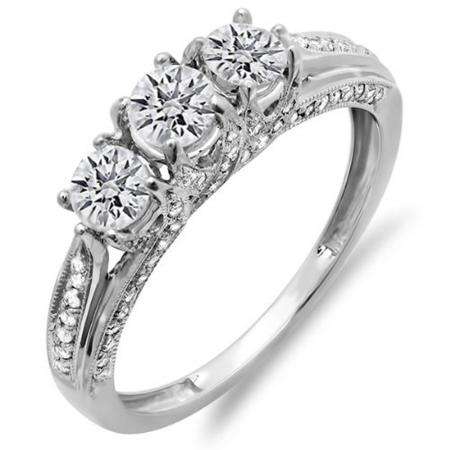 Here's a comprehensive list of special occasions for which diamond jewelry is the perfect companion.
Proposal
If you are about to pop the question, nothing quite works as a diamond ring! With a variety of options available, you are never short of choices. If anything, you will be spoiled for choice when selecting a diamond ring for her. Watch the incredible expressions on your partner's face when they see a beautiful three-stone diamond ring for the first time!
Engagement
Exchanging rings on the engagement day is customary and diamond rings are the preferred type when it comes to women. Getting engaged is the formal announcement of your relationship to the world, and what better way to do so than by exchanging brilliant diamond engagement rings?
Wedding
Your wedding is a massive occasion and a really special day for you. While there are tons of options when it comes to traditional, contemporary, or experimental bridal jewelry, a diamond ensemble can really add the glamor quotient to your look. Picking an alluring diamond ring for your wedding day can add a real dash of elegance to your look. After all, it is your day and you deserve to look your best! Check out this glistening bridal three-stone diamond ring set.
Anniversary
Jewelry types or concepts like anniversary bands and diamond infinity rings have picked up a lot of steam as popular anniversary trends in the recent past and for good reason. Your anniversaries are significant milestones in your relationships and you can make them even more special by buying a single or multi-diamond ring for your partner. After all, it is a symbol of your love for each other, isn't it?
Valentine's Day
Just like the occasions mentioned above, celebrating Valentine's Day by gifting your partner a ravishing diamond ring is a great idea. You can add an element of surprise and romance by presenting it to them on your Valentine's Day brunch, lunch, or dinner date. Trust us, there is no better gift for a lady. You can thank us later!
Birthdays
Birthdays are meant for celebrations and presents. So, in the mishmash of flowers and cakes, how can you ensure that your present rises and shines above everything else? Well, a diamond ring could be the answer to your "picking a birthday present for her" worries. Although it might seem like an expensive present, it is every bit worth your money.
Graduation or professional milestones
A contemporary diamond ring can act as the ideal present for someone who has just graduated or achieved a noteworthy professional landmark. Diamond cocktail rings, for example, are great presents for such occasions.
Events and parties
You can also elevate your fashion game at high-profile events, exhibitions, shows, work parties, or family dos by donning an eye-catching diamond ring. Attracting eyeballs is quite simple if you have the right outfit and enchanting jewelry and honestly, who doesn't like to be the center of all the attention?
Day-to-day wear
Who says diamond rings are only restricted to "special" occasions? Today, jewelry has become an integral part of people's daily wear. Whether at work or dinner dates or even weekend trips, sporting casual jewelry (a diamond cocktail ring, for instance) can enable you to up your style quotient a few notches.
Basically, no matter what the occasion, modern-day diamond jewelry can accentuate your look and add an unrivaled charm to your personality. Whether you are gifting it to someone or buying it to pamper yourself, you just cannot go wrong with diamond jewelry. With a vast variety of shapes, cuts, embedded designs, and metal choices, the options are truly endless.