Whoever said diamonds are forever, was right on point. Diamonds have remained the most versatile of gemstones used to make jewelry. They lend an aura of class and sophistication. If you are in the market for an engagement ring, you should remember that a diamond is a woman's best friend. You cannot go wrong with a brilliant 1-carat diamond ring. It is the epitome of elegance and the perfect way to consummate your love.
Nevertheless, there are ways to make your beautiful engagement ring even more glamorous. Many jewelry designers now combine different colored diamonds or gemstones of different colors along with white diamonds to create stunning engagement rings. This is a smart technique to customize your ring with colored gemstones that mean something to you.
Why Pair Diamonds and other Gemstones?
It is true that diamonds are magnificent on their own. However, pairing them with other gemstones makes your ring more sophisticated and gives it a unique personality. You have many precious and semi-precious gemstones to choose from to create an awe-inspiring engagement ring. The best way to ace this tactic is to go with a circular setting, or a halo, that highlights the center gem.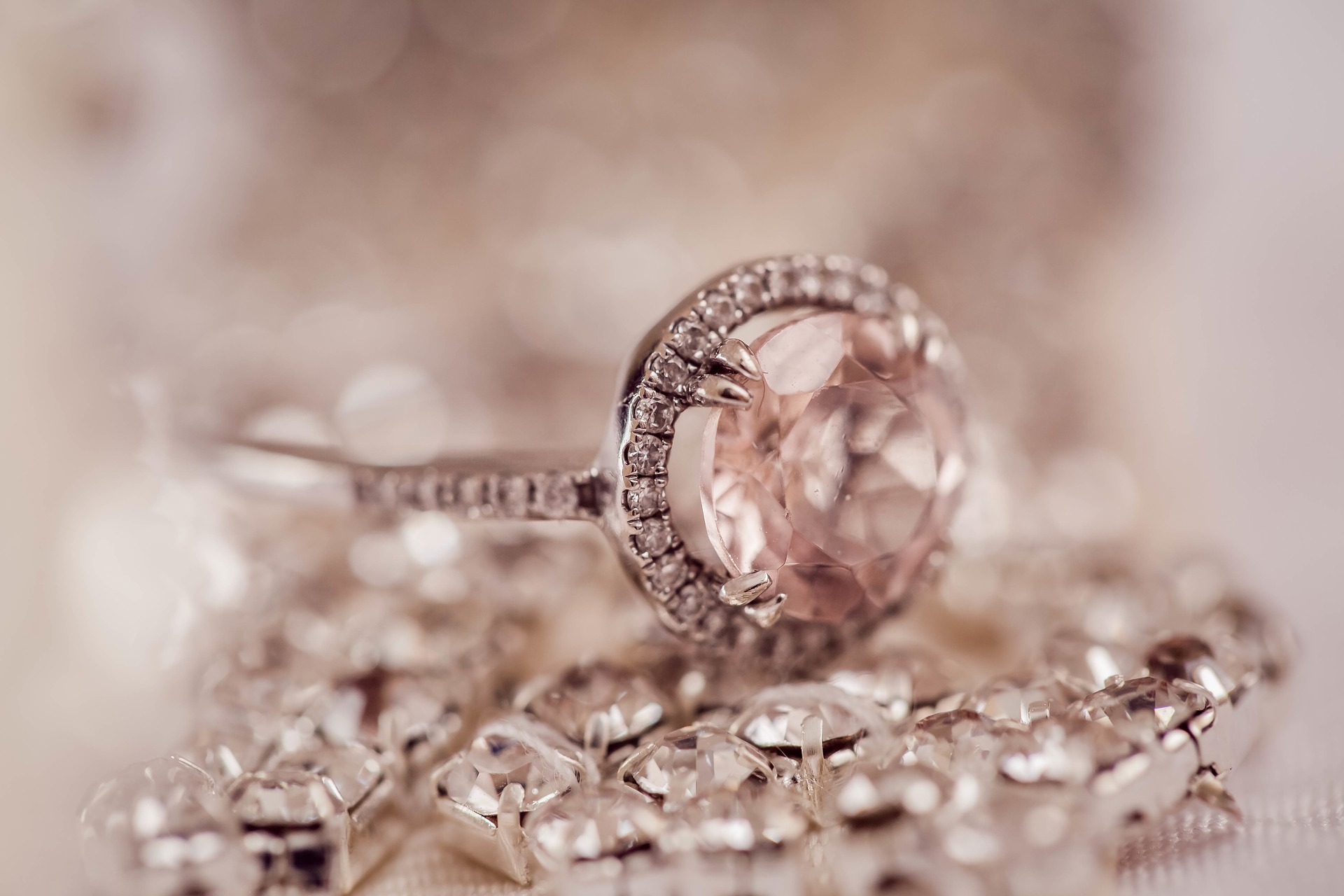 You can throw in stunning colors that suit your partner's taste or choose her favorite stone or birthstone. If you want an engagement ring on a budget, you can choose a large colored gemstone as a center stone and go with smaller diamonds to pave your ring. You will still have an incandescent ring that will sweep your partner off her feet.
Different Gemstones to Pair with Diamonds
Here are some gemstones you could consider pairing with diamonds while designing your engagement ring:
1. Amethyst
Amethyst is a popular gemstone used in jewelry making. It is the birthstone for those born in February and has a unique violet hue. At the beginning of the 18th century, Queen Charlotte of England wore a famous amethyst bracelet, and this made these gemstones very popular. While they have decreased in value, they are still splendid for engagement rings.
You can choose an amethyst as the center stone with smaller diamonds lining the ring. You can also opt for a diamond as the center stone with beautiful amethyst gemstones paving your ring. The sparkle of these gemstones complements each other to make your engagement ring more glorious.
2. Sapphire
Sapphire has been around for a long time and is regarded as the gemstone of royalty. Many royals from the late Princess Diana to Kate Middleton, the Duchess of Cambridge, celebrities such as Penelope Cruz, and Elizabeth Hurley had sapphires in their engagement rings. It is the birthstone for September.
You can also add some fire to your diamond engagement ring by choosing from different colored sapphires, including blue, black, yellow, or even white. Sapphires reflect light easily. These qualities make sapphires a great choice for pairing with a diamond on an engagement ring.
You can pair your diamond with smaller sapphires to add some sparkle to your ring. If your fiancée's birthday is in September, this birthstone will work perfectly for the ring you get her.
3. Emerald
How would you like to give your engagement ring some more warmth and glow? Emerald is the perfect gemstone for this. This gemstone has a distinct rich green tone that has an unmistakable beautiful, luxurious, and precious appearance. They are chic and timeless and will add some life to your magnificent diamond engagement ring.
From Cleopatra in ancient Egypt to the Duchess of Cambridge in modern Britain, the charm of the emerald continues to dazzle. You can choose to use this precious green stone as the center stone on your engagement ring and use smaller diamonds to accentuate the look. Alternatively, you can add more glow by using a large diamond and several emeralds on the ring. Either way, you will have a glamorous and unique engagement ring.
4. Rubies
Pairing diamonds with rubies is an old tradition in jewelry making. Rubies are among the most popular colored gemstones. When used on any piece, they bring it to life and add some warmth. Red is the color of love, and thus, a ruby's color, durability, and rarity make it perfect for use on romantic occasions.
The elegance of a diamond centerpiece works seamlessly to emphasize the fire of a ruby. It is one reason this pairing is so common in engagement rings. A ruby centerpiece surrounded by sparkling diamonds creates a one-of-a-kind engagement ring.
5. Colored Diamonds
If you do not want to step out of the diamond territory when customizing your 1-carat diamond ring, you can go with colored diamonds. Colored diamonds range from pastel green, sparkling pink, bold canary yellow, black, and champagne. The rarest and expensive are Pink diamonds.
You can choose a combination that suits your taste. For instance, a green diamond centerpiece can work well with colorless diamonds on the sides. Likewise, a colorless diamond at the center with blue diamonds on the side will create an awesome engagement ring.
Final Thoughts
These are only a few of the gemstone combinations you can choose for your diamond engagement ring. Other beautiful gemstones to consider include cubic zirconia, moissanite, topaz, Tanzanite, citrine, and morganite for your engagement ring. Irrespective of the pairing you choose, take time to assess the quality of the diamonds and other gemstones as this will affect the overall appearance of your ring. More importantly, choose to work with a reputable jewelry dealer who will bring your custom ring design idea to life.