Diamond stud earrings are among the most versatile pieces of jewelry. You can use them to accessorize any attire. Unlike dangling and hoop earrings, studs tend to be conservative. This allows you to wear them casually or with formal wear.
All you have to do is throw them on, and let the gems do the talking for you. Diamond stud earrings are easy to notice and have a way of adding life even to the dullest outfit. Whether you are dressing up flamboyantly or conservatively, diamond stud earrings go well with any attire.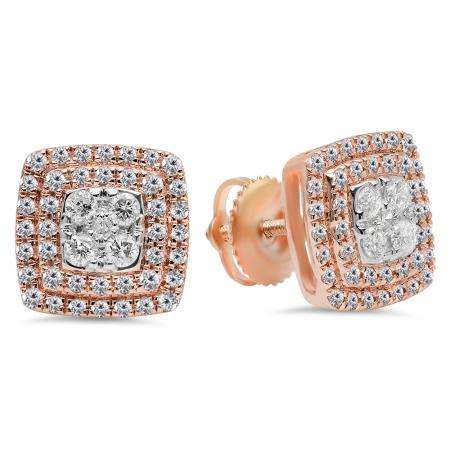 So why be choosy while shopping for diamond stud earrings? If wearing any diamond earring does the trick, can you pick any set of diamond stud earrings and expect the same outcome? Should you pay attention to the price you pay for a set of diamond stud earrings? Let us find out. 
General guidelines to follow while purchasing diamond stud earrings
Every woman should have at least one pair of diamond stud earrings because they are perfect for any outfit. Whether yours are a gift or you bought them yourself, take good care of them because they are easy to misplace.
If you are yet to gift your partner a pair of diamond stud earrings, it is about time you do so. Do not wait for an occasion to do so. You should shower your spouse with love and affection every chance you get. Getting a gift for the person you love, without needing a reason, is the best expression of appreciation. Even if they do not admit it, your loved ones want to feel appreciated.
If you have already gifted her diamond stud earrings a couple of times, you could buy her bigger ones. As you know, the bigger the stone, the more valuable the gift will be.
Here are some general guidelines to help you approach the buying process the right way;
If you want high-quality diamond stud earrings, you should choose one in the H-J color range. There is no need for you to go higher than this because the appearance of the diamonds set in the earrings does not change. The price you may be higher.
The second factor to consider is clarity. This grade determines whether or not the studs you choose have blemishes. Ideally, you should be able to find diamonds with no blemishes in them. However, this is not always true.
Only a selected few diamond stud earrings can be graded as having I1 clarity. Most online vendors will mark their diamond stud earrings as having I1 clarity, but there is no way of confirming that this is true until after you purchase them. To avoid being ripped off by an unscrupulous vendor, shop with a trusted jeweler who will be honest and transparent with you. do not shop for diamond stud earrings online unless you are sure you are dealing with a trusted vendor. Visit brick and mortar stores because shopping this way gives you a better chance to spot visible inclusions in the diamonds studded in the earrings you choose to buy.
This is the most important factor to consider while buying diamond stud earrings because it is the only one that is visually apparent. When a diamond is cut correctly, you will notice its undeniable brilliance. Avoid diamonds that have a deep cut because they end up looking smaller. 
Steps to Follow While Buying a Set of Diamond Stud Earrings
Now that you have an idea of the overall guidelines to follow, let us look at the steps to follow while buying a set of diamond stud earrings. When searching for diamond stud earrings online, you will find that a large number of vendors sell them. However, you need to be very cautious because some of these vendors do not tell you the whole truth about the products they sell online.
1. Determine your budget
Figure out how much you are willing to spend on diamond stud earrings. Remember that this is not the same as buying an engagement ring or a promise ring. The price is usually influenced by various features, However, at this point, all you need to think about is your financial situation. For instance, if you plan to purchase a pair as a token of appreciation on your 5th anniversary, the pair you buy should be more valuable than if you are buying them without an impending milestone to celebrate. Overall, the amount you choose to spend on a pair of diamond stud earrings should be a personal decision. After all, it is always the thought that counts, and you do not have to purchase something expensive to prove that you love your partner.
2. Choose a precious metal type and color.
Pick the color of the metal of the stud earrings' after considering whether they align with your spouse's preference. The type of precious metal the earring is made of determines its value as well as appearance.
Here are metal characteristics you should look at while making a selection;
The most popular metals for diamond stud earrings are rose gold, yellow gold, white gold, and platinum. Since there is a variety, you can purchase stud earrings with different colors so that your partner has a collection of distinct earrings.
If you are buying diamond stud earrings for the first time, you should have a look at your partner's jewelry collection to get an idea about what they would prefer. If you are lost for choice, go for gold because it is cheaper than platinum.
If you plan to choose a variant of gold, your options are 14K and 18K gold. Even though 14K is less prone to scratches, it has much less gold as compared to 18K gold. If you want to save on cost, you should go for 14K gold because it will look new for longer. For ultimate durability choose a pair of earrings made of platinum. Even though this metal is the most expensive, you are sure to receive value for money. However, they need extra care because they are quite prone to scratches.
Many people do not realize they are allergic to the metal until after they purchase and wear a piece of jewelry. Before purchasing a set of pricy diamond stud earrings for your partner, make sure you find out if they are allergic to any metal.
After all, diamond stud earrings are meant to be worn daily, and it would be such a waste if your partner was unable to wear them at all. The right pair of stud earrings are the ones you can wear all day without experiencing any irritation. To avoid skin rashes, etc., purchase jewelry from a reliable jewelry vendor. 
Conclusion
Diamond stud earrings are versatile pieces of jewelry. Every woman should have at least one pair. If you have not got your spouse a pair, it is about time you do so.