Diamond earrings are quintessential jewelry items. Every woman would like to have a pair, or more, of diamond studs, hoops or drop earrings in their jewelry collection. Their subtle design oozes class and elegance. On their own, diamonds are fabulous when used in earrings. However, you can get even more from your jewelry by blending diamonds with other gemstones.
Adding Color to Diamond Earring
Most women love diamond earrings for their versatility. You can choose from a variety of styles, settings, and backs. Gemstone diamond earrings are all the rage as fashion enthusiasts push the boundaries.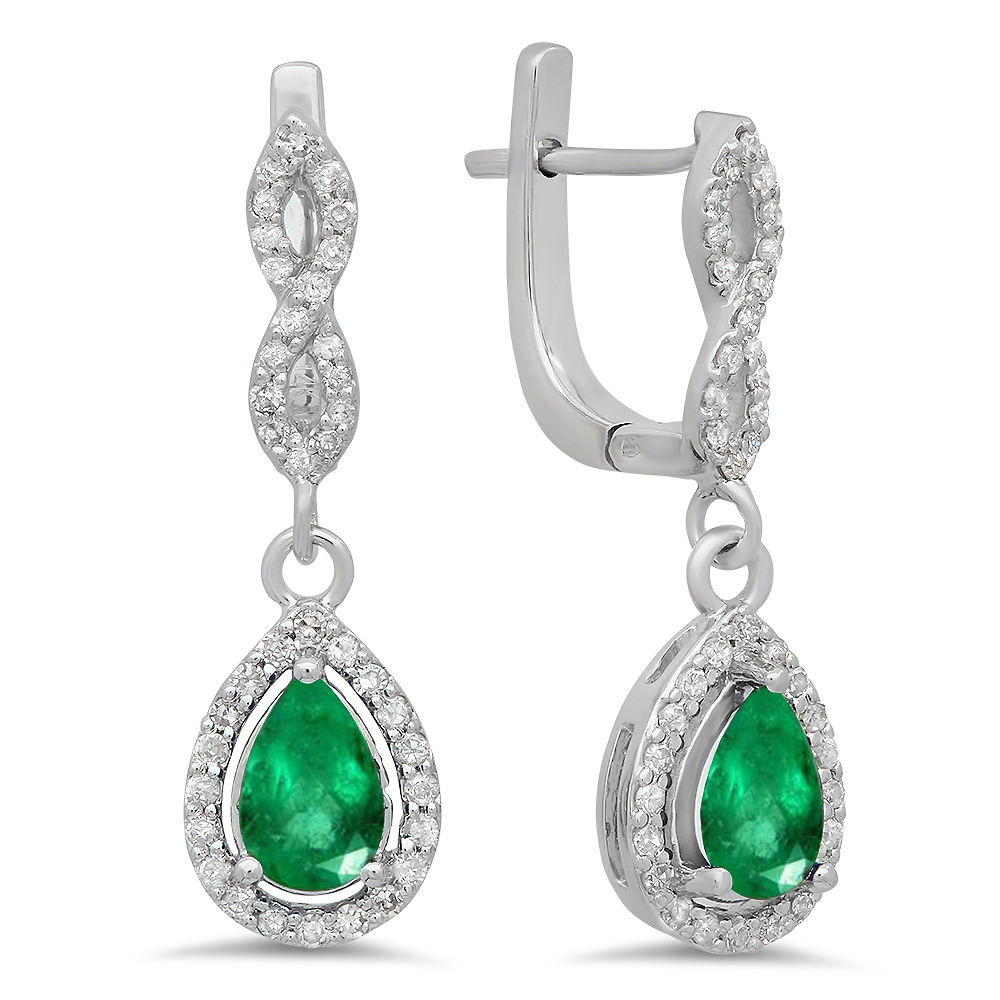 You can spice up your jewelry by adding a dash of color to them. When used together, diamonds and colored gems give your earrings a sophisticated and festive. You can choose a diamond as the center stone, or opt for a colored gemstone surrounded by smaller brilliant diamonds.
There is no dearth of beautiful gemstones from which to choose to make your diamond earrings more dashing. As you may already know, gemstones come in different colors. Some of the popular ones are:
• Blue gemstones
Sapphire, blue topaz, Tanzanite, aquamarine, and tourmaline; blue gemstones blend perfectly with brilliant diamonds. They look perfect in the drop earring style. Whether you wish to get yourself a pair of classic bridal earrings or a statement piece for your outfit, these diamond earrings will make you swoon.
• Green gemstones:
Emerald, Peridot, sapphire, tourmaline, garnet, and alexandrite are some of the dazzling green gemstones that you can add to your diamond earrings. You can couple princess cut clear diamonds with green emeralds to get a fabulous pair of earrings.
• Yellow-orange gemstones:
Yellow and orange are warm bold colors and are a perfect choice to combine with diamonds. Yellow stones such as beryl, spinel, chrysoberyl topaz, and citrine, contrast well with diamonds. This combination works perfectly in different earring settings.
• Red, Pink, and Purple Gemstones:
A rich crimson hue is an ideal choice when looking for colored gemstones for diamond earrings. These colors are regal and impressive and can make your jewelry unique and luxurious. These rare hues are available in rubies, rubellite (red tourmaline), rose quartz, amethyst, tourmaline, topaz, and garnets. When used in diamond earrings, they form the perfect gift for special occasions.
Gemstone Diamond Earrings That Will Blow Your Mind
If you wish to buy gemstone diamond earrings, you should look for styles that look regal and dazzling. When well-coordinated, diamonds and gemstones work well in earring styles. Here are some diamond and gemstone earrings that would blow your mind.
1. Chandelier Diamond and Gemstone Earrings
Chandelier earrings are popular due to their glamorous cascading design. These earrings feature gemstones of different colors, diamonds, and metals. If you want to spruce up your jewelry collection, a pair of diamond chandelier earrings will work perfectly for you. These earrings consist of a small diamond stud at the ear lobe and widen as you go downwards. They are easy to match with a unique outfit and possess the potential to become statement pieces. When colored gemstones are set in chandelier earrings they twinkle as you move, making them a perfect addition to your accessories.
2. Gemstone Diamond Hoops
Hoop earrings are classic and they have made a comeback amidst those interested in retro styles. They vary in size and styling and radiate a trendy and outgoing vibe. You can now combine diamonds in hop earrings with a variety of gemstones to create impressive jewelry pieces.
The metal used is set with diamonds and colored gemstones to make the earrings sparkle even more. If you are the outgoing type or you love embracing trendy fashion, it is time to try gemstone diamond hoops. The diamonds and gemstones add elegance to the retro style and guarantee that you stand out from the crowd.
3. Drop Gemstone Diamond Earrings
Drop earrings remain a popular choice, combining contemporary style and elegance. Drop earrings featuring diamond and gemstones are perfect to wear when celebrating important occasions. They stand out and you can choose to use a single diamond or multiple stones blended with colored gemstones. These earrings are elegant and glamorous.
4. Diamond And Gemstones Huggies
If you would like to try hoop earrings but you do not like the large design, you could try Huggies. These are an upgrade from the classic hoop style, as they attach closely to the ear lobes. They hug your ears and feel more comfortable as they have a hinge that makes wearing and removing them easier.
You can add to the impact your Huggies create by getting hoop that are set with diamonds and colored gemstones. Huggies are a chic design stands out due to their elegance; when you add diamonds and gemstones to the piece, the effect will dazzle onlookers.
5. Diamond Gemstone Studs
When shopping for diamond studs, most people imagine they can only have one gemstone in a single piece. Innovative jewelers will go to any extent to customize your pieces; that includes combining diamonds and other gemstones in stud earrings, often combining the two to create breathtaking pieces.
There are multiple earring settings from which to choose. You can choose one that provides room for a diamond or other gems. This gives your stud earrings more personality and makes them even more beautiful.
Final Thoughts
When shopping for diamond gemstone earrings, you should let your creativity flow. The combinations of diamond and gemstones in earrings are limitless, meaning that you are sure to find the perfect pair for yourself. If you are after a specific look for your earrings, go ahead, carefully consider the best setting, and color combination. Make sure your jeweler sets the gems securely to protect them.