How to Choose Perfect Engagement Rings for a Wedding Day
Are you ready to pop the question? This is one of the most anxious moments in a relationship. If you have gathered enough courage to propose, this shows your commitment to the relationship. How do you do it in style? Well, you do not have to pay for a flyby to make an impression. A beautiful engagement ring will work magic and ensure the answer is a resounding 'yes!'
For many years, diamond rings for engagement have done the trick, and you should hark to this tradition. With so many ring types, styles, settings, colors, and trends on the market finding that dream ring is not easy.
This guide will help you find a ring that will astound her.
Relax, Take A Deep Breath
It is alright to be frightened when proposing. You are anxious to impress, and this can lead to a panic attack. However, you have to take courage from the fact that many before you have gone through the same phase.
Relax and take a deep breath. With the right information, you will get it right. Panicking will only lead to a rushed decision, which inevitably may leave you with the wrong engagement ring.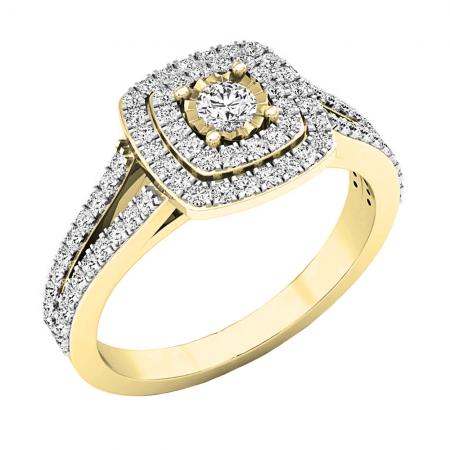 Set a Budget
While you want to impress your fiancé and take her breath away, you should not ruin your finances in the process. Set a realistic budget for this project. There are no set rules on how much you should spend on an engagement ring. Some financial experts say that the average budget should be a two or three-month salary. However, it all boils down to the condition of your finances. Evaluate your finances and consider the cost of the upcoming nuptials. Take a personal approach to your budget and stick to a figure that suits you.
Do Your Research
If you want your proposal to have that wow effect, you have to carry out intense research. Find out about your spouse's ring size, her preferred ring style, favorite gem and metal, skin sensitivity, personal style and other things that could help you choose the perfect ring.
You can talk to her closest friend in confidence or check her jewelry box to get ideas. Ask her subtle probing questions to find out details of her preferred ring style. With these things in mind, it becomes easier to narrow down and find the perfect ring.
The Anatomy Of An Engagement Ring
Most people go to the market without a clear understanding of the ring they want. You must have an idea about the center stone; the setting and the type of metal you wish to have for the ring band. These are the first questions your jeweler will ask about when you go to them to buy a ring.
Choose the Diamond
If you have decided to buy a diamond engagement ring, then you have to choose the perfect stone. This entails using the 4Cs of diamond quality; namely, Cut, Color, Carat, and Clarity.
The cut is the most important quality and you will need to spend more to get a stone that has irresistible brilliance.
Color is also an important consideration and you have to consider your partner's color preferences and skin tone to determine the perfect color tone. The color also affects the pricing of the stone.
Carat refers to the size of the stone. For an engagement ring, you should save on size and spend more to get the best cut.
Clarity refers to inclusions or lack of these imperfections. Finding a flawless diamond is rare and you have to pay excessively for such a stone. The best stone will still have these inclusions but they may not visible to the naked eye. The range of FL to SI2 diamonds gives you the highest clarity of diamonds.
You should also choose the perfect diamond shape to suit your partner's style, face and body shape, and finger length. Popular diamond shapes for engagement rings include:
Round
Princess
Heart-shaped diamond
Oval
Marquise
Pear-shaped diamond
Cushion cut diamond
Emerald cut diamond
Asscher-style diamond
Some jewelers allow you to select a semi-mount engagement ring, which is an engagement ring on which the center stone is yet to be set. Choosing a semi-mount provides you with the freedom to find a stone in the shape and size you desire, and get it mounted in the semi-mount to complete the ring.
Choose the Ring Style
Some of the most popular diamond engagement ring styles include:
Prong setting and solitaire settings
The tiffany setting
The bezel setting
Shank/split-shank
Antique/vintage setting
Cluster setting
Tension setting
Eternity bands
Channel setting
Pave setting
Halo setting
Cathedral setting
Bar setting
Flush setting
Three-stone setting
When considering the ring style, it is important to consider your partner's fashion preferences. You can combine the ring setting with your partner's style preference to choose:
Traditional and elegant style
A stylish and outgoing ring style
Outdoorsy and nature lover's ring style
A romantic and timeless setting
The modern and contemporary outlook
Customize your Engagement Ring
Searching for that perfect engagement ring can turn into a fruitless chase. This is one reason why more couples now opt for custom rings. You can borrow inspiration from the engagement ring Prince Harry gave Meghan Markle.
The royal designed the ring using family jewels, Meghan's favorite color yellow for the band and a center diamond from Botswana, which holds a special place for the couple.
You do not have to spend a fortune to design a bespoke engagement ring. Choose your spouse's favorite stone and add a personal touch to the setting/style. This is the perfect way to express your love for her.
Talk To A Professional
Do not guess when it comes to buying an engagement ring. Talk to an experienced jeweler to learn about available options. It expands your understanding and helps you make an informed choice.
Final Thoughts
Buying a dream engagement ring can be a nightmare for most spouses. If you decide to surprise your partner during the proposal, you have to put in a lot of work into finding the perfect ring. With these tips, it is now easier to narrow down and find your partner a dream ring. The bottom line is to choose a ring that reflects her style and taste.