One of the most important tasks for partners planning their nuptials is buying of rings. Things have changed over the years and couples now have more freedom over what and how to buy bridal rings. Traditionally, more emphasis went to the engagement ring with a wedding band coming as an afterthought. However, many couples now opt to buy these rings as a set.
Bridal sets combine an engagement and wedding ring for the bride and a wedding band for the groom. This gives a harmonious look during the big day.
Why Go For A Wedding Ring Set?
Both rings are symbolic, and for this reason, they've to be perfect. When making any decision during the wedding preparations, you have to weigh the pros and cons. Choosing wedding sets is a popular decision but you should consider the advantages. These include:
i. Consistent style: The matching rings for the bride and groom give a uniform look which goes well with the bridal wear. The style, design, and look of the ring are consistent and this is the first thing anyone looking will notice. The sense of harmony works perfectly for the occasion.
ii. Affordability: Buying bridal wedding sets is easy on your pockets. You can now find affordable bridal wedding rings sets online as jewelry stores offer amazing discounts for such bulk purchases.
iii. Convenience: Buying rings as a set saves you the hassle of buying three rings separately. Most jewelers stock bridal wedding ring sets making it easier for couples to buy.
iv. Beauty and elegance: The traditional classic look of matching rings never goes out fashion. The bridal set is beautiful and, becomes the focal point of the bridal wear.
v. Variety of styles: You can choose from countless styles and designs of bridal sets on the market.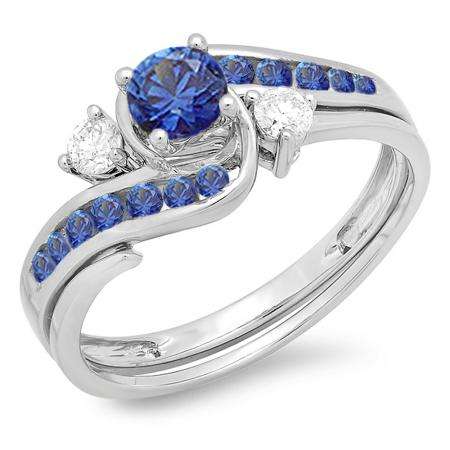 Factors to Consider When Buying a Bridal Wedding Set
While buying a bridal set is more convenient, there's still a lot to do to get it right. Here are some of the things to consider:
1. Set A Realistic Budget
You have to carefully assess your finances to determine how much you can spend comfortably. Consider the other wedding expenses to set a realistic budget. There's no rule on how much you can spend on a wedding ring as every couple has unique financial arrangements. To avoid impulse buying, sit together as a couple and set the sending for the ring.
2. Choosing The Ring Style
One of the main reasons to go for a bridal wedding set is to create a harmonious look. As such, you need to choose ring settings and styles that complement each other. There's a wide range of ring styles on the market.
They range from solitaire engagement rings to rings with a side stone, three-stone, halo or tiffany, tension setting, channel to pavé setting. Other include halo setting, cathedral setting, bar settings, and flush setting also known as Gypsy style.
3. Choosing the Metal and Gemstone
When thinking about the bridal ring styles, you should also consider the best metal and gems to use. Diamonds are the most popular when it comes to engagement and wedding rings. You have a wide range of other gems that are equally beautiful. They include sapphires, emeralds, rubies, amethysts, tourmalines, citrines, garnets, aquamarines turquoise, morganite, zirconia wedding sets among others.
You should also consider the most suitable metal for your bridal set. White, pink and yellow gold are the most common metals for bridal ring sets. There's however a wide range of metals you can choose including sterling silver, stainless steel, platinum, titanium, palladium, among others. Take time to learn the pros and cons of each of these metals before picking one. Consider the durability, maintenance, beauty, and ease of customization when choosing any of the metals for your bridal set.
4. Ready or Customized Set?
You can decide to buy a ready bridal set or customize it to suit your taste. When you customize the set, it is possible to pick your partner's favorite gem as the center stone for her engagement ring. You can also choose the metal to use and styling. These bridal sets have more personality and they have a lot of symbolism built into every component.
5. Go For Quality Not Pricing
One of the biggest mistakes couples make when shopping for bridal jewelry is to consider the pricing over the quality. A bridal set is a lifetime purchase and you shouldn't compromise on quality. Consider the materials used in the ring and check each for the highest standards.
For diamonds, make sure they carry GIA or other third-party certifications. You should also learn the 4Cs of diamond quality to find the perfect gem for your bridal set.
6. Use A Reputable Jeweler
Seek referrals and recommendations to identify the best jeweler to use. A reliable jeweler will listen to your unique bridal set requirements and create the perfect pieces. These professionals have a reputation to defend and they do so by offering the best products and excellent customer experience.
Wrapping Up
Buying bridal wedding ring sets is a smart idea for couples. These ring sets are cheaper and create a uniform sense of style befitting this occasion. If you are planning to shop for an engagement ring for the bride, you should consider adding her wedding ring and a wedding band for yourself. Shopping for these rings together saves you a lot of trouble.