Buying an engagement ring is one tough chore yet it is of utmost significance to your relationship. Every woman wants a dream engagement ring, and in most cases, there's a diamond in the mix. After all, diamonds are a woman's best friend.
While every bride-to-be wants that glamorous engagement ring, the reality is different. Such rings are costly and might ruin your finances. Many couples start borrowing way before they settle and engagement rings top the list of items bought on credit.
The good news is that you can still buy an elegant ring without breaking the bank. Morganite engagement rings have grown over the years in popularity.
If you want to dazzle your spouse without burning a hole in your wallet, it is time to learn more about morganite rings. This guide explores the why, how and where to buy morganite engagement rings.
Brief Overview of Morganite Jewelry
Morganite is a rare semi-precious stone sometimes labeled the pink emerald. The feminine gemstone is a soft pink variety of the beryl group (Emerald, Aquamarine, and Heliodor).
George Kunz discovered the pink-hue stone in 1910 in Madagascar and named the stone after U.S banker JP Morgan, his friend.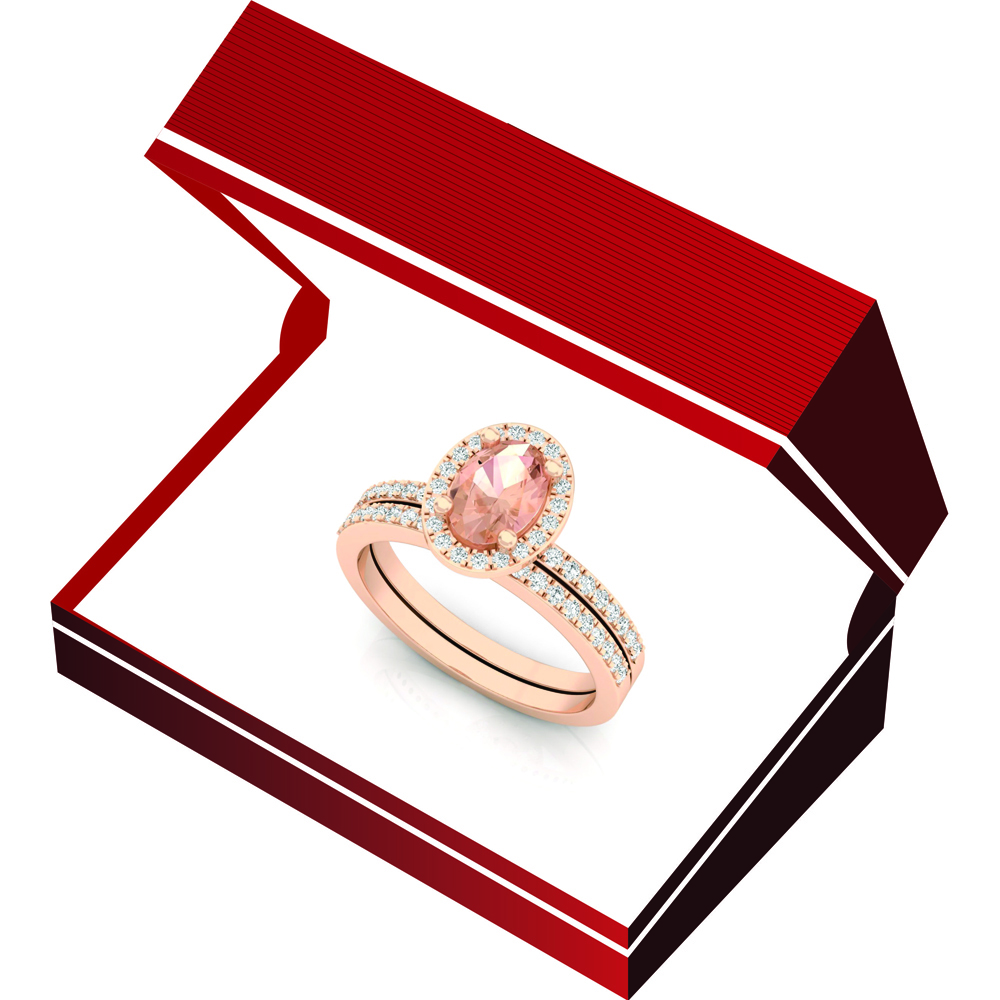 Among the Beryl group of gems, Morganite is highly popular due to its unique and rare color range. The rare tender color ranges from delicate pastel through to a soft violet, peachy, rose, and salmon pink. Today, most Morganite deposits are in Madagascar and Brazil.
In most cases, the stone is heat-treated to improve the pink color. This treatment is not detectable and the resultant color can't fade.
On the Mohs' scale of hardness, Morganites are at 7.5-8 with Diamonds at 10.
Morganite for Engagement Rings
A combination of factors has made morganites popular in jewelry making. Many brides now receive them as engagement rings and the trend seems to be growing.
Some of the reasons that make the engagement rings popular include:
1. Warm color
Pink is a unique warm color and it works well with romantic jewelry. If you want to gift your bride the perfect engagement ring, it is time to think along the lines of morganites. Pink is a soft feminine color of love and for many years, it has remained popular in fashion. It boasts irresistible appeal in all fashion accessories, including jewelry.
2. Trending pink engagement ring
Since Ben Affleck proposed using a pink diamond in 2002, colored gemstones have gained popularity. While morganite isn't the stone that donned Jenifer Lopez's engagement ring, the color is similar. It has helped boost the value of oink-colored gems.
3. Apple's rose gold iPhone
The pink color was to enjoy more limelight in 2013 after Apple introduced the iconic rose gold iPhone. From this point, pink jewelry and accessories became ubiquitous and this included morganite jewelry.
4. Color of the year "Marsala"
When an earthy red hue became Pantone's Color of the Year in 2015, morganite jewelry received a boost. The pink shade of morganite works perfectly with Marsala hence the growing popularity of morganite jewelry.
5. Enchanting shade
If you want your engagement ring to stand out, you have to think beyond colorless gems. You should try Morganite's enchanting shades of rose and peachy pink.
6. Dashing brilliance
These stones boast a high degree of brilliance which translates to outstanding beauty. Your engagement ring will dazzle and catch the eye instantly. This is one reason morganites are a great alternative to more expensive precious gems.
7. Affordability
It is advisable to create a realistic budget when shopping for an engagement ring. For most couples, courtship comes when starting out in life.
Buying expensive jewelry is not a priority if risks sinking you deeper into a debt hole. Morganite engagement rings come in handy as an alternative to more expensive diamond rings.
8. Easy Blending
You can customize your engagement ring using morganite to get your dream style/design. Most jewelers find it easy to blend the pink stones with white metals and gems to create magnificent items.
9. Versatility
Morganite will work well on any ring style or setting. Whether you want a solitaire engagement ring or multiple rings on a pave style band, these elegant stones will work well.
These stones also work well with different metals. From rose gold bands to white silver prongs, you have a wide range of options.
Spicing Up Your Morganite Engagement Ring
Morganite and diamonds blend easily in an elegant combination. Diamond is a brilliant metal and it perfectly contrasts with the warm tone of morganite.
You can now find cheap morganite diamond rings by going for more affordable diamond quality. When choosing the diamond, you don't have to go for an expensive colorless stone. These stones will reflect the pink of morganite and you can thus find a cheap stone low on the clarity scale.
Morganite's Achilles Heel
One weakness of the morganite that you have to consider is the softness. Unlike diamond or sapphire, these stones are soft and can easily chip.
The gems require special protection when setting them in a ring. You should go for maximum protection of a bezel setting. Here the metal surrounds your beautiful gems protectively.
While the prong-style setting might look better there's a risk of losing the gems and also damaging them.
Is Morganite Good as an Engagement Ring?
If you want a dazzling engagement ring without breaking the bank, then morganite is a good choice. The warm color, irresistible appeal, and versatility of morganite all combine to make this a great choice for an engagement ring. For the softness of the stone, you only have to choose a protective ring setting to keep the gems safe.