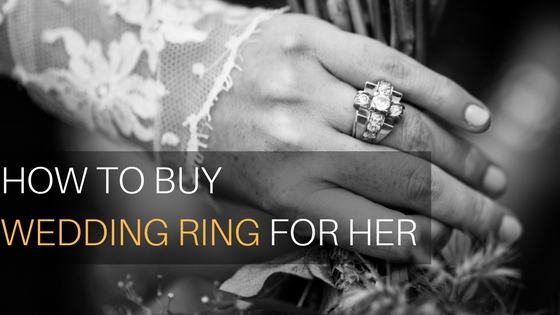 If you are struggling to find the perfect wedding ring for your fiancée, you are not alone. You see, after completing the daunting task of looking for a cheap engagement ring, you might have thought that buying a wedding ring would be a walk in the park.
Well, you are in for a big surprise. The sheer volume of wedding rings in the market will make your head spin while choosing a wedding band. Don't forget there is so much more that will be happening in your life at the same time. You have countless other items on your wedding to-do list, and making the right choices for every item may be even harder.
In a rush to get everything done, many couples buy the first set of wedding rings they come across only to regret their choice later. Your wedding is one of the most important events in your adult life and you want to create special memories for the occasion. One way of doing this is by finding the perfect wedding rings. Before saying "I do" you should be able to confirm that the rings that mark this special moment are equally special.
This wedding band buying guide highlights some of the things you should consider to ensure that you pick the perfect wedding ring. Here is how to buy a wedding ring for her:
DECIDE ON THE BUDGET
When planning to buy a wedding ring, the cost of wedding bands must feature on the list. High-quality wedding jewelry is expensive and it is thus important to work with a budget in mind. Take your time to look at your finances and start your search with a budget in mind. Your decision makes the search easier and prevents overspending.
PREFER TO BUY CUSTOM RINGS
The best wedding ring should complement your partner's style and personality. If you ask other couples, you will find that tailor-made wedding rings carry more meaning. Couples treasure them for this reason. Take time to evaluate your spouse's style and personality and find a ring that matches them perfectly.
The choice of the center stone for the ring, size of the ring, the color of the wedding band, style and everything else about her wedding ring should reflect her style and personality. A customized ring is easier to tweak until you get that ultimate wedding ring that is a testament to the solemnity of the special occasion.
START YOUR SHOPPING SEVERAL MONTHS BEFORE THE BIG DAY
A lot of effort goes into buying an engagement ring. Many couples treat the wedding rings as an afterthought. This is despite the fact that her wedding ring is equally important and it is going to be on that finger for the rest of her life. If you want to buy a perfect wedding ring for your partner, start your shopping early. Give yourself several months before the big day to do your shopping. There are countless wedding band styles and designs to choose from and you need time to assess all of them. If you go for a bespoke wedding ring, it is important to give your jewelry designer enough time to complete the piece.
NARROW DOWN YOUR RING CHOICES
The toughest part of buying a wedding ring is narrowing down your selection to the perfect one. With so many rings available in the market, it is important to narrow down your ring options.
Diamond wedding rings are the most preferable because this material oozes romance, elegance, and glamour. Diamonds are renowned as a girl's best friend and the durability of a diamond makes it perfect for a wedding ring.
There are of course different metals, styles, and settings from which to pick. Platinum, yellow gold, white gold, titanium, and palladium are among the most popular metals used for a diamond wedding ring set.
You can choose from brilliant-cut (round), pear-shaped, emerald, marquise-cut, princess-cut (square) stones. Different diamond ring settings include prong setting, channel setting, bar setting, bezel setting, tension setting and illusion setting. The setting you choose will also determine the durability of your ring.
You need to search for the most suitable option for your spouse.
CHECK QUALITY OF DIAMOND
When buying a diamond wedding ring, make sure you only go for high-quality materials. The best jewelers in the industry use GIA-certified stones to build their jewelry. Such 3rd party certification assures you of the quality of the precious stones in the ring you choose to buy.
CO-ORDINATE AS A COUPLE
Coordinating when buying a wedding ring is now a popular trend among couples. You can choose diamond wedding bands that complement each other. Your wedding rings don't have to be an exact match but instead, you can have your designer include prominent features that make your rings similar.
It is also a great way to show your commitment to each other.
THINK LONG TERMS
When shopping for any form of jewelry, there is a temptation to go for trending styles. For a wedding band, you have to think long-term even when buying stylish rings.
Buy a wedding ring that is not only fashionable but also practical for your spouse. Consider the type of work she does and then buys a diamond ring that suits her kind of lifestyle.
SHOP FROM A REPUTABLE JEWELER
It is advisable to buy a wedding ring from an established jeweler with a solid reputation in the industry. Take time to read reviews from other couples who have used the services of the same jeweler. If you find many complaints about the quality of services offered, keep searching.
When picking a wedding ring, make sure it does not overpower the engagement ring and instead complements it. Also, pick a customized piece with sentimental value and consider product warranty. Sizing is another important consideration because most people rarely take off their wedding rings.
Finally, the ring you buy should match the style and personality of your partner.