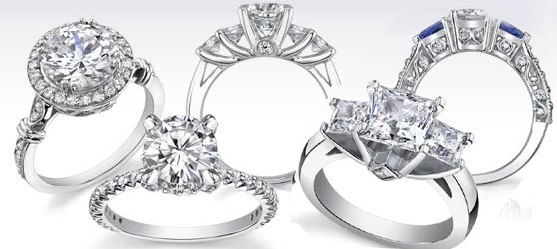 Diamonds remain the most popular precious stones for crafting jewelry. for instance, if you are buying diamond engagement rings, a wedding or an anniversary ring, you can never go wrong with a diamond ring. These rings boast timeless beauty and elegance making them perfect symbols of your love and affection.
If you are looking for the best ring to mark a special occasion, a 1 carat diamond ring will do the trick. Back in 1960 1 carat diamonds would go for $2,700 according to a Statistica Report but today the price is around $29,650. Buying this type of ring, without doubt, shows how much you value the recipient. It shows commitment and when well designed, the ring carries a lot of meaning.
Well, there is a wide range of 1 carat rings available in the market and if you are not careful, you might end up losing money by purchasing just an odd ring. If you have decided that this is the type of ring you wish to buy, this article will guide you to make the right choices so that you get value for your money.
Here are some important factors to consider when buying diamond rings:
LEARN MORE ABOUT 1 CARAT DIAMOND RING
One-carat diamonds weigh around 200 milligrams (0.2 grams). Prices for diamonds increase with the increase in their carat weight. When you choose a one-carat diamond, you should receive a high-quality stone that is easy to customize into a magnificent ring.
Today, a 1.00-carat diamond ranges in price from between $1,000 to over $12,000. There are many other things to consider in the final price of your ring. These include the shape of the diamond, the way it is set in a ring, and the color of the diamond you choose, among other factors. If you are buying your ring online, don't consider the 1 carat label alone and instead, do more research to consider the true value of the diamond ring you look at.
DIFFERENTIATE DIAMOND CARAT AND DIAMOND SIZE
Although the weight of the diamond is counted in carats, it is not an indicator of the size of a diamond, nor does it have a role in the visual appearance of the stone. For instance, a 1 carat diamond in a round brilliant cut appears smaller in size compared to a marquise shaped diamond of a similar weight.
CONSIDER DIAMOND COLOR
Color is crucial to choosing a good one-carat diamond ring. You can use the GIA color grade scale that starts from D to Z to understand more about the color of the diamond you choose. Grade D is a colorless diamond while Z containing visible brown and yellow tints. To get the best idea of the color of the diamond, you can also use pictures and videos of the stone.
It is also important to assess the color of the diamond against the setting you have chosen. The best color grade for a one-carat diamond ring is in the G-I range as it appears just like a colorless diamond in the D-F range, without the higher cost.
CONSIDER DIAMOND CLARITY
Among a diamond's 4C's, clarity is of great importance. It has to do with the flaws in a stone. The best vendors have the technology to help you choose a 1 carat stone of a high clarity grade. To buy the best one-carat diamond ring, consider a minimum of a VS2 grade for clarity as the naked eye will not see most flaws in such a stone.
CHOOSE THE RIGHT DIAMOND CUT
There are also different diamond cut to choose from. These include Round, Brilliant Cut, and Princess Cut, which are the most popular; emerald cut, marquise cut, cushion cut, Asscher cut, pear-shaped diamond and oval diamond are other choices of shape. Your preference and style will come in handy when choosing the right cut for you.
FIND A RELIABLE JEWELERS
There are many places to go for a one-carat diamond ring but if you are like most consumers, the first stop is online. While the internet has made shopping easier and more affordable, you have to beware of unscrupulous dealers. To find a good dealer consider the following:
Years of experience: Go for a highly experienced jewelry dealer who has a reputation to protect. Avoid new stores that have no track record in the industry, because they could be fronting a scam. The best dealers are proud to share their heritage in jewelry making and selling and it is easy to partner with such experts.
Customer service: If a jewelry store has no customer service team, it is time to walk away. The best dealers invest heavily in the latest communication tools to guarantee timely feedback from customers. If you are shopping for a 1-carat diamond engagement ring, you need to identify a dealer whose team is readily available.
The wide range of jewelry: A reliable jewelry dealer proudly displays their inventory including diamonds, ring settings, styles, types of metals and customized jewelry. Look for dealers who have a large inventory of jewelry pieces for you to choose from. This makes your work easier and you also save the cost of hopping from one dealer to the next.
Custom jewelry: If you want to buy a custom diamond ring, look for a dealer who has the prerequisite tools and expertise to help. These dealers have talented jewelry designers who work in-house using the latest technology and tools to get the job done.
Look for diamond certification: The best jewelry dealers provide appraisals for their diamonds but more importantly, you should look for a GIA & AGS certificate when buying a 1 Carat Diamond.
AND LAST
Well, buying a 1 carat diamond ring does not have to be so hard after all. To get the best value for your money, go for an excellent cut diamond, opt for diamonds of the VS1 and VS2 Clarity grade, find a diamond in the G-I color range and for style, choose something that is appealing and that compliments your individual style.
It is also important to work with only a reliable dealer who has a solid reputation in the industry.