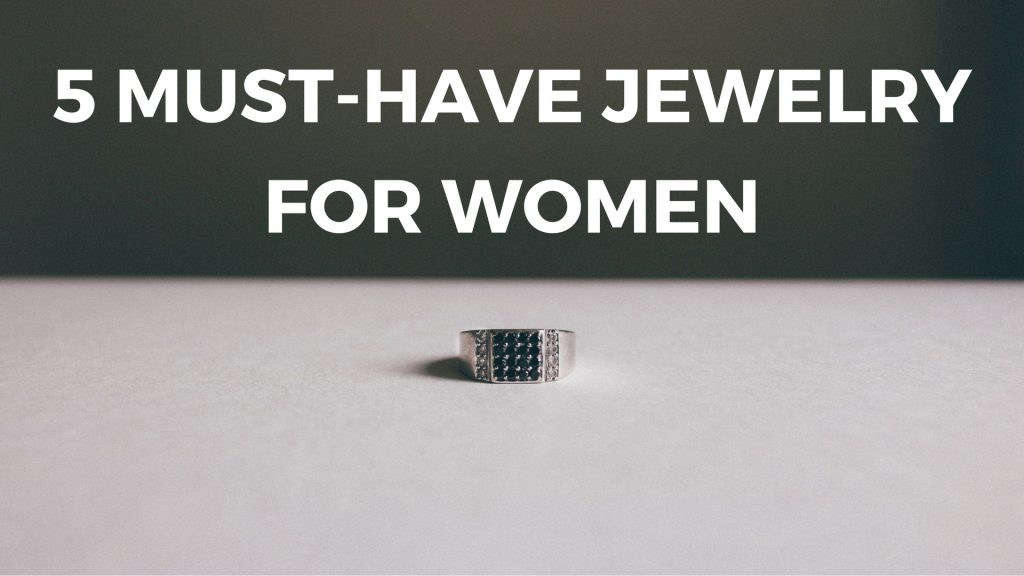 Women and jewelry have had a very intimate relationship since the dawn of civilizations. From ancient civilizations of the Mediterranean to the Greek, Egyptian, the Byzantines and the Romans, archeological evidence and artifacts highlight the importance that jewelry has always enjoyed in society.
Most of the women's jewelry focus on aesthetics. Women throughout history have worn jewelry to embellish their looks. Irrespective of her lifestyle or social class, jewelry remains essential in every woman's wardrobe in modern times. From the red carpet to common streets, you will always find women wearing elegant pieces of jewelry like earrings and pedants among others.
Well, some items are essential to every woman's jewelry box. Women use jewelry to complete a look, in a minute. Elegant Jewelry pieces are crucial when in a rush as they can complement any outfit a woman wears. Here are five must-have jewelry for women that are sure to last a lifetime:
Diamond Earrings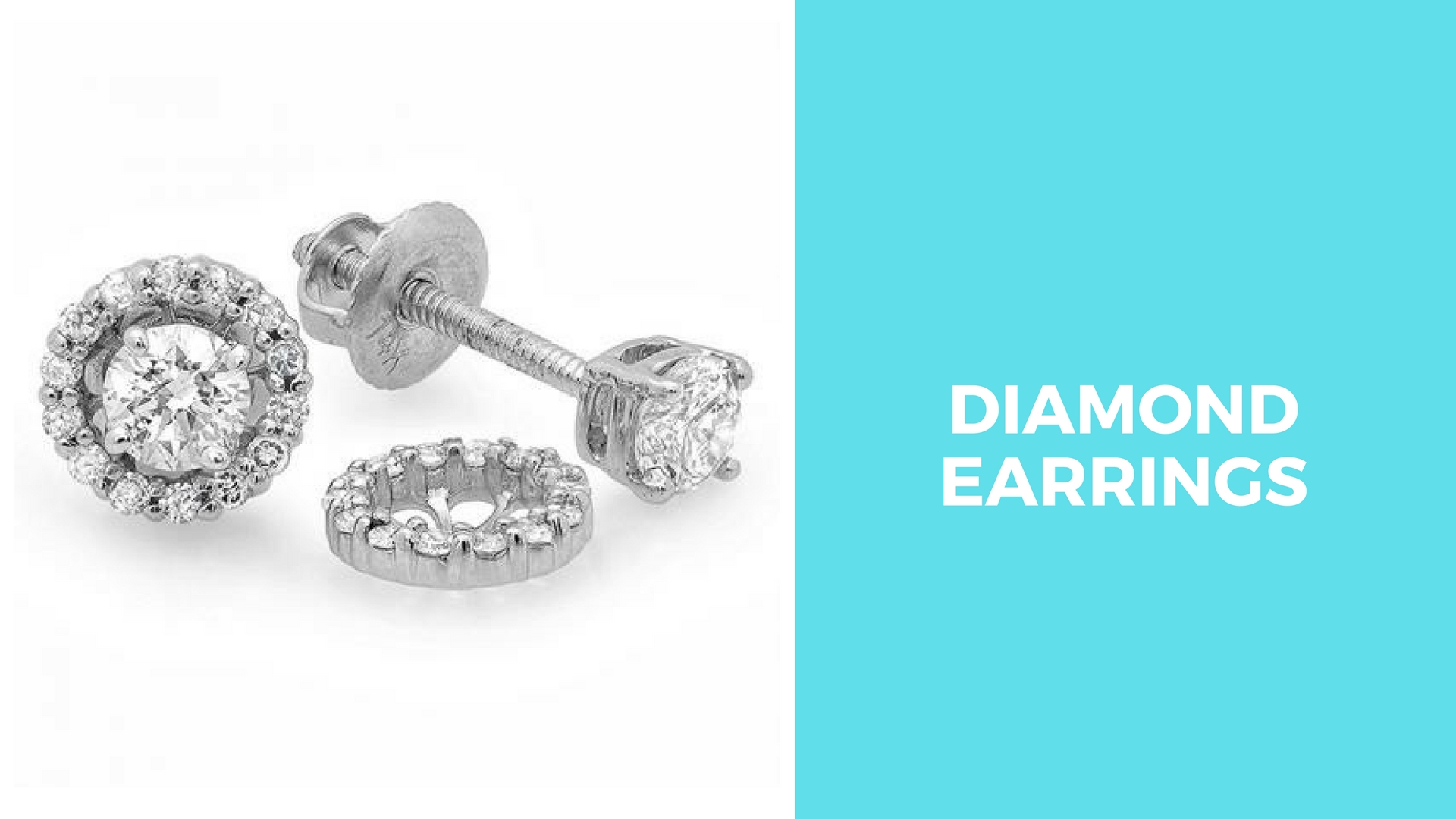 They say diamonds are forever and for a good reason. Diamond jewelry is not only resplendent but is designed to last. The strength of this precious gemstone and its glamorous look makes it one of the most sought-after gems. Irrespective of the look you wish to pull off, one can never go wrong with diamond earrings. These earrings might look small but they have a big impact. They effortlessly add a hint of glitz and glamor to your look.
Your earrings will become the instant focus of attention and if you want to emphasize your beautiful face, wearing them would help you nail it effortlessly. These earrings for women are brilliant and the fact that they are minimalist in design makes them perfect for both formal and informal wear.
Due to the minimal amount of metal used while making diamond earrings, they can also complement anything you have in your wardrobe.
They are your go-to earring every single day, and the best thing about them is that they are durable. Simply put, diamond studs are the true epitome of understated glamour and elegance; you do not have to try too hard to get that desired effect.
Tennis Bracelet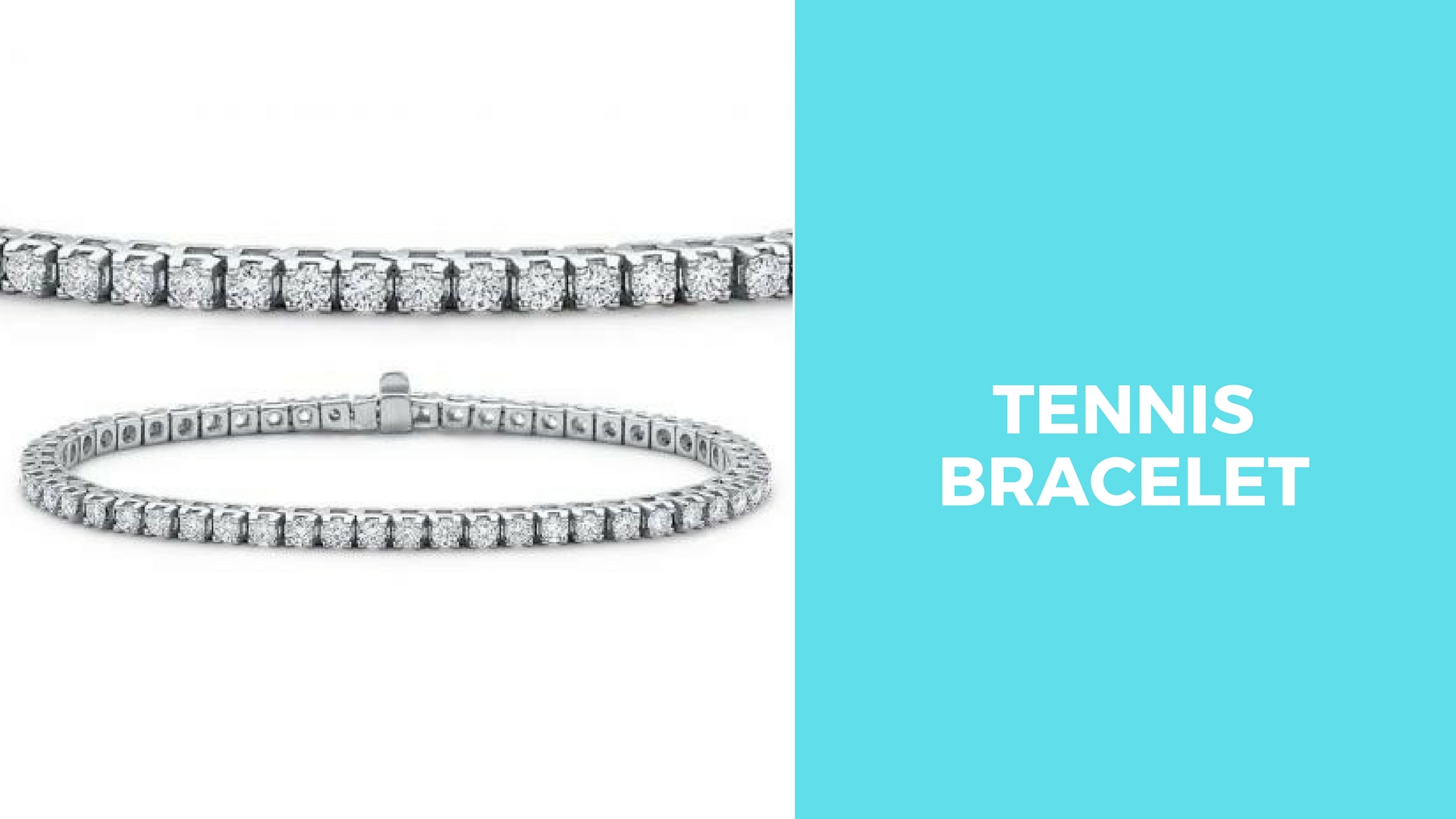 In 1987, Chris Evert was playing a vigorous match of tennis at the U.S open. During the course of the game, she stopped and started searching for her bracelet. It turned out that her diamond bracelet was very precious to her, and the game was to stop until it was recovered.
This incident inadvertently spawned the term diamond tennis bracelet. Today, every woman consider this bracelet, with its fantastic simple symmetrical line of diamonds, a must-have.
The simplicity in design does not compromise the elegance that designers have in mind. This is a statement piece, which you can still wear every day. It complements any look you desire and is comfortable in your hand.
While diamonds work perfectly for the tennis bracelet, you can still choose cheaper metals to suit your budget. This will not affect the elegance and classic look for your bracelet. You can go with silver or other brilliant metals to get the desired effect.
Hoop Earrings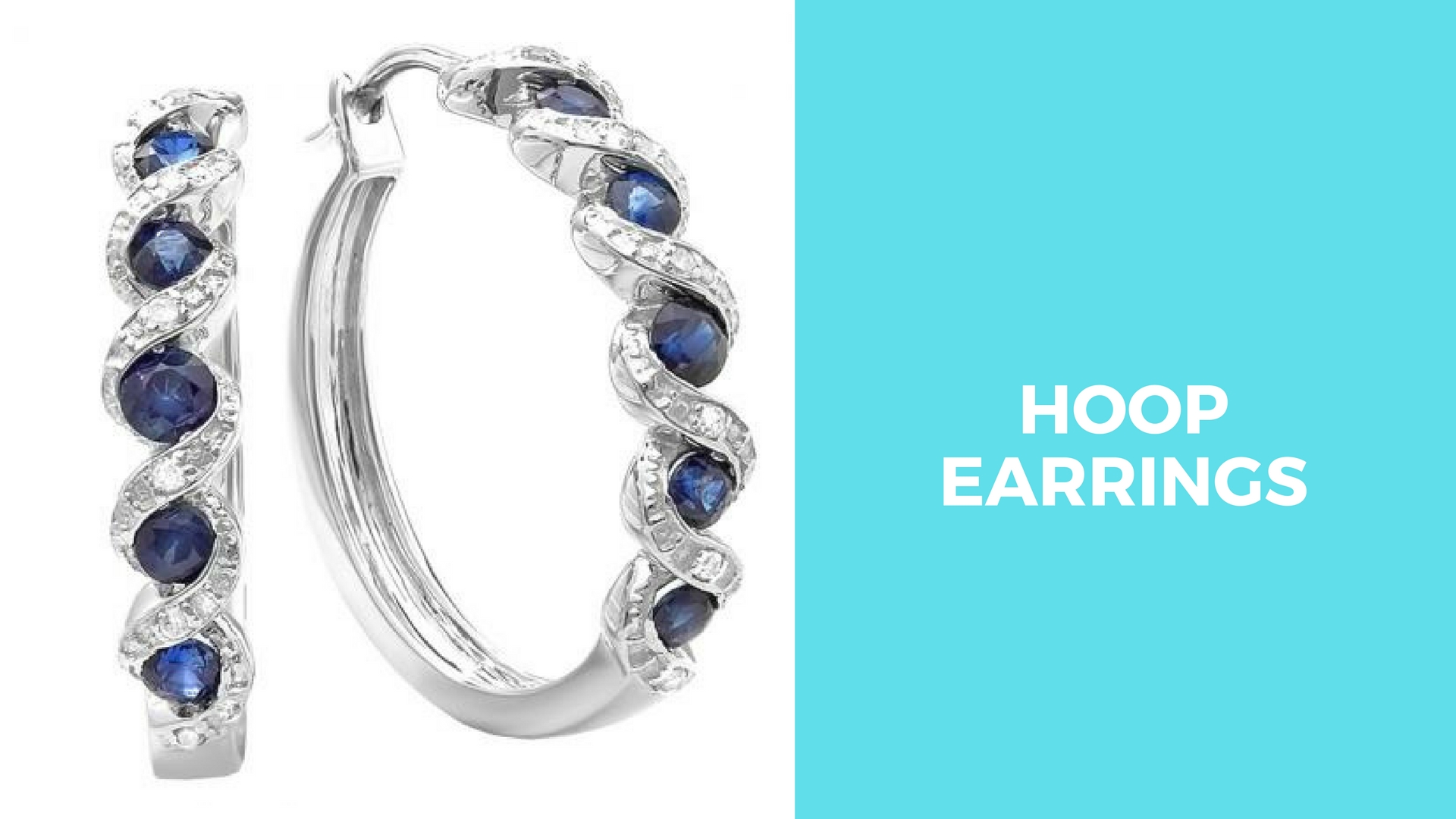 Hoop earrings; who does not love them? These are a quintessential classic when it comes to women's jewelry. Whatever the latest trends in the market, you will still see hoops on the red carpet. They are effortlessly glamorous and are among the best statement pieces you can choose. When chosen and worn, they help attain a pretty and edgy look.
By choosing a color that accentuates your skin tone, you can easily bring on the magic with your hoop earrings. For cool skin tones, the best hoops to go for are silvers and white gold. Hoops you choose must also be suitable for your neck length and face shape.
Whatever the outfit you have in mind, hoops can complement your look and bring out the best in you. A pair of discreet gold hoops will work with both your formal and casual wear. Whether you want to step out in a pair of jeans or you are going out for a soiree, you can easily polish your look with a perfectly chosen pair of hoop earrings.
Therefore, when you are in a hurry and you still want to look classy, just wear your beautiful gold hoops. If your hair is up and you need something to complement your look, a pair of gold hoops earrings will do the trick. This versatility of hoop earrings makes them every woman's dream.
Statement Ring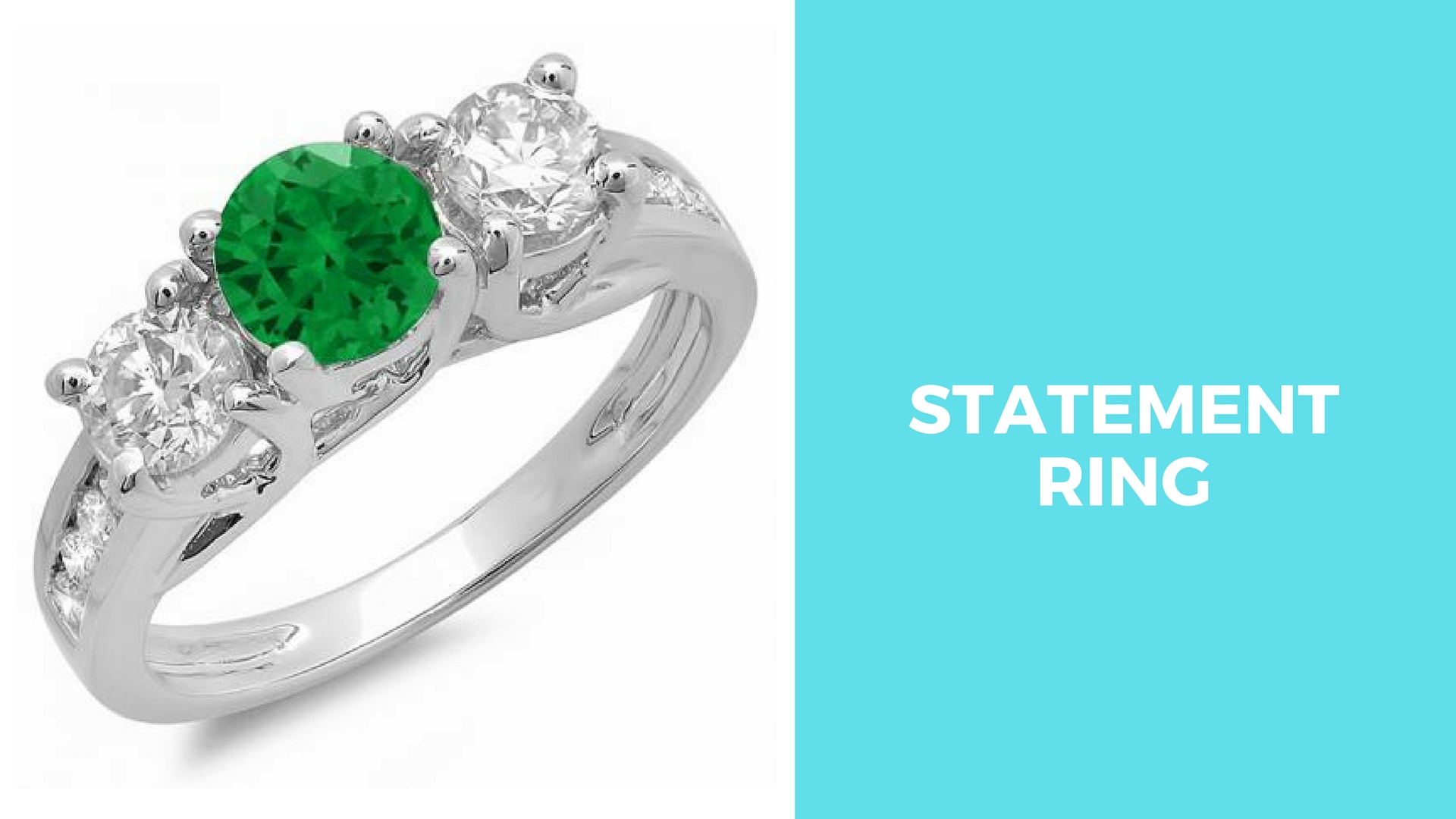 A statement ring is every woman's secret weapon. This small piece of jewelry carries a big punch. For instance, diamond rings have been worn for ages to bring any look a woman wishes to live. When compared to large pendant or earrings such rings are subtle and do not scream for attention.
The brilliance of the metal alone is enough to get the desired effect. With a statement ring, you do not require to try too much as it becomes the focus of attention naturally.
Besides diamonds, you can pick any of your favorite stones for the centerpiece of your ring. The idea is to get bold with the color while at the same time picking something that complements your skin tone. The size of the rings should also complete your fingers. Statement rings are meant to accentuate your look and if you have nice long and slender fingers, black diamond rings will dazzle anyone who notices them. Today, these rings are becoming more popular at formal occasions and you will see stylish women wearing them to complement their casual wear.
Stylish Necklace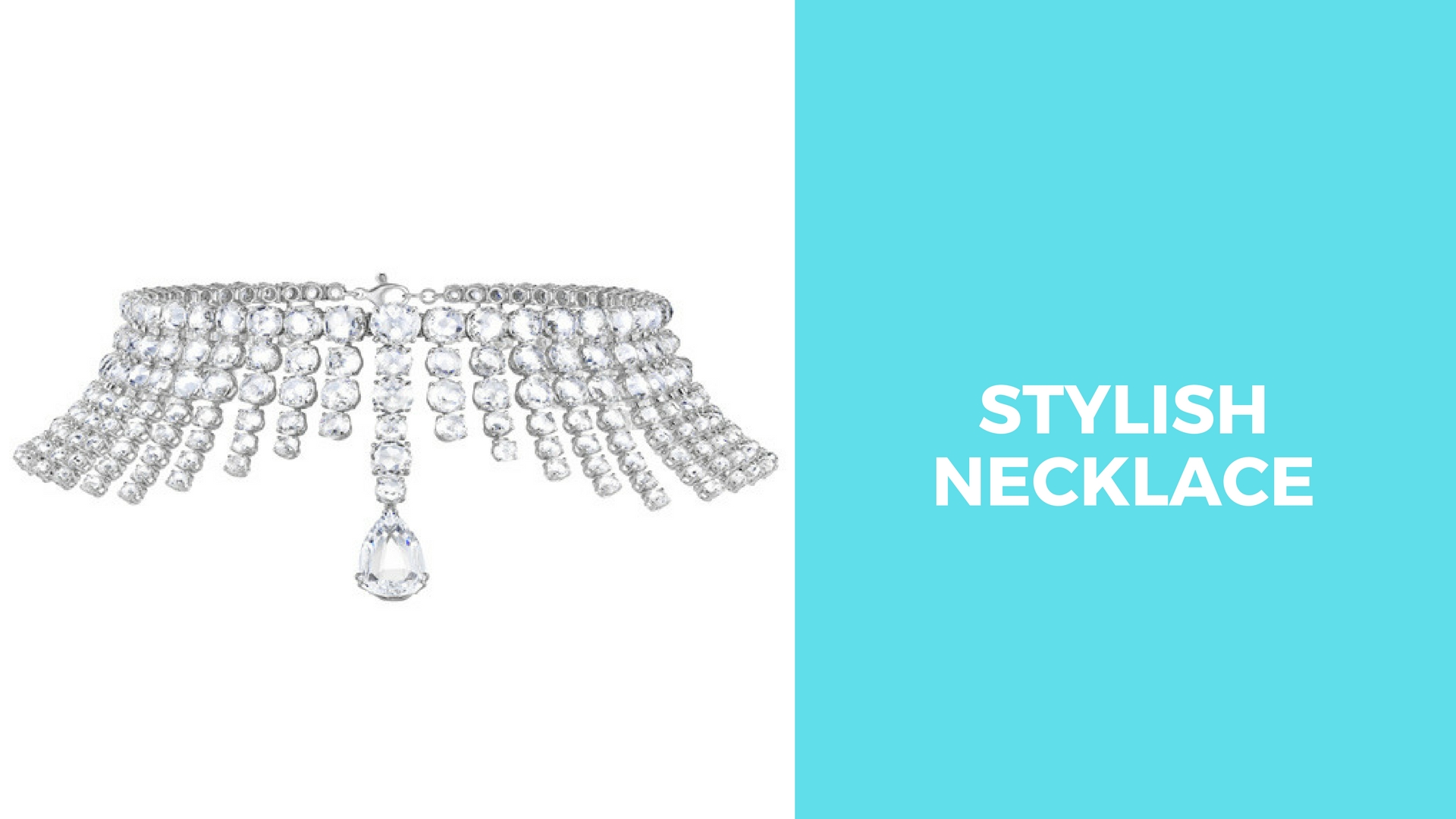 This is a broad category because there are so many types of necklaces that a woman can wear. The most important point is to have a nice looking necklace in your jewelry box. Gold necklaces, solitaire pendants, statement necklaces such as turquoise necklaces, vintage-inspired lockets, pretty chokers, and pendant necklaces are among the most popular choices. A beautiful necklace helps bring out the best in your skin tone, draw focus to your face, accentuate your neckline and can carry some symbolic meaning.
Factors to consider when buying a necklace include the metal chain, which can be beads, Byzantine, mesh, snake, cable or rope designs. You have to consider too the right length and the stone to use.
Diamonds, gold, and silver are among the most popular metals to use for your neckpiece. The shape of your face is also an important consideration when buying a necklace; an oval face goes with any necklace shape, a heart-shaped face goes with lower choker style necklaces while an oblong face works perfectly with a high choker necklace.
Your height also matters when buying a necklace. If you are shorter, a long necklace will add visual length. For taller women, a choker will work perfectly. After considering all these factors, you can now choose a necklace that will complement your desired look. Remember, always choose a necklace that suits your skin tone and does not steal the show from the rest of your attire.
SHOPPING FOR ESSENTIAL JEWELRY
These five are some of the most crucial pieces of jewelry you should have in your jewelry box. Others worth mention include men-inspired watches, gold bangles, charm bracelets, diamond cocktail rings, pearls, and metallic cuffs.
All these play a big role in your overall look. It is important to select every piece of jewelry that you buy carefully, as this makes things easier for you when you wear them. Consider your body size and shape, your favorite look, lifestyle, favorite colors and your skin tone.
After considering all these factors, you will own pieces that are easy to wear anytime you are stepping out. Matching your outfit with your jewelry, in this case, becomes bliss and you will spend less time in front of the mirror.
Better still, if you are more careful when buying individual pieces you are sure to achieve the look you desire. Avoid buying jewelry just to fill your box instead buy jewelry that compliments your overall look. This will save you lots of money in the end. Many women have overflowing jewel boxes yet they struggle to find a single piece to wear any day. You can avoid such situations by simply buying jewelry that suits your needs.
If you have always had a problem choosing women's jewelry, it is a time that you simplified things by narrowing your selection down to the essentials. It is better to have simple pieces that you can wear every day than having elaborate jewelry for which you struggle to find a suitable occasion. Diamond earrings, tennis bracelets, gold chains, pendant necklaces, hoop earrings and a statement ring will always come in handy when you want to look elegant.
These essential pieces are must-have Jewelry pieces for every stylish woman and they make life simpler indeed. The next time you are stuck deciding what to wear with your dress, just look at these essentials in every women's jewelry box. You can never go wrong with them.