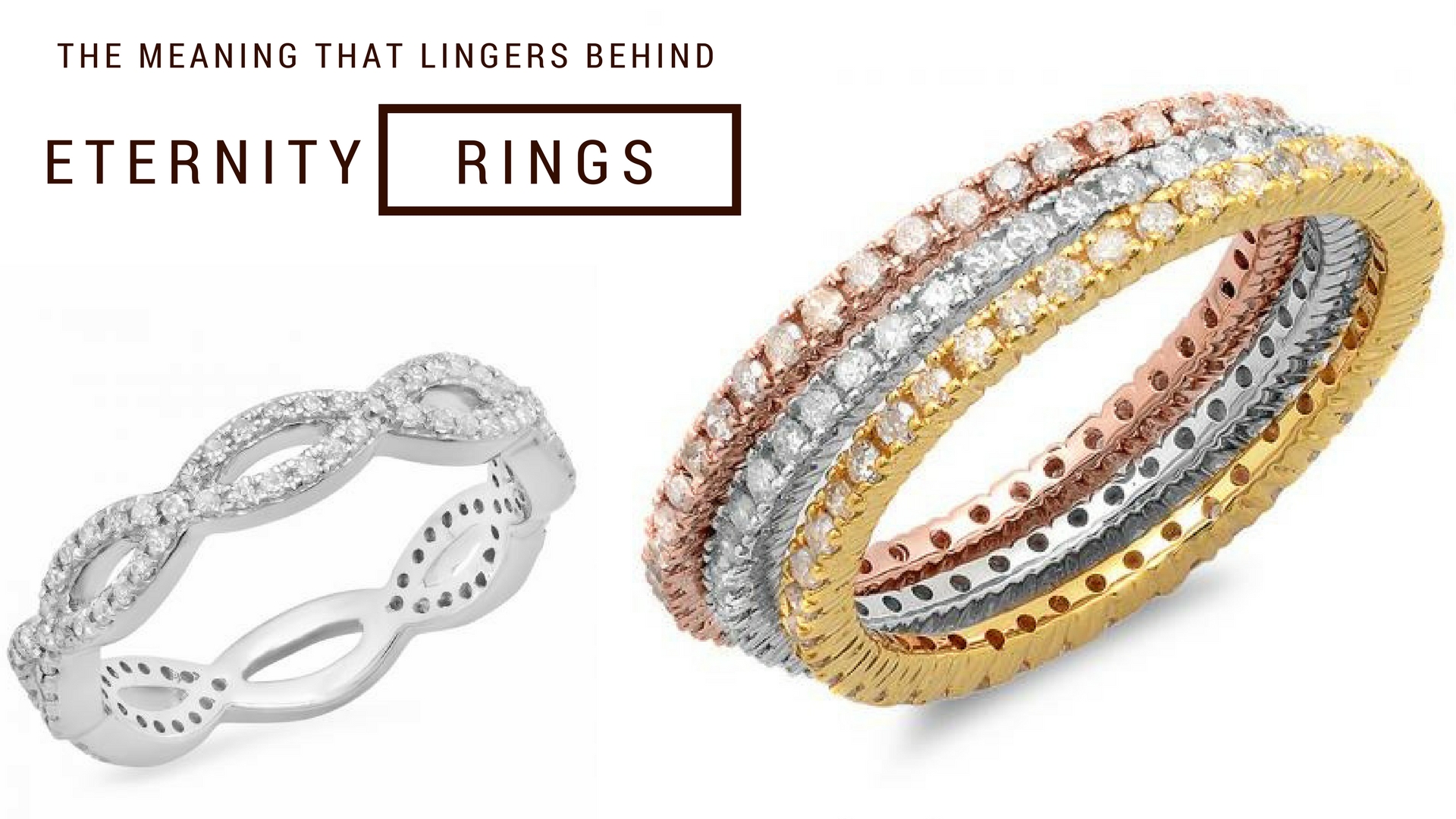 Eternity rings have always been a coveted item for women looking for symbols of the undying and relentless love they share with their soul mates. Also worn by men in the form of a wedding band or engagement rings, these beautiful rings are often considered as most beautiful romantic gifts. They generally mark important occasions like important or serve as tokens of the relationship that a couple shares with each other. Elegant in taste and appealing in design, diamond eternity rings can also be exchanged on the birth of a baby or other important occasions.
Here, we help you take a look at how these rings have their own underlying meaning that makes them so popular with both the young as well as the old. These rings typically depict everlasting love and point to all those things that a relationship is capable of enduring. The circular shape of an eternity ring, with equal-sized diamonds placed all around the circumference, is not easy to make. In most cases, such rings are designed by experienced jewelers to showcase skillful craftsmanship.
Eternity Rings – What meaning do they depict?
Eternity rings are different from other rings set with diamonds and precious or semi-precious gemstones. Traditionally set, these attractive rings for men and women have gems or diamonds going all around a band made of a precious metal, such as platinum or gold. According to Egyptian hieroglyphics that dated back to 2000-1800 BC, the eternity ring was an important and powerful symbol that showcased infinity. As a symbol of eternal love, these rings were also considered by the Egyptians as an essential bond of strong marriage, that could not be interrupted in any way, even by death. When these two concepts were brought together, the Egyptian tribes went on to invent the entire concept of togetherness through an eternal union between man and woman. Going back in times, archaeologists have found rings carved from bones, in ancient Egyptian tombs. Simple rings had gemstone bands and used elaborate metals for their making. When compared to modern day rings, the ancient rings had carvings, beads, gems and other decorations in common; these decorations went all around the band like modern day eternity rings.
Today, eternity ring symbolize commitment and love. they a continuous circle that is not to be broken. Typically, these rings are also referred to as "infinity" rings, although the term is lesser known in jewelry circles. Made from indestructible diamonds and precious metals, exclusive rings are known to be the ultimate symbol of everything that couples in love can endure.
Half and full eternity rings
There are different kinds of eternity rings available on the racks of jewelry stores. Apart from the traditional, full rings that have gems placed all around their face in a continuous line, their half rings as well. These half eternity rings have gems and diamonds placed only on the top face of the ring. Many buyers and wearers consider the full eternity rings very attractive and more beautiful than their half counterparts as they have gems set on all sides of the band. The overall look of full eternity rings is rich and luxuriant.
As a downside full rings, the gemstones that are set and lie on the underside of the ring are likely to catch easily; therefore, it is important for wearers to be careful while wearing them. In Addition to that, full eternity rings are more expensive than the half ones as they have more diamonds set on their face. Given this, there are some people who find the half rings more comfortable and practical for daily use. As the gemstones are set only on the top side of the ring, the half versions allow for larger stones for the same price. The price of such rings would ultimately depend on the total weight of the stones set in them, irrespective of whether the band is made of platinum, gold or other expensive metals.
How to invest in eternity rings?
If you are interested in investing in it, you need to figure out your budget before anything else. These rings are usually gifted or exchanged on special occasions like an engagement, wedding, anniversary or any other important event in a couple's relationship. In some cases, even the occasion of the birth of a child is considered as a traditionally accepted occasion for gifting one such ring to a loved one. Additionally, they can also be purchased to mark important yearly events such as birthdays, Christmas or Valentine's Day. In other words, there no hard and fast rules for gifting these rings. They are cherished forever and can be passed down through generations as family heirlooms. Deeply immortalizing a couple's love for one another, these rings have a deep underlying meaning that them so very special.
Diamonds: The popular choice of stone
Diamonds are the most common gemstones that make it to the face of eternity rings. As diamonds are the rarest, strongest and most precious of stones found on earth, they are considered to be important and beautiful symbols of eternal commitment and love. The significance of these sparkling stones aligns with the meaning of eternity or infinity and are therefore the best choice of stones for the same.
Colored diamonds and other gemstones used in eternity
If you are looking for further symbolism, you may want to invest in colored diamonds and other gemstones. There are plenty of designs and variations that can make it more personalized and dearer for the wearer. The inclusion of colored, vivid gemstones goes a long way in making these rings look better and more symbolic in themselves.
For instance, you may invest in birthstones (along with diamonds) to make it more meaningful.
For instance, green emeralds are apt for May, blue sapphires are September birthstones, while red rubies are the officially accepted gemstones for 40th wedding anniversaries.
Where to wear eternity rings?
Usually worn on the 4th finger of one's left hand, eternity rings can we worn as replacements for engagement rings or wedding bands. They may also be worn along with them to form an attractive trio. The 4th finger of the hand is said to have the "vein of love" running through it that goes straight to the heart; thus, it is thought appropriate to wear this ring on the same finger to nurture eternal love in any relationship. Of course, the eternity rings can also be flaunted on any other finger of choice; even on the thumb!
Go For Beautiful Settings
While some eternity rings are set by machines, the most lasting and beautiful ones are courtesy the workmanship of skilled jewelers. These rings require the highest levels of skills for their making and are often known for their fine cuts and excellent of gemstones. At the very onset, the jeweler would cut gold or platinum in the form of a strip. The length of the strip should match the size of the finger of the wearer to perfection. Thereafter, this strip is shaped to form a band that's joined at the ends. A skilled craftsman would ensure that are no visible joints in the band.
Once the band is ready, carefully selected diamonds or gemstones that match in cut, size, and clarity, are set in the band. The process of setting these stones is a tough one as they have to fit side by side without leaving the slightest of gaps. As handcrafted eternity rings are customized adroitly with exact measurements, retailers of jewelry do not find the need of re-sizing them further.
Different cuts of diamonds in eternity ring setting
Emerald cut diamonds and cut diamonds are considered to be the most common cuts for eternity ring stones. Rub over and channel settings are also preferred as they impart elegance and a secure way of attaching diamonds to eternity rings. The round cut diamonds in or claw settings emit greater sparkle and are quite dramatic in appeal.
The last word
It is always advisable to make your eternity rings symbolize a given moment in the special relationship you share with your loved one. The ring should mean a lot to you and depict your eternal love for the wearer. Are you ready to capture the essence of lasting solidarity and love? Go for the best diamond rings for your soul mate – you will be happy to see their reaction!