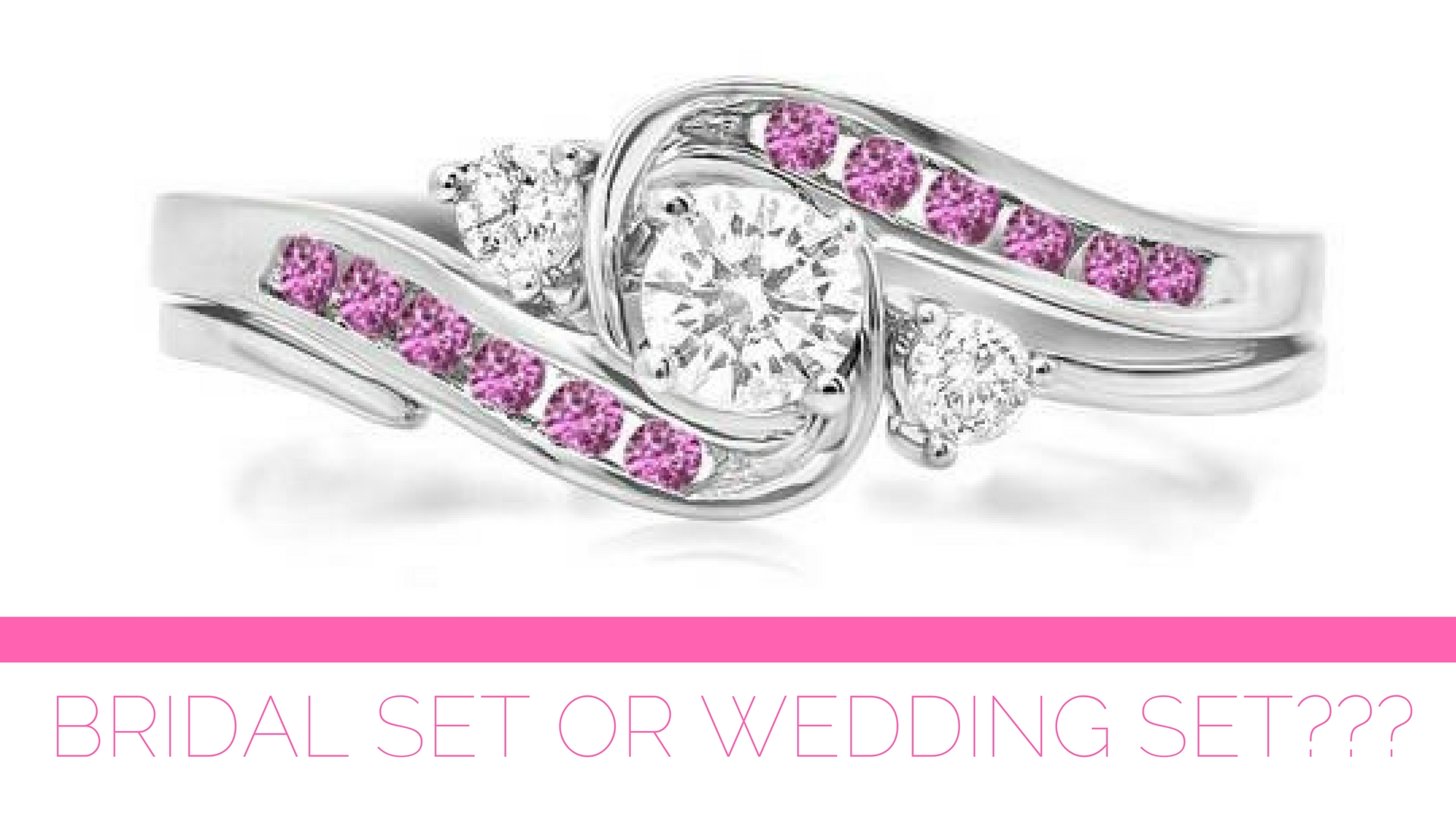 Be it a beautiful bridal ring set or a full-fledged wedding set, there are umpteen options to choose from these days. Blend in the right combination of savings, appeal, and elegance to make the most of your one-time investments.
You need to make the right selection when it comes to blending convenience and beauty. This is especially true if you happen to be an excited woman who loves to go into the details of planning, believes in romance, and desires nothing but the very best for your special days.
Well, the perspective may be a little different if you happen to be a man. It would not be wrong to suggest that there are guys out there who get the adrenaline rush when drawn into the tasks of wedding planning, but then, they are in a minority. In case you are looking around for the perfect bridal wedding ring sets or wedding ring sets, then this quick guide is definitely for you!
The first and foremost step in the processes related to wedding planning would concern the selection of an engagement ring. Most men are on tenterhooks when it comes to choosing the best possible ring for the lady of their dreams.
What if the size does not fit?
Will she like the cut and shape of the diamond-studded in the ring?
Is the ring good enough to make her say "yes" and remain in love ever after?
The idea is to get home a beautiful and affordable ring from a reputable jeweler – without getting ripped off courtesy a poor bargain.
You may also like to give a thought to one-stop convenience.
What about investing in two or three rings that complement each other to perfection?
These days, there are plenty of options for wedding sets and bridal rings available in both online and offline jewelry stores. Along with giving off impressive cost savings, these ring sets are designed immaculately to fit your style to perfection. Under the circumstances, it would surely make a lot of practical sense to invest in a befitting bridal or wedding set rather than a singular ring. This would cut down on time and money costs as you will surely end up getting a better bargain if you buy a set of two or more rings together.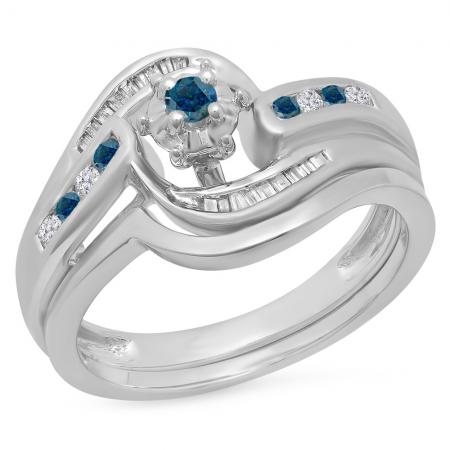 Now, the question that would probably crop in your mind would pertain to the difference in wedding set and bridal set. You may find yourself speaking an absolutely different language than your preferred jeweler in this context.
In the sparkling world of jewelry, a wedding set would ideally include an engagement ring with complimentary wedding bands for both of you. On the other hand, a bridal set consists of an attractive engagement ring and a wedding ring for the bride only.
The band for the groom has to be purchased separately and may or may not match the two rings in the bridal set. The definition of bridal and wedding sets can take on any other meaning for buyers like you.
For instance, you may like to use the term wedding set for both these kinds of sets and still get home what you desire to invest in – choose accordingly.
Prior research works wonders!
It really pays to know what you want before you embark on your search for the perfect wedding set or bridal set. It's a commonly known fact that men have an upper hand in choosing the perfect rings as they have a clear notion of what they want as they go on their shopping spree. Far from being casual browsers, they are sure about the design and budget that they would like to invest in; often from the word go. The ease and convenience of purchasing an engagement ring as well as wedding bands in one package make wedding and bridal sets all the more attractive to them.
Potential missteps in choosing the best ring
You end up mitigating the risks of choosing the wrong rings when you decide to invest in a matching bridal set or wedding set. Under mentioned are some of the probable risks that you can avoid by going the full way:
Avoid mismatched proportions
When you are bent on getting the perfect ring, your eyes may well be gravitating towards the bigger stones. While it is a good idea to buy an eye-catching large rock for the engagement day, you may find yourself with an awkward purchase if you select a wedding band that is equally big. It could be a misfit or too heavy for her delicate fingers! Again, if your budget has compelled you to buy a smaller-sized ring, it would not be a good proposition to make amends by getting her a big band for the wedding day. To avoid such mistakes, you may want to go for a well-matched set of the engagement ring with a wedding band; all within your budget and in the design that would make your special someone go "wow."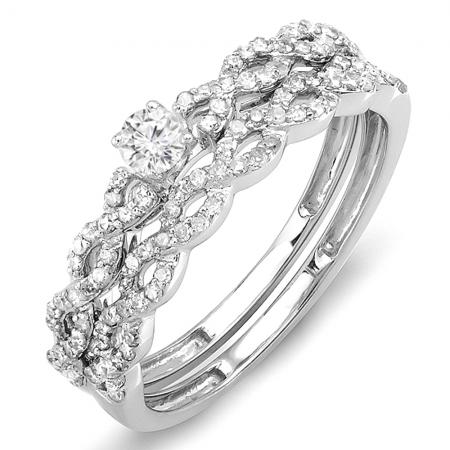 Mismatching of styles
While most ring set buyers would know how to differentiate between modern and art décor styles, there are many out there who would not know a Victorian ring from an Edwardian one. If you are also lost with regards to style combinations and are prone to making irate accidents, it would make things a lot easier for you if you take the guesswork out of the picture. Simply invest in a good looking bridal set or complete wedding set in diamonds to cast the right magic on your special days.
All metals are not alike
While choosing your engagement and wedding rings, you need to be doubly sure of the kind of metal strength, durability, luster and other physical properties that you are paying for. In case you make a conflicting choice of metal, you may end up having a platinum wedding band scratching away at your engagement or wedding ring in white gold. Also, one ring with a brighter finish would make the others look dull in comparison. This is specifically true in case of rings made of gold with different carat weights. By investing in a matching set of engagement rings and wedding bands, you can be certain of getting products made of the same metal with identical physical properties to flaunt; and that's the right way to go!
Mismatched shapes are a no-no too
Say you have opted for a pear/teardrop or marquise shaped diamond to spring the proposal and have a simple round wedding band in mind; then, you may have the pointy end of the stone scratching the band when you wear them both on a daily basis. An additional risk lies in the wedding band interfering with the way the stone in the engagement sits on your finger. It could chip, break or cause other kinds of damages to your precious jewel. By purchasing similar styled wedding bands and engagement ring, you can be assured of making your prized possessions look good and last for a longer time as well.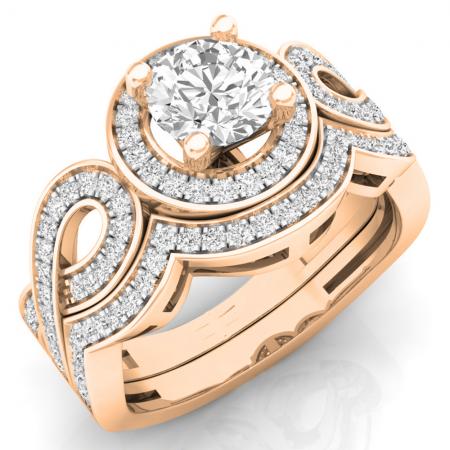 Bridal wedding ring sets

for lavish savings
With traditions changing like never before, a couple is opting for unique ring sets for the most special days of their lives. No longer are wedding bands restricted to plain and simple gold; diamonds are being studded around their circumference to create an altogether unique appeal. This is where a diamond bridal wedding set serves as a big lure for both men and women waiting to get the best deal in their hands. Modern-day jewelry designers are also creating enhanced patterns on signature wedding bands to fit the beauty of diamond rings to the hilt. Then, there are several matching sets on the racks that feature overlapping designs, so as to enhance the look and feel of the central diamond beyond compare.
Way forward
Though it is easy to find the bridal or wedding sets of your choice in your preferred jewelry store, it would also be a good idea to go for customized rings to create show-stoppers. By partly designing the rings as per your choice, or contributing ideas to your designer, you can add further creativity and have a more personalized set of rings to boast of. More so, by investing in two or three rings at the same time, you can get yourself a neat package with interesting all-inclusive prices to make good savings.
Are you ready to shop for the ring sets that your heart desire? Check out the best jewelry stores online to get across to the best selections.