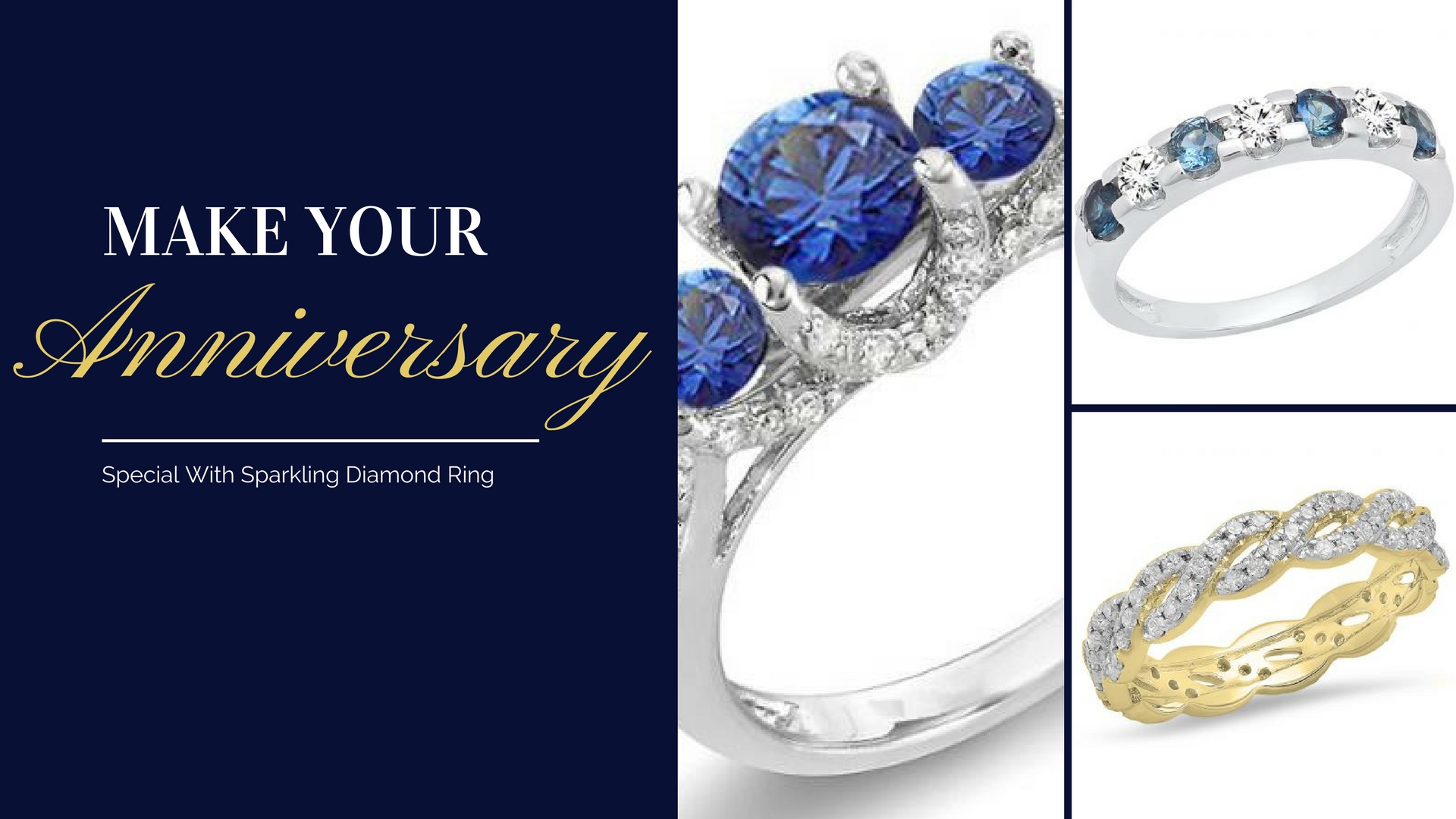 All anniversaries are special. With this in view, a couple need not wait for their diamond jubilee or 60th anniversary year to gift this sparkling stone to each other. Diamond anniversary rings are available in numerous shapes, designs, and styles and never fail to be the cynosure of all eyes. There is no such time as a good or bad time to gift rings studded with diamonds and other precious or semi-precious stones. So, are you ready to make this year's anniversary more special by gifting a sparkling diamond ring to your soulmate?
Be it the birthday celebration of your soulmate, an anniversary, or just about any other special occasion, there is absolutely no "right" time to gift a sparkling diamond ring. Diamond jewelry holds eternal bliss for its recipient and can be presented at any time of the year. Given this, how would you like to add more bling to your upcoming anniversary by buying an exclusive diamond ring for your mate? There is no dearth of exclusive and alluring anniversary rings to choose from online or in local jewelry stores. However, you may want to consider some essential factors before making your buy.
The right anniversary for gifting diamonds
Traditionally speaking, milestone anniversaries such as the 10th or 60th ones, are appropriate for gifting diamonds. Nevertheless, as all anniversaries are equally special and to be celebrated in style, you may want to think otherwise and gift him or her the best diamond jewels in your budget. Available in a plethora of shapes, designs and styles anniversary rings set with diamonds and/ or other gemstones are certainly the right way to go in case you are planning to buy a handsome gift for your partner.
There is no dearth of designs or price points to set your heart on. If you look around carefully, you should not have any problem in finding the right kind of rings that you would want to buy for your next anniversary. The only catch is that with such a large bounty being up for grabs, you will probably require a bit of digging to get to the choicest pieces on the racks. The following factors of consideration also need to be streamlined to aid your search for the most lovable pieces of diamonds in the collections of anniversary rings for both genders.
Her jewelry passion and style
If you are the kind of husband who rarely notices the jewels that are donned by your wife on a day-to-day basis then it's high time you start the process. The act is essential for having a clear understanding of her taste and passion for different kinds of gemstones, metals, design styles, etc. Once you have a fair idea about her preferences in terms of jewelry designs, you will find it much simpler to select a beautiful ring as an anniversary present for her. Here are some points that need observation and self-questioning before you start your search for that perfect gift for your wife.
1. Does she prefer classic, minimalist and simple designs for regular wear purposes?
2. Even though she likes to maintain a low profile in terms of jewelry selection during the day, does she like to flaunt more elaborate and exaggerated styles on her evening outings?
3. Does she like wearing jewelry on a continuous basis or does she prefer flaunting them only on very special occasions?
If you are finding it tough to get ready answers to these and other similar questions, then it would be a good idea to ask your better half to accompany your jewelry hunt. You would not like to bring home an exquisitely crafted, modern-looking anniversary ring set with diamonds when she would rather have a simple eternity ring on her finger at all times. Overall, it pays to know her jewelry style to the fullest before freezing your buy.
Her lifestyle is important too
These days, the daily lifestyle and work methods of women define the kind of apparel, accessories, and shoes that they would have in their closet. This is especially true in case of one's jewelry collection.
For example, ladies with careers, kids or hobbies may find it difficult to wear specific kinds of jewelry on a day to day basis. Their accessory and style choices are firmly guided by their lifestyle and have to be practical enough to suit their needs.
Women with young toddlers or kids on hand would find it meaningless to receive elaborate rings, danglers or large-sized pendants with heavy necklaces from their partners on any given anniversary. After all, young kids and grabby toddlers are curious and may grab at these pieces, thereby hurting themselves in the process or damaging the jewels unintentionally.
Again, if she is working outside the home and has to use public transport for daily commuting, then it does not make sense to wear expensive diamond jewelry that may get lost at the workplace or on the way to it. However, ladies wishing to flaunt their financial success would obviously like to opt for prominent diamond jewelry, such as an attractive looking ring. Just like work, women with hobbies or a passion for outdoor sports may find themselves within confines when it comes to wearing precious diamond rings while gardening, rock climbing, making candles, etc. Choose accordingly to help your sweetheart get the most value from your investments.
Her existing jewelry collection
It is also essential to observe what she already has in her existing jewelry collection. It is not advisable to get her another diamond ring in case she already has too many of the same in her collection. Rather, you may want to gift her a diamond necklace, a diamond pendant, a diamond bracelet or a diamond tennis bracelet among other choices. Along with helping her enhance her collection with investments in different types of diamond jewelry, other than rings, you would also help her complete her look when she steps outdoors with matching jewelry.
However, in case her diamond ring collection is limited to a solitaire or a striking engagement ring set with gemstones, you will have a good opportunity on hand for gifting unique diamond rings. In other words, the entire field would be left open for you in case you are planning to buy different types of rings for her across the years. Be sure to assess her lifestyle, preference, and choice of metals before you start buying the rings that catch your fancy. Say, if she has more gold than white metal jewelry in her collection, then, rings set in gold would be the right way to go. Along with getting home a striking piece of jewelry that would well coordinate with her collection, and align with her taste, you will end up getting extra brownie points for being an observant and caring partner.
Good ideas for anniversary presents set with diamonds
Be it an anniversary ring or stud earrings, you will surely emerge a winner by gifting your lady love a piece set with diamonds. Regardless of whether she is a maximalist or a minimalist, a striking diamond pendant set would be a great idea for your upcoming anniversary. If budget happens to be a concern, you may want to buy her a small pendant to go with an existing chain in her collection.
The more classic choices, such as solitaire rings, stud earrings, and traditionally designed necklaces are the safest bets as they are evergreen and never go out of fashion. In case, your soulmate loves to flaunt her style and is always on the lookout for something exclusive, then she would be pleased to receive a fancy and exaggerated cocktail ring from your end. In other words, the choices pertaining to diamond studded jewelry pieces are indeed many.
These ideas can be dressed down or up to suit the occasion or anniversary when they need to be gifted. Are you ready to go the romantic way by gifting your precious partner a stylish and romantic anniversary ring? Even if she chooses not to wear the ring on a daily basis, you can be sure that she will be flaunting its sparkle on special occasions. Even if she has been wearing her beautiful diamond engagement ring every day, a diamond anniversary band would add further sparkle to her hands.
Get set to make a difference, this anniversary!