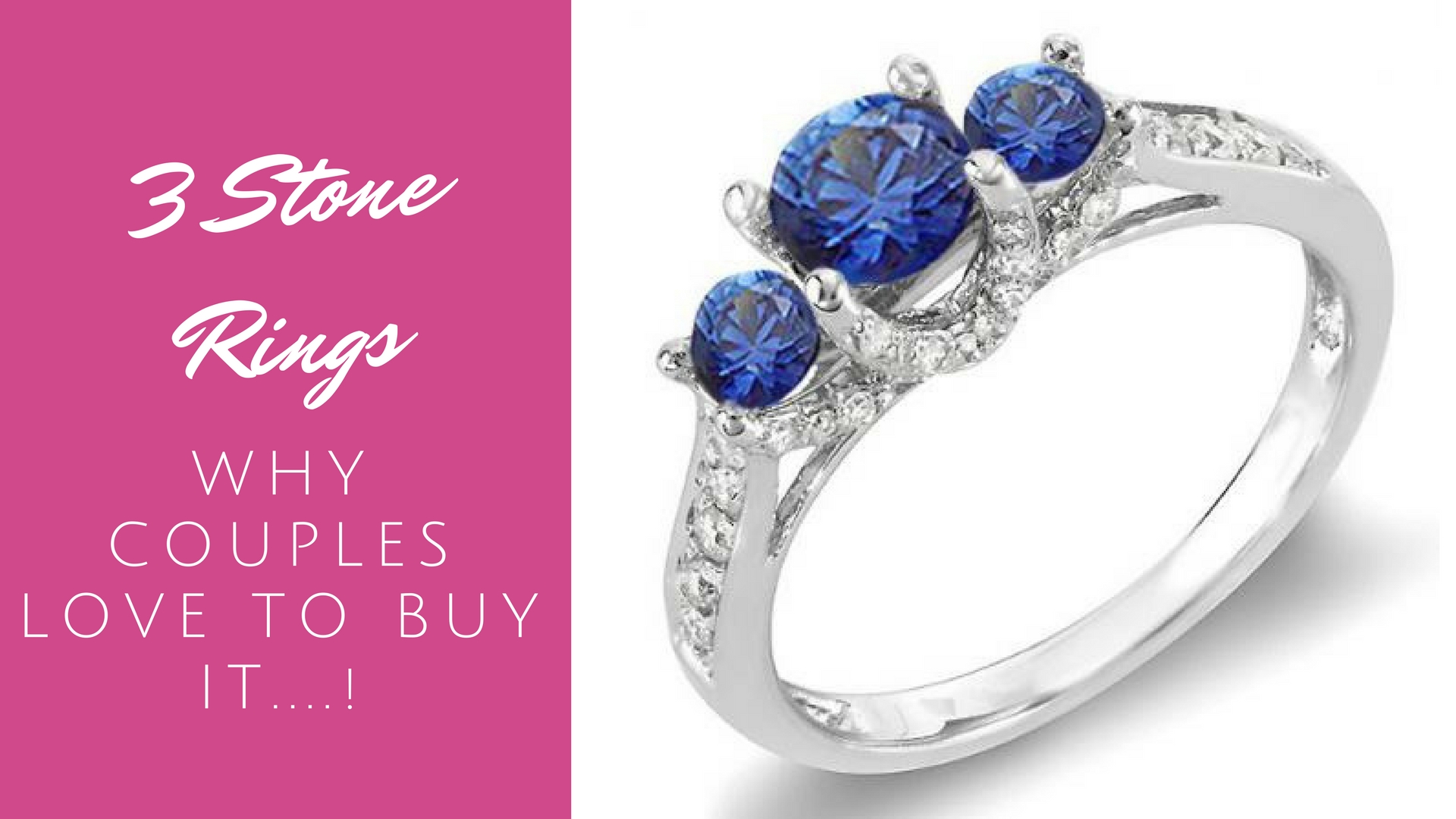 Diamond Rings for him or her, always end up making special occasions more special. Here's why couples are flocking to buy unique three stone diamond rings to use as engagement or wedding rings.
Three-stone rings are making their mark in the world of jewelry, and how! These days, couples no longer look for simple, single stone engagement or wedding rings. Instead, they choose to get attractive rings that are set with three stones. These exquisitely crafted three stone rings are becoming increasingly popular with to-be-brides waiting to exchange their vows.
This is not unexpected as the twinkling trio of diamonds or other stones gives off a beautifully balanced appeal and carries more bling than most other designer rings. So, if you want to buy a versatile good-looking ring then do not look any further. It is meant for you.
Do you still want to know why?
Three-stone engagement rings are an impressive alternative when your budget is not big enough to get you a large single stone. Instead of investing in a dazzling rock that may cost a fortune, you could buy three stone rings set with oval shaped stones, round cut stones surrounded by emerald cuts or half-moons, etc. There is absolutely no dearth of options and designs to choose from as there are numerous creative combinations in the offering.
As far as colored stones go, it can be set with differently hued precious and semi-precious stones to add volumes to their elegant appeal. In other words, along with selecting from a vast repository of styles and cuts, you can also check out different kinds of three stone engagement rings or wedding rings that are set with rubies, sapphires, yellow diamonds, and more.
For example, you may ask your preferred jeweler to show you a ring set with a diamond center stone that is flanked by two shining rubies or vice versa. The same setting would also look good with sapphires instead of rubies. Take your pick.
Although you may have decided to buy it, you can still add an extra dose of dazzle. If you delve deeper into the catalogues of jewelry stores online, you will find a wide range of precious trios that have channel-set or pave set bands. If you prefer a classic and clean looks, you may opt for a platinum or smooth gold band for the rings you choice.
These striking and stylish triplets are a good choice for brides who are looking for subtle wedding ring sets that have diamond in them. There are many fashionable young couples, as well as elderly ones, who would rather opt for rings without a huge center stone. Depending on your budget, you may add extra stones on the front or side to make the ring appear larger than it really is.
As most people would say, "The bigger the better"; so, in context to diamond rings, you may go for thrice the charm to get yourself an engagement or wedding ring that's one of a kind.
As the name suggests, it showcases three solitaire diamonds or other gemstones as their high point. In some cases, these rings may have more to their credit than a random selection of the number "three ". What makes these rings an exciting proposition for young and old couples alike is the underlying meaning nurtured by them. Also, known as a trinity or trilogy rings, they appropriately symbolize the past, present, and future of a persons life.
For some, these elegant rings signify forever, now and always. Sometimes, they are a reflection of the expression of eternal love that would help you state, "As a couple, we have spent our past years together, we are devoting our present to being one, and shall be ever united in future!" to your soulmate. Simply put, these three stone rings serve as a strong foundation stone for all true relationships.
While proposing with three stone rings, couples need not utter too many words as the emotional meaning depicted by the rings would make all intentions apparent. However, as trinity rings are capable of being used in various ways, as wedding rings, engagement rings, diamond promise rings, or rings suited for other occasions, it helps to say the right words while exchanging these coveted diamond rings while proposing engagement. Thankfully, there are no set rules or conventions to follow while gifting three stone diamond wedding rings. You need not wait for any specific special moment; you are at complete freedom to confer and decide the ways in which it would be appropriate to convey your feelings.
In case if you are still unsure about whether you should get engaged to the person of your choice, you may like to purchase this ring as a promise ring. He or she would understand that you nurture a clear motive of remaining in a relationship even though you may not be prepared to get engaged just yet.
What's more, It can also be also purchased as an anniversary gift for your special someone. Once again, it's the pure essence of these well-crafted finger adornments that make them so special for just about any anniversary. As far as the narratives for anniversaries are concerned, the explanation of their meaning could be just about anything. From depicting your take on love to showcasing promises for the future, they say it all. If you happen to be the creative kinds, you may want to design your own special diamond anniversary ring in line with the number of years you and your partner have spent together. You can do so by selecting the size, shape, color, style or the metal for the ring of your liking; thus, making it all the more special.
Metals such as white gold, sterling silver and platinum provide a unique modern flavor when used for making three stones diamond rings. Rose and yellow gold are more suitable for those who have a passion for traditional or vintage jewelry. A three stone diamond ring crafted in a unique style looks quite romantic irrespective of whether the ring is a three stone art deco ring studded with diamonds or a large-sized Victorian diamond ring with three center stones. While lovers of bold contrasts and geometrical shapes would like to choose from art deco ring collections, Victorian rings strike the fancy of those who like soft motifs. Which one would you go for?
With trinity rings, you can be assured of getting the highest degree of flexibility in terms of the size of stones that you could invest in.
For instance, you may opt for a bigger center stone, that is accentuated by two smaller-sized diamonds to complete the look. As you go about the task of shortlisting the best three stones rings based on their size and style, you will notice that the bigger central stone is normally flanked by smaller gemstones that are well highlighted and that look quite showy in comparison to stones that are of the same size.
You may also like to explore three stones rings that come with accent diamonds of different shapes; such as a round center diamond that's set with pear accent diamonds. If you are a die-hard romantic at heart, you would not let go of three stones diamond rings with heart-shaped gems in it. In case if you prefer traditional and classic ring styles, then it would be a good idea to stick to three round shaped stones that have the same cut, size and shape. The round shaped diamonds, followed by gemstones in cushion or oval shapes, are the most popular of the lot and are used widely for the designing of three stone rings. For fashionistas and lovers of futuristic designs, three stone rings that are set with marquise, princess or emerald cut stones are the sought after.
Last but certainly not the least, if you wish to avoid the monotonous appeal shared by white or colorless diamonds, you can add a splash of color by allowing your creative fluids to flow; you may choose from different color combinations to create the right impact. Blue, black and yellow rings are in fashion these days. You may create your own design with different diamonds of different colors as well; for instance, a black diamond may serve as a center stone with white diamonds set on either side to give a striking effect. You may also blend birthstones in the ring you choose, to make them more colorful and desirable.
So, are you ready to make a statement?