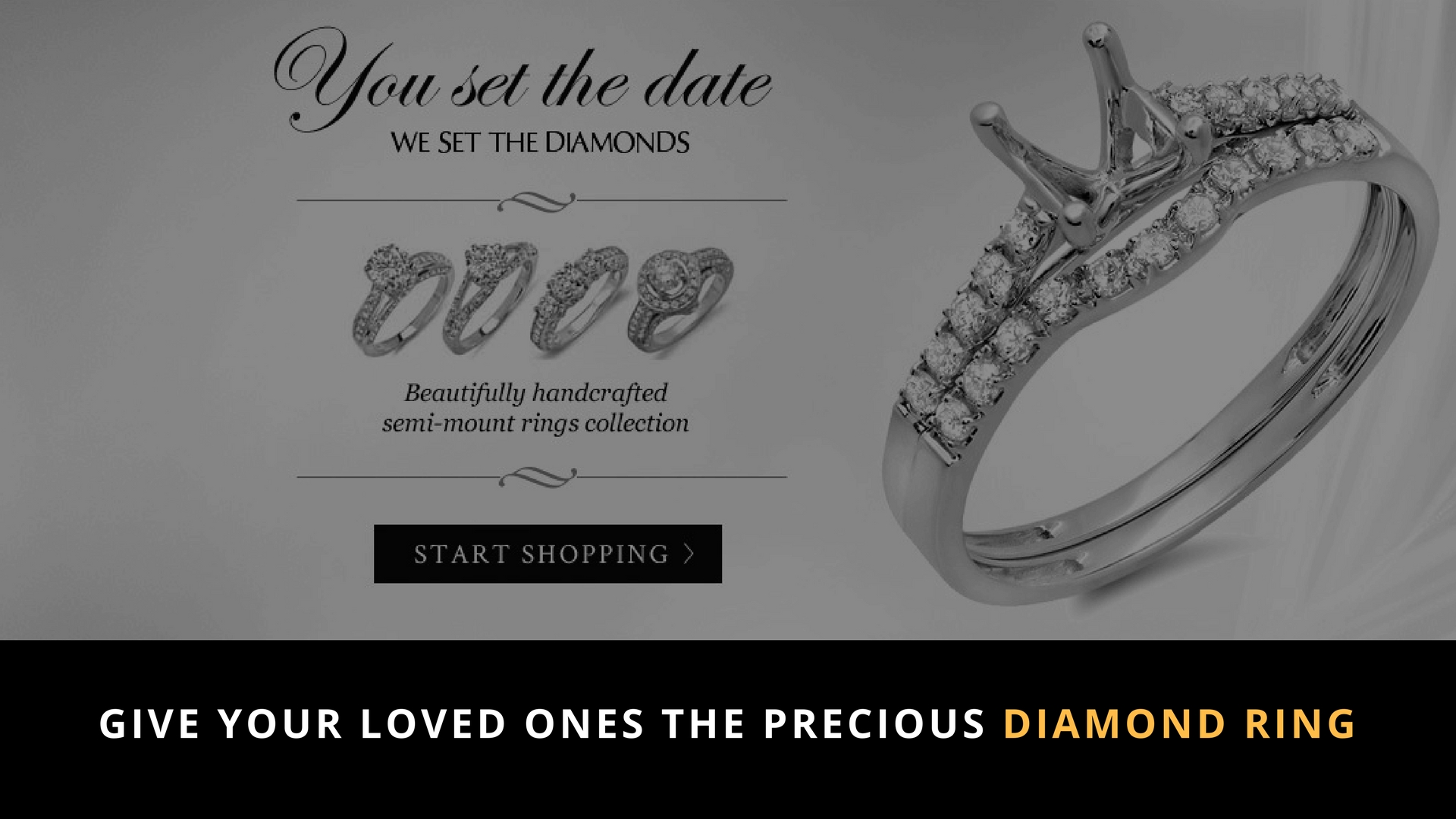 If you have been thinking that your next purchase of diamond ring should wait for an anniversary, birthday, wedding or an engagement then it's indeed important to think again. Fashionable, intricate diamond jewels, be it a necklace, pendant, bracelet or a ring, are forever. These wonderful choices of gifts for your special someone are usually available in a variety of choices.
So, if you are tired of thinking about a fanciful, expensive solitaire diamond ring and would rather invest in something more trendy and unique then you are surely in luck. These days, there is absolutely no dearth of designs, shapes, colors, sizes, and cuts of a diamond ring to choose from.
One good thing about these rings is that they are no longer linked to engagement or wedding only. Their romance and symbolism have managed to captivate the minds and senses of buyers like never before, making them an idea that's hard to break on any important occasion. Given this, it is a good idea to keep diamond rings and other pieces of jewelry as a much-preferred option if you wish to gift yourself or a loved one something special on an ordinary or special day alike.
Yes. There is absolutely no way that you should eliminate diamond rings from your wish list when you are looking for exclusive pieces of fashion jewelry. Diamonds fall into the category of gorgeous gemstones and has an eternal, long-lasting appeal that's tough to replicate through birthstones or other gems. With fashion statements in the world of jewelry constantly undergoing evolution, designers are coming up with the most impressive levels of craftsmanship to remain in the race. They are now thinking out-of-the-box to create interesting and new ways of incorporating diamonds of varying shapes and sizes in their creations. Under the circumstances, wearers and buyers are now choosing to invest in diamonds that add some color or flaunt an absolutely different style when worn alongside an engagement ring or wedding band.
It's quite interesting to note that strong cases are being made for "anytime diamond" jewels that are being added to the jewelry wardrobe of their wearers at just about any time of the year. This can be attributed to the fact that diamond purchases are no longer restricted to once-in-a-lifetime occasions such as engagements, weddings or 60th-anniversary celebrations. The changing concepts of styles in diamond rings, be it eternity rings, three diamond rings, cocktail rings, promise rings or more, are luring buyers to online and offline jewelry stores like never before – and all across the year!
Making a unique style statement, always
Until a few decades ago, a diamond was crafted in the most traditional of ways by jewelry makers. They were usually mounted as solitaires to make beautiful engagement rings or set to accentuate the beauty of other gemstone studded rings. However, with technology in jewelry designing reaching unprecedented heights, and with designers opting for more enhanced and innovative design solutions in lieu of the old, both large and small sized diamonds are now being used in a variety of ways.
There are plenty of mounting options to choose from if you are looking for customized and unique rings set with diamonds. Additionally, you need not compromise on your choice of metal as along with gold, silver, and platinum there are countless other varieties to select from. For instance, you may want to go for pink or rose gold instead of the traditional yellow gold to add more bling to your ring collection.
You may also like to create your exquisite fashion statement by investing in diamonds of different colors. Yes, along with the usual sparkling white diamonds of the highest levels of clarity, you may opt for other colors, either by way of mixing with white or as stand-alone choices. For example, a pendant, necklace, ring or bracelet that mixes white and black diamonds or other gemstones would cast a unique spell and becomes a focal point of attention when worn at a corporate or social event.
Effortlessly classic, yet on-trend, the yellow diamonds mix well with white to complement matching jewelry collections. Yet another combination of interest lies in white and brown pave diamonds that never fails to cast a wonderful and warm appeal. You may want to try out different combinations of colored and white diamonds before freezing your choice upon the perfect ring.
In the contemporary scenario, companies and ace designers are crafting fashion settings in heirloom-style as well as modern looks to cater to different genres of clients. If you look around carefully, you will come across many different designs that draw inspiration from Victorian, Georgian and Edwardian times. Then, there are several chic designs that are influenced by Art Deco and Art Nouveau ideas. You are also likely to come across reputed designers who have entered into a partnership with well-established diamond companies to develop niche fashion and bridal lines.
Unique in every conceivable way, the designs created by such and other designers are making it to the drool list of those waiting to tie the knot, don an engagement ring, or celebrate the wedding anniversary of their dreams. In case of a budget is not a constraint, and you wish to get your hands on a striking piece of jewelry that's beyond compare, you will love to check out the designs presented by branded jewelers and innovative designers – you will not be disappointed with the result that sparkles like no other.
If you are not too keen on investing in a new diamond ring or one set with unique gemstones in a striking metal of choice, you may want to park your money in other pieces of fine jewelry. Be it the most expensive ones or those in the more affordable bracket, fine diamond jewelry makes for the perfect gifting option for any occasion. For instance, earrings form the coveted jewel for American ladies desirous of making their own style statement. To this end, they would not think twice about buying classic diamond hoops to add to their jewelry collection.
The other classy and evergreen diamond pieces would include the tennis bracelet, diamond studs, or diamond cuffs with pave or solid openwork. Modern style and contemporary designs are now expanding the choices of buyers exponentially. How about investing in a beautifully crafted three stone diamond ring that has clusters of smaller diamonds neatly placed around the edges? Alternatively, you may want to celebrate your next upcoming special occasion with a 22-inch diamond pendant that will impart an altogether new-world woman look to you!
You have two hands
Your diamond rings collection need not have another ring that is akin to your engagement ring. Neither should you worry about taking the focus off your coveted engagement ring when you choose to accessorize your fingers with other rings. These days, diamond lovers are flanking their wedding bands and other celebratory rings with differently designed diamond rings that are meant to be worn on either hand. Such rings are quite different from the traditional ones and have a completely different style, or an altogether different coloration, to speak of.
Then, there are different kinds of engagement rings that are not too modern-looking; yet, they have their own distinct appeal to make them the cynosure of all eyes. For instance, vintage style rings are in vogue these days and are also complementing other designer jewelry effortlessly. The symmetrical and linear art décor styles are making the rounds in fashion circles as well. They go well with conventional and modern designs alike and are a treat for any diamond jewelry lover's collection. This said you may want to try your hand at the more fashion-oriented pieces, such as a color blocking black and white diamond ring that gives off a classic look along with being trendy. Such an impressive ring would go well with black and white apparel to make a bold statement. In case black fails to be your favorite color, you may opt for other colored diamonds to create your personalized collection of custom rings and other jewelry pieces – blue, green, yellow, sapphire – what will you choose?
The last word
Even though a design that's set with a spectacular diamond as a single mounted piece is the classic one, there are other truly exciting designs that cast equal (if not more) radiance and dazzle. Go ahead and open up the rainbow of colored diamonds and gemstones to make your collection of diamond rings more alluring than ever before. You will definitely have lots of compliments and 'wows' coming your way.