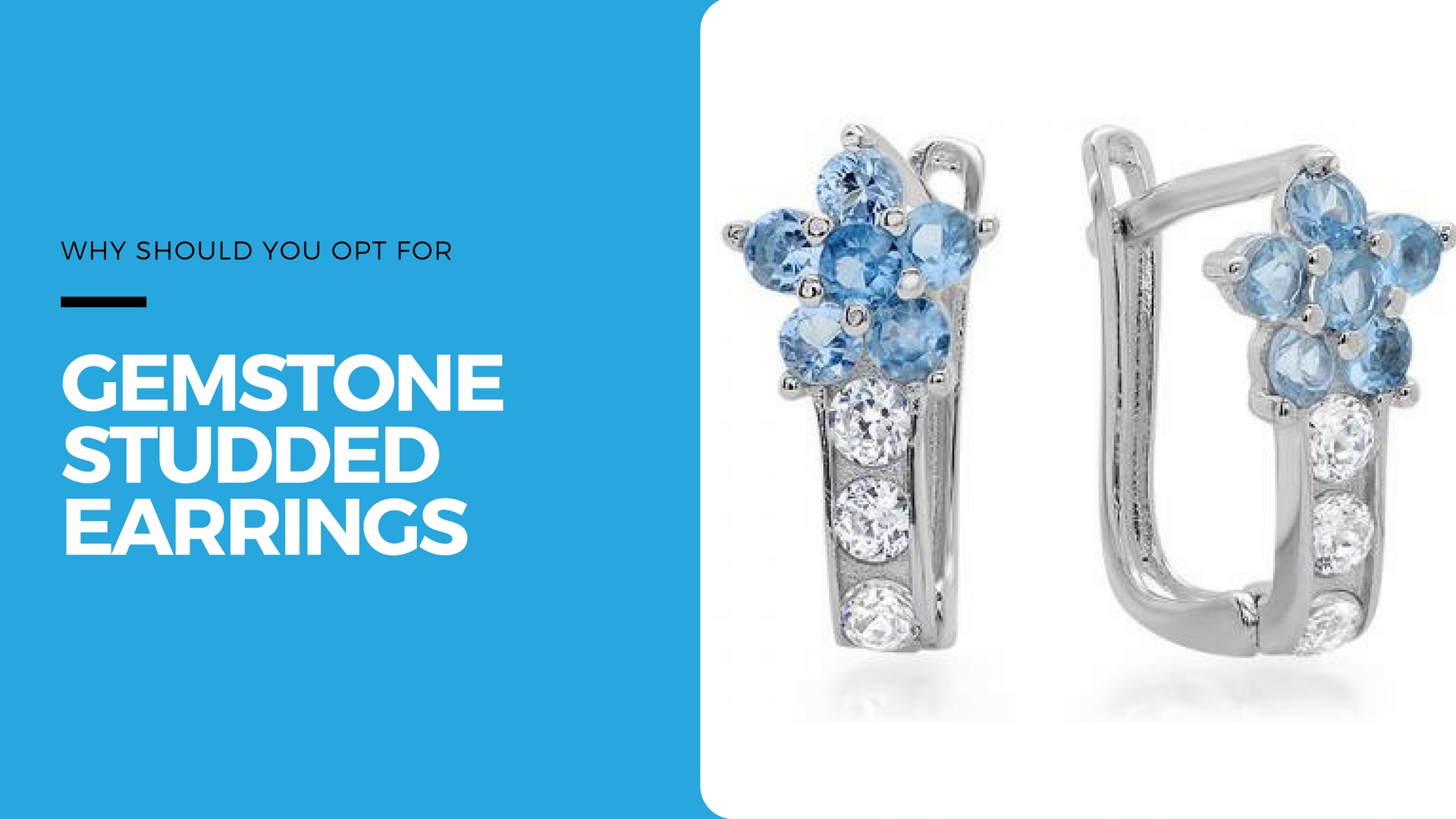 Jewelry adds value to your beauty and personality. It plays an integral role in grooming your personality. Jewelry is not always about gold, silver or platinum exquisitely crafted into beautiful designs. Gemstones and diamonds studded in these metals can give a different look to any piece of art.
Since ancient times, gemstones have also been used to make jewelry. Having an aesthetic and mystic appeal to them, most gemstones have a unique charm of their own. Suitable for formal wear, casual wear and also to wear to parties, gemstone jewelry is appropriate for every kind of occasion. Earring, bracelets, necklaces, and rings studded with gemstones are very pretty to look at.
Gemstones look simply magnificent when studded in different kind of intricately designed earrings.
The post below talks about the role of gemstone earrings as a part of fashions trend these days. Irrespective of the age group, women these days love to go for gemstones as a part of their attire. This post also talks about why you should opt for earrings studded with gemstones.
Fashion Statement With Gemstone Earrings
Gemstone earrings are great for accessorizing any kind of outfit. The best part of gemstones is that they can complement any look. You can customize and team them up with a top, dress or a gown or any color.
Be it office wear or party wear, earrings studded with gemstones are necessary for any wardrobe these days. Gemstones come in a variety of designs, shapes, and sizes. Be it a stud or a dangling earring, drops or fancy earrings, delicately crafted earrings with gemstones always steals the show. Rubies, topaz, sapphires or emeralds studded in earrings add elegance and beauty to the jewelry they are studded in.
The sophisticated classy appeal of these kinds of earrings is something incomparable. While some prefer to contrast it with diamonds other prefer earrings entirely studded with rubies or topaz.
Ancient history speaks of the fact that diamonds, opals, emeralds, and ruby were always the most sought options for necklace, earrings, and rings. There are more than 30 precious gemstones that are rated the best by jewelers.
Sometimes, even a semi-precious stone can add value and provide beauty to an earring. Earrings are mostly purchased as a part of jewelry sets or purchased along with bracelets of a similar design. Accentuating the personality of a person to a great extent, gemstones look great on gold, silver or any other precious metals.
Reasons To Choose Gemstone Jewelry
There are so many reasons for which women love to go for gemstone jewelry. One of the most important reasons is their uniqueness. There are different kinds of gemstones available that have different colors, shapes, structures, and properties.
Any earring that is studded with a ruby, opal or an emerald is unique in its own way. Moreover, gemstone diamond earrings are always a good investment. Earrings studded with gemstones are always valuable in the market. With the price of gemstones on the rise, this kind of jewelry is always considered as an asset for your future.
Perfect Pair Of Earrings
Keep your facial structure in mind, you should go fo the studded earring that matches the contour of your face. While studs studded with ruby or emerald looks good for office wear, Saturday nights call for fancy dangling earrings. You can pair earrings studded with opals with a gold chain or a neckpiece that matches your look and personality.
Jewelers these days keep in mind that most women go to work. Keeping this need in mind, they design earrings that are made to look appropriate for both office and party wear.
It totally depends on you whether you wish to go for casual earrings or something for a special function. There is an array of option available in the market and you need to choose earrings that match your taste. Opting for the right kind of earrings studded with gemstones needs considerations.
Different stones can be combined to make a variety of designs. With explicit carving and different gemstones shapes, a good jeweler can create the perfect piece of art. Crafting a captivating intricate design is something they can do seamlessly. skilled jeweler excels in incorporating the right design with uniqueness.
So if you are looking for ruby studs or emerald studded drop earrings, then you need to find the right jeweler that can provide you with the right thing. You need to go for well-known brands that offer quality services in this domain. Dazzling Rock is one such Brand option where you will get an exquisite range of diamond and gemstone jewelry.
There is an endless number of designs available that would look perfect for your engagement, wedding or as an anniversary present. You can even customize jewelry to suit your needs. So contact this well-known brand, if you are looking for guaranteed services.