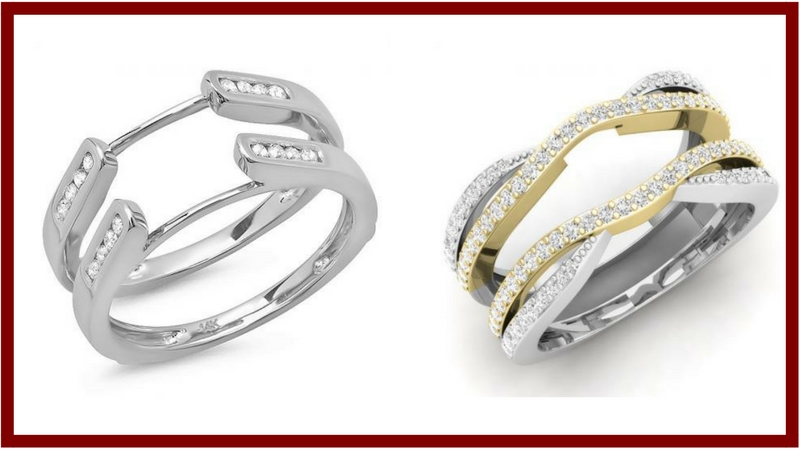 Are you looking for the perfect anniversary rings to give to your better half on the upcoming special day? Or, are you all focused on the big anniversary day and are set to buy the perfect set of diamond rings for both of you? Whatever be the reason, this article will help you to buy the perfect diamond anniversary rings for your special occasion. 
Diamond rings sparkle seamlessly on the fingers of those in love. Available in many shapes and designs, they are coveted adornments for couples of all ages. These symbols of love will make you think of that special day when you got married or engaged. They go miles in helping you re-experience that initial excitement of coming together and serve as a pledge for your eternal loyalty.
Here, we have suggested simple but effective tips to buy diamond anniversary rings to make your special occasion memorable.
Why Diamond Rings for Anniversary?
It is a Carefully crafted diamond ring gifted to your better half on the occasion of your anniversary. Typically, bands with equally sized diamonds or other stones set in a sequence. For instance, you may opt for 18k yellow gold eight stone diamond ring to gift to your spouse. If you are wondering about the number of diamonds that should make it to the prongs of your ring then do know that the count would depend on budget, preferred style, choice of metal like platinum or gold, and so forth.
Consider Styles and Settings of Anniversary Rings
There are different types of settings for anniversary rings:
pave setting,

prong setting,

bezel setting and

channel setting
Classic anniversary rings usually boast of a string of diamonds that are rough of the same size. With the 5-stone diamond ring, you can go for a beautiful ring beset with 5 to 12 stones. The prong setting of this style maximizes light penetration to increase the sparkle and fire. Herein, the diamonds protrude out of the rings to enhance their allure. The 2-row diamond rings use micro pave stones that are neatly flushed with the band to create a new style that's quite different from prong setting. This style is an impressive choice for gaining tons of sparkle and a heavy diamond studded look.
How about choosing a 9-stone channel-set diamond ring set to mark your anniversary? In this design of diamond rings, two different pieces of metal are taken to form a channel that's capable of holding as many diamonds. The channel setting acts as a protective barrier for the stones and imparts a stunning, floating look to the rings. A 20-stone bezel-set flaunts a contemporary ring setting, with the bezel setting giving the diamonds a very elegant frame. This style is safe for active women as the diamonds remain secure in the setting. The bezel set diamond rings usually showcase minimum imperfections and look larger in size than other rings when worn.
Choose the Stones
Anniversary diamond set rings are symbolic in nature. If you are unsure of the number of stones that would do justice to the rings of your choice, you may want to add more meaning by choosing them to be representative of something. Say, four stones diamond rings may point towards four family members, or the ones with eight diamonds can be symbolic of eight years of blissful marriage – take your pick.
Band Color of Anniversary Ring
If you are planning to purchase diamond rings as a surprise gift for your special someone then remember to account for the color of the engagement or wedding ring, and of course, his or her personality. For instance, if your wife loves wearing matching jewelry, or if gold happens to be her favorite jewelry color, then choose the rings accordingly. You may combine different styles and colors like pink gold to create an altogether new statement.
Alternative styles of anniversary rings
Apart from the classic anniversary rings mentioned above, you may want to invest in some attractive alternative designs such as a diamond eternity rings. These popular rings set with diamonds or other stones that continue around the entire ring; they symbolize the never-ending love that you nurture for one another. A three stone diamond anniversary ring is another option that represents three periods of lifetime – past, present, and future. These rings are appropriate for anniversaries as they celebrate the happy years of togetherness spent so far and express loyalty and hope for the future.
In a nutshell
Always strive to think big when you are ready to invest in a new anniversary ring set. As you will find it tough to get across to jewelers who sell 'anniversary rings' as a different category of rings, you may want to select from fancy wedding bands or different styles of diamond engagement rings. Check out premium metals such as platinum or palladium, or link up with styles that incorporate multiple diamonds. These rings are a wonderful gift for any anniversary year and never fail to draw a smile. Why wait for the Diamond Anniversary Year when you can make every anniversary rock like the 60th year?
Which fingers can you wear your Anniversary Rings?
In case you fancy the traditional way, you may want to wear your anniversary ring right on top of the engagement ring that you already wear on your fingers, or wear the anniversary band to flush well with your wedding ring sets either way, they will look good if you manage to avoid any space between these rings. Yet another good option is channel set rings that can fitfully complement all kinds of other rings.
You may also wear your anniversary rings on a different finger or the opposite hand on which you wear your wedding or engagement ring. It's okay to go for different settings, different color rings, and varied kinds of diamonds; the list of options is endless. In case you do not have any specific preference then just opt for the finger on which your diamond rings set well, and in the best possible way.
Way Forward
So, how would you like to wow him or her with the most exquisite looking diamond rings within your budget? In all probability, you have already gifted engagement and wedding rings sets with diamonds, so skip the formal looking solitaires on your upcoming anniversary. Anniversary rings come very close to wedding bands rather than engagement rings because of their meaningful and simplistic designs. They may contain any given number of diamonds as per your style preference and budget. The anniversary rings are all about renewing your love. If this happens to be your first anniversary, you may want to plan another first in terms of gifting the best present. Why not begin the day by exchanging sparkling, new diamond anniversary rings? Go for it, you will be happy you did.