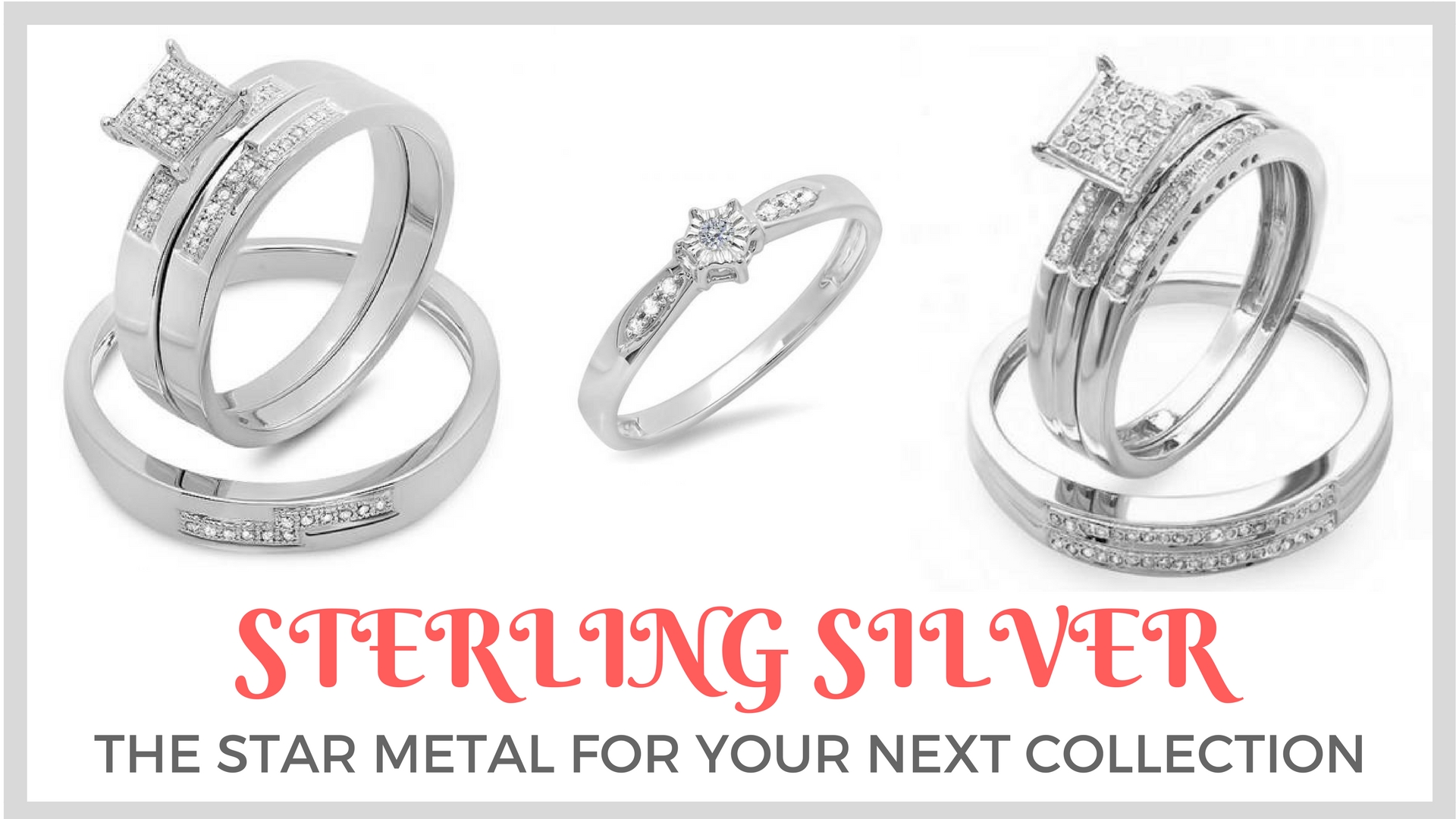 Unique sterling silver diamond jewelry collections are making it to the closets of lovers of the star metal. Here is a closer look at why you should invest in silver diamond ornaments as well.
Fashionistas, celebrities and all those who love the sparkle of sterling silver desire to add pieces to their collection. If you are one such aspirant then you would want to take a closer look at why silver diamond jewelry is such a rage these days. Read on to understand why silver happens to be the metal of choice for one and all.
Silver, in its capacity of a precious and superior white metal, is highly malleable and conductive. This metal is known for its receptiveness and softness to polish. Given these physical traits, it is no small wonder that silver was put to use since ancient times to craft tableware that had intricate designs and a mirror-like shine. It was only in the 12th century that artisans in Europe were able to use silver to form an alloy with other metals to generate the useful and more durable sterling silver. Since then, plain sterling silver jewelry and sterling diamond jewelry has become the cynosure of all eyes – be it of the wearer or the designers.
Sterling silver, which is also defined as "Standard Silver" is an alloy of silver with different metals that increase its durability and hardness. Typically, the much-coveted alloy contains 7.5% other metals like copper and 92.5% silver. It is often plated with 14kt-18kt gold wherein it is referred to as "gold over sterling" or "vermeil." These days, reputed diamond jewelry designers are presenting stunning collections of sterling silver collectibles that include serve-ware, and fashion jewelry.
In contemporary times, there is a pertinent and rising demand for diamond jewelry. The silver used for the same is usually sourced from mines in Bolivia, Mexico, China, Peru, Australia, Chile, Tajikistan, and Serbia. In the USA, jewelers use sterling silver that has a purity level of 92.5%. This is the reason why 925 sterling silver jewelry is considered to be the hallmark for the best designers of modern jewelry. In certain cases, sterling silver designs are often plated with rhodium for preserving the color of jewelry and to protect them from tarnishing.
The good thing about high-quality silver diamond jewelry is that it tends to offer a look similar to platinum or white gold; at a fraction of the price. This is the primary reason why the diamond jewelry industry has flourished in the last decade or so. Some of the most popular sterling silver ornaments include sterling silver bracelets and necklaces with links, sterling silver hoop earrings, sterling silver studs, gemstone set in sterling silver rings, and so forth. Some jewelry designers give sterling silver an altogether different look and appeal by plating sterling silver jewelry with rose gold (vermeil), yellow gold, or with a finish of colored or black rhodium. Along with CZs set in sterling, unique silver bead designer jewels are considered hot options by many.
It is common to find fine examples of sculpting in interesting creations. There are many world-renowned designers who like to work with sterling silver. While some jewelry designers have a fancy for crafting versatile and imaginative sterling silver jewelry pieces for women, there are others who prefer designing whimsical and colorful ornaments with enamel and CZ, all of which rest on a firm sterling silver base. Then there are some noted jewelry designers who have gained mastery in designing edgy jewelry that have a tribal flair. All you need to do to get a masterpiece on is assess your individual taste of diamond jewelry, define your budget and freeze your buy after studying it appropriately.
From the perspective of a customer, diamond jewelry remains a fine example of affordable art made from a beautiful precious metal. The cost factor of such jewelry pieces becomes all the more attractive when compared with the cost of platinum or gold. Sterling silver boasts of a beautiful, luminous sheen that fails to make it to other metals in the same price range. Sterling silver has a lasting financial value, in contrast to cheap costume jewelry that merely has a thin layer of semi-precious or precious metal, and that prone to easy chipping. Jewelry made from sterling silver is long-lasting and durable if maintained and worn carefully.
Are you wondering about the downsides of purchasing jewelry? You should know that diamond jewelry is prone to when exposed to weather elements, perspiration, the presence of humidity in the atmosphere, etc. It is not the silver component, but the other metals present in the alloy, such as copper, that leads to the green or black hue on the surface of the jewelry. In general, the speed at which the tarnishing takes place depends on the water content and chemicals that the wearer comes in contact with. Bathing, moisture from the air and perspiration account for tarnishing caused due to contact with water; on the other hand, soaps, pollution, and cosmetics would lead to diamond jewelry getting tarnished because of chemicals.
Once you are the proud owner of diamonds, that is adequately alloyed and often plated with other metals to enhance its durability, you need to treat it with care. Sterling silver is naturally vulnerable to tarnishing, so you would also find a unique kind of discoloration taking place when the alloy is exposed to fumes present in the air.
To ward off tarnish and alleviate the concerns of further damage to the diamond pieces in your collection it is a good idea to use an anti-tarnish polish. These polishes make it quite easy to get rid of tarnish. You may opt for cheap and easy DIY cleaning methods to deal with silver-only items that are devoid of diamonds, semi-precious stones, gems or any other materials. For the remaining sterling silver items, you may use jewelry wipes or silver cleaning lotions to take care of the tarnish.
A simple DIY method is to use a bowl lined with tinfoil filled with a solution of salt, and water. The solution can be used to scrub off the finest traces of tarnish with a soft muslin cloth. Once done, use a dry, lint-free cloth to wipe the item you are cleaning. Remember to dry the diamond piece or any other silver item completely before storing them away.
In addition to you can prevent scratching discoloration and damage by ensuring that your silver jewelry does not come in direct contact with household chemicals. Store all diamond jewelry pieces separately in air-tight pouches or presentation boxes. It is also recommended that you remove your silver jewelry and pack it away safely before swimming.
Diamond jewelry stands in a class apart and is an ideal solution for daily and formal wear jewelry. However, even though this alloy is used for making wedding bands and engagement rings, it is soft and can bend easily. Thus, it is placed below platinum or gold as the choice of metal for jewelry. Also, silver diamond jewelry a very good conductor of heat and fails to be a conducive option for professionals whose work the handling of hot items or electricity.
To sum up, sterling silver is a beautiful, exquisite, luminous precious metal, that is less expensive than platinum or gold. Jewelry like wedding ring sets or diamond rings crafted from this metal an impressive alternative to fashion and costume jewelry. Jewelry craftsmen are happy working with silver as it is very malleable. Found in an ever-expanding range of creative jewelry designs, sterling silver is also a good option for accessories and gifts. Although its price point remains below that of gold and platinum, its value and lasting beauty can be enjoyed to the extreme if the sterling silver products are cared for properly.
As a word, if you have been thinking of investing in sterling silver diamond jewelry, then the right time to do so is now! Add the dazzle of silver to your collection and flaunt the pieces of your choice to make heads turn your way – you will not be disappointed with the results.