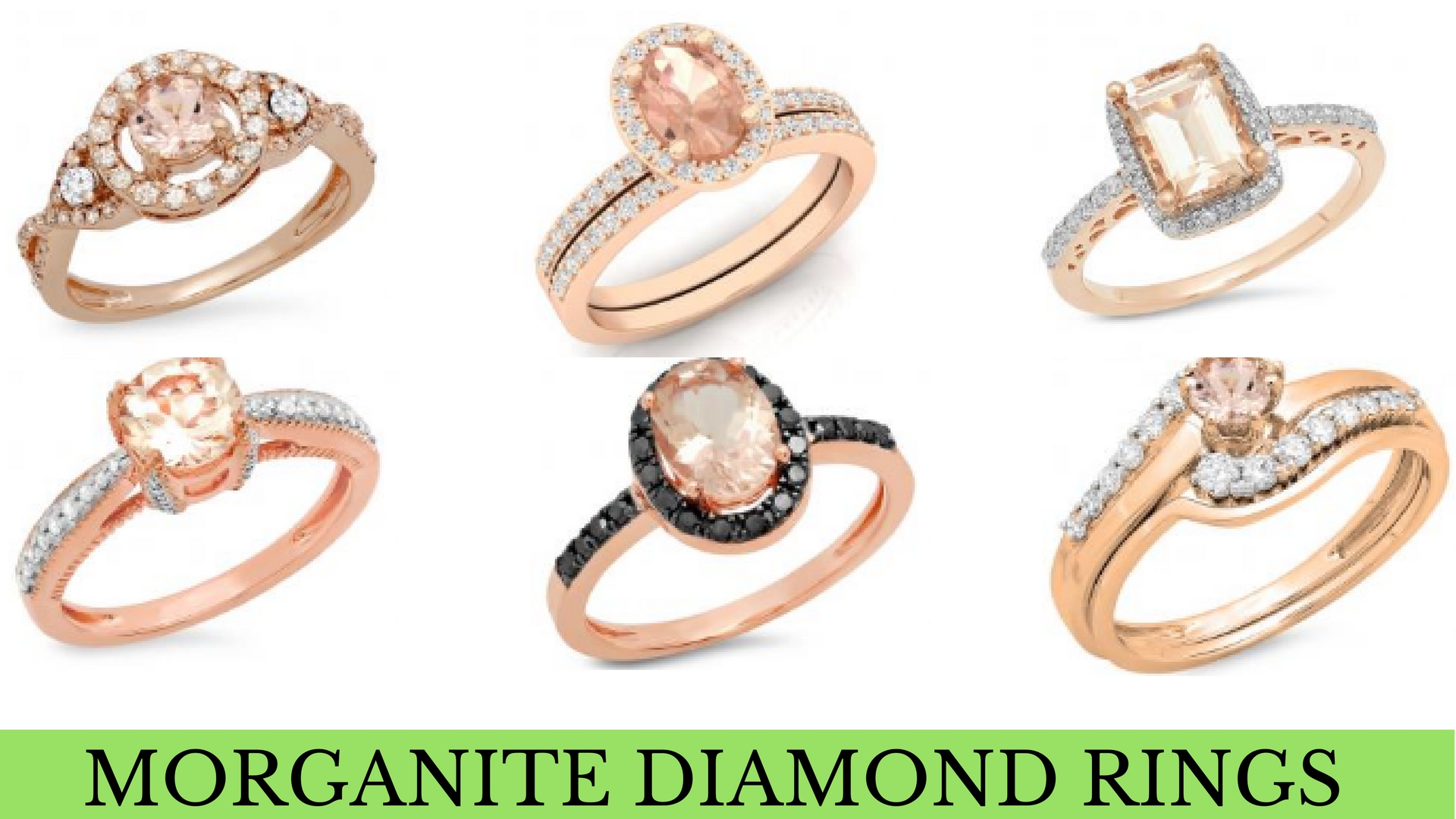 A Morganite diamond ring is a precious addition to your jewelry box. It offers high brilliance, enchanting shades, and excellent durability. A morganite diamond ring is just what you need to enable your cause. This peachy-pink, pretty variety of beryl rubs shoulders with other familiar beryls such as aquamarine and emeralds and is surely the way to go.
Morganite engagement rings are unique because of the appearance of this semi-precious gemstone. From pale pink to peach to vibrant violet, this sparkly stone is a favorite among women because of the spectrum of colors it is available in. Also referred to as "pink emerald," morganite is a better alternative to traditional diamond rings for a number of reasons.
Here's answering the most pertinent questions around morganite engagement rings. Read on!
IS MORGANITE A GOOD INVESTMENT?
Yes, it is! The word "investment" makes sense in this case because when you purchase an engagement ring, you want it to last for life. Morganite wins bonus brownie points over traditional diamonds because of its price factor. The affordability aspect of a morganite ring makes it a better investment than a traditional diamond ring. So, what makes it so special? Well, along with showcasing a brilliant façade, your ring would flaunt warm overtones of rose-pink to create the perfect setting for diamonds. Whether you intend to purchase such a ring for your betrothed or to add to your collection of other morganite ornaments, you can be assured that you are bringing home a winner. In addition to that, the durability of morganite rings makes them your best friends for daily and occasional wear alike. In every sense of the word, they are a hit with buyers having variable budgets.
Here, we throw light on some important factors that you need to consider when you set out to buy a morganite and diamond ring for yourself or a loved one.
IS MORGANITE VALUABLE?
If you go through the popularity ratings of different gems that make it to the list of beryl group members, you would find that morganite is the most admired of them all. The USP of morganite lies in its beautiful and delicate coloration that makes this gem the cynosure of all eyes. It depicts divine love and evokes a sense of assurance, compassion, healing, and promise. As it easily matches most other jewelry pieces and apparel and is strong and durable, it can be worn on a daily basis across the year.
QUALITY FACTORS OF MORGANITE
When you visit an online or offline gem and jewelry store to check out the different kinds of morganite rings, morganite pendants, morganite bracelets, morganite earrings, etc. do check about its hardness along with other quality factors. Morganite is known to have a hardness rating of 7.5 to 8 when measured on the Mohs scale. The right combination of durability, clarity, hardness, and tender color makes it quite valuable. As the Gemological Institute of America (GIA) has not yet issued any grading system that is accepted globally for morganite, you may rely on your jeweler to assess the authenticity of the piece on sale. Jewelry set with morganite offers a high longevity quotient, they are for keeps and can be passed down generations.
WHAT COLOR IS MORGANITE
The natural color saturation of a morganite ring is one of its most significant traits. These selection criteria bear a lot of importance while determining the quality of morganite rings and other pieces of jewelry set with the gem. Although the color range is as diverse as pale pink to violet-pink, pink, peachy-pink, rose pink or salmon color, morganites are most admired and purchased when they show off a transparent peach-pink color. For instance, engagement and wedding ring sets buyers to ask for pure pink or rose tints in their rings set with or without diamonds. The color of the stone can be attributed to the heating process that it is subjected to. Certain heating treatments help bring out richer color qualities in morganite.
LUSTER AND CLARITY OF MORGANITE
In most cases, you will find slight blemishes or inclusions in morganite pieces as they belong to the Type2 gemstone category. However, if chosen carefully with the help of an expert gemologist, you may be lucky enough to get your hands on a diamond ring that lacks any visible inclusion and can be considered 'eye-clean'. In case your budget permits, it would be a good idea to invest in the best quality 'clean' morganite that lacks inclusions and exhibits a vitreous luster after being cut and polished. The Morganites that have the highest clarity grades are considered quite valuable. Do know that the presence of blemishes or inclusions of any kind would have a negative effect on their intrinsic worth.
STEER CLEAR OF IMITATIONS
When you look to buy affordable unique diamond rings you may be concerned about the authenticity of the piece you purchase. This concern is valid in the face of the fact that morganites are rare and so limitations are likely to pop up in the jewelry market. To avoid buying an imitation, it is advisable to ask for a gemological certificate from the seller. This will ensure that the morganite ring you purchase is genuine.
HOW IS PINK MORGANITE ENGAGEMENT RING?
Are you wondering about the treatment that a morganite ring undergoes to make it fit for sale? Almost always, morganites are heat treated to enhance the pink coloration. This process results in a pure and stable color for the jewelry pieces made with morganites. This kind of heat treatment is acceptable as an industry standard and does not impact the hardness, physical properties, or price of this gemstone adversely. If you wish to go green and wear morganite in its untreated natural form, you may like to ask your jeweler for morganite rings that have not gone through any heat treatment.
BEST CUT FOR MORGANITE
Just like diamonds, the quality of the final cut they receive, adds more value to a morganite. Morganite rings are also impacted by the final cut that they receive. Given this, as you go about the task of determining the value and quality of your morganite ring, it is important to assess the quality of the cut properly. Look for brilliant, high-quality cuts that are known to enhance the brightness and beauty of a morganite.
MORGANITE CARAT WEIGHT
As morganites are known to be found in large sizes, their carat size does not have any significant impact on their purchase price. With this in view, you may want to invest in larger-sized diamond rings or engagement rings as their vivid colors are better showcased in stones that are larger than 5 X 5 MM. Do note that the price per/carat would not change much with respect to the carat weight of the stones you buy.
ORIGIN OF MORGANITE
In all probability, the ring that you intend to purchase would have come from Brazil or Madagascar. This is because these two nations boast of the largest deposits of morganite in the world. The other notable places of origin for fine gem-quality morganite includes China, Madagascar, Mozambique, Afghanistan, Namibia, Russia, the USA (California and Maine) and Zimbabwe.
HOW TO CLEAN MORGANITE?
Being hardy and sustainable, a morganite ring requires minimal special care. However, regular care and cleaning are required to keep its luster and coloration intact. The easiest and safest way of keeping your diamond morganite ring clean is by scrubbing it gently with warm soapy water. Use a soft cloth and mild liquid detergent to aid the process. Alternatively, you can use a soft brush with soapy water to clean the stone. Once done, rinse off even the slightest traces of soapy water. The frequency of cleaning would depend on how often you wear the ring. Do take the utmost care to avoid any direct contact with the harsh chemicals found in cosmetic agents. Your morganite ring should also be stored away from other gemstones that may scratch its smooth surface. What is sometimes considered a "con" is actually the inherent characteristic of most gemstones. Yes, they are all susceptible to damage due to chipping or scratching of the edges. However, it is fairly simple to protect the stone from such damages by ensuring that the very structure of your ring is apt. While morganite sits low on the Mohs scale, if your ring structure is designed with this in mind, it shouldn't be a problem. It is best to go for a multi-pronged, halo-style, or bezel setting in order to ensure that there is minimal scope for the edge of the stone to chip.
POPULAR MORGANITE RING DESIGN
There is no end to conventional and contemporary designs of morganite and diamond rings. The ones that flaunt oversized emerald-cut or cushion-cut morganite are the ones that are most loved and frequently purchased. Although morganite is found in all weights and cuts on the racks of jewelry stores, 14K rose gold rings with morganite and diamonds are simply dazzling and serve to be the most popular choice. You may like to take a look at Edwardian morganite rings or Victorian morganite rings in rose gold as well. These rings impart a warm, subtle, and elegant feel of their own and are designed in the best possible way to get many wows.
SHOP FOR MORGANITE ENGAGEMENT RING
We hope you now understand what morganite is and what you need to consider when buying a morganite ring. Whether you decide to buy a morganite and diamond engagement ring, look for oval or round cut gems that are greater than 1 karat, or go for a 14K rose gold wedding ring with morganite, you will surely have a stunning piece in hand. The versatility of morganite means that it can be easily paired with any base metal, including white gold, silver, and platinum. However, we believe it works best with rose gold since the colors compliment each other very well. Shop for a halo morganite ring or invest in diamond engagement rings beset with morganite to get an elegant combination of exotic gemstone and ring design.