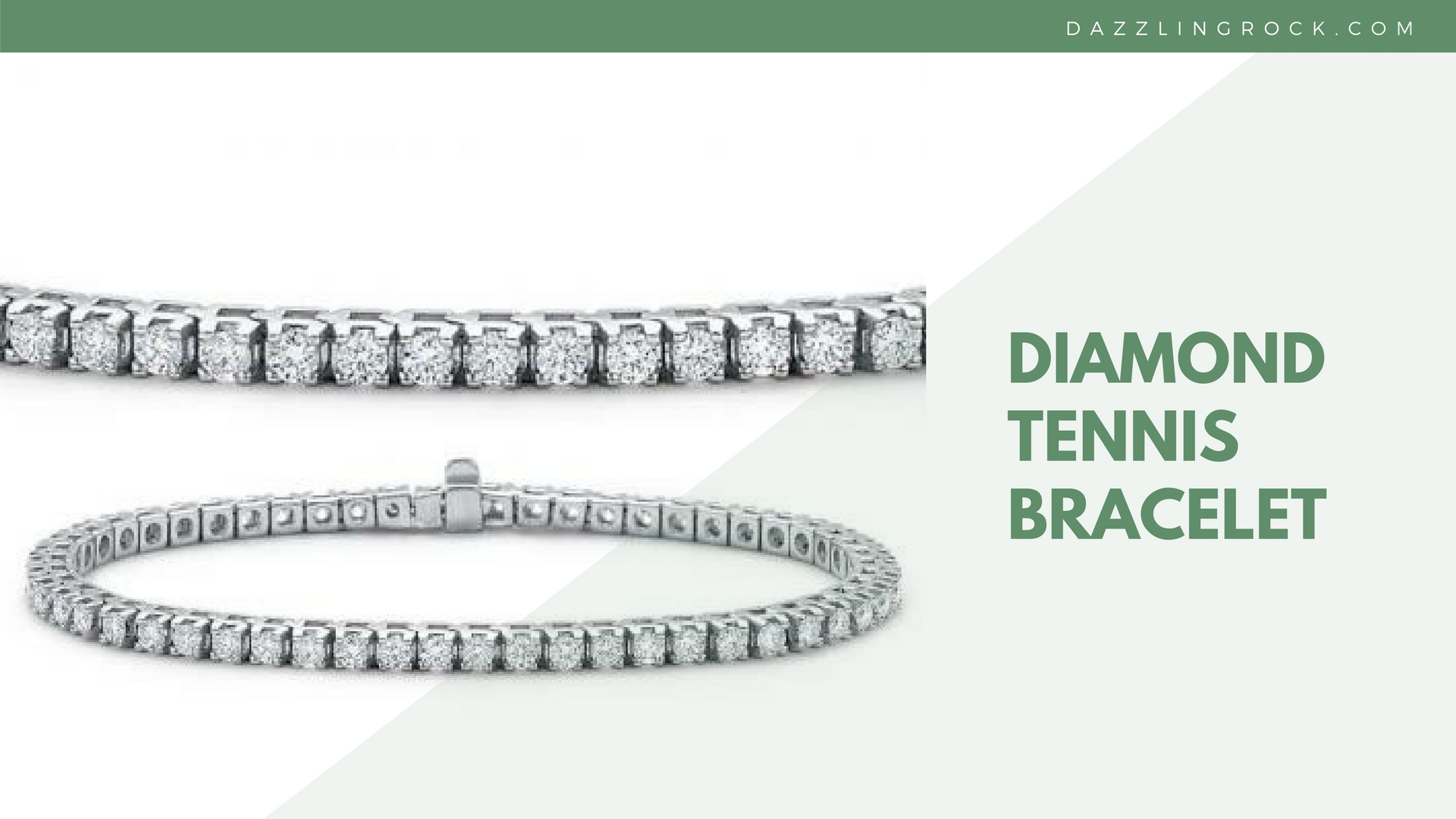 Are you looking for a piece of jewelry that is classy and elegant? Something that can be worn at formal and casual occasions with equal aplomb! The diamond tennis bracelet is the right choice for you.This kind of charming diamond studded bracelet is the first choice for sporty ladies. The perfect accompaniment to leisure wear, the diamond tennis bracelet has become a sensation in the sports jewelry category. It is timeless in styling and classiness and traces its history to a tennis match played by Chris Evert Lloyd at the U.S. open in 1987.
In the much-publicized Lloyd had lost her diamond bracelet and the play was stopped till the offending piece was found. This prompted Chris Evert Lloyd to switch to wearing the flexible, symmetrical and sturdy bracelet that is so suited to the rigors of sports. Today the diamond tennis bracelet is worn as a statement piece by both and stylists alike. The stylish Serena Williams is often found sporting a tennis bracelet.
In these skillfully designed bracelets, thin symmetrically studded diamonds are studded sequence to suit most wrists. As they very stylish and versatile in design, the exquisite bracelets can be worn at, semi-formal and casual dos to make heads turn their way.
What is a tennis diamond bracelet made up of?
One of the staple designs in any reputed jewelry store is the tennis bracelet. Although the name suggests that it is a sports accessory, it is often made of varied materials and is a much sought-after design of the fine jewelry section. A beautiful tennis bracelet can be made out of a variety of materials like metal, leather or wood. These elegant pieces of art are traditionally adorned with stones, beads or feathers. The most enduring material of the lot contains a specially crafted metal studded with diamonds.
The diamond tennis bracelet is most often made in gold, with gold or white gold becoming increasingly popular with the younger generation. Alternately, platinum and diamond are fast becoming the combination of choice. If you are looking for an economy design, you may opt for sterling silver too. The diamonds set on these bracelets are generally matched in size and cut. More often than not, the symmetrically studded diamond rows on these bracelets sparkle their way into your heart as no other bracelet can.
How to wear diamond tennis bracelet
There is no right way to wear a diamond tennis bracelet. Most women prefer to wear it on the dominant hand. The bracelet is more likely to gain attention as it is your dominant hand that's used more often. You may want to wear a watch on your other hand so the diamonds do not scratch the surface of the same. No other jewelry is generally needed to set off your shapely wrists.
The modern trend of wearing signature pieces at your throat or ears is very well complemented by the simpler row bound diamond rows set in a typical diamond tennis bracelet. There is a mesmerizing quality to the endless rows of glittering diamonds that catches your fancy in these jewel pieces. A simple design is often the best foil for spectacular signature pieces. The diamond tennis bracelet is often worn in multiples of three or four for a more formal effect.
Tips to care for your diamond tennis bracelet
The bracelet is often a piece of jewelry that is always on your wrist, so you need to take good care of it. In the same vein, a diamond tennis bracelet is also an expensive piece of jewelry and needs to be taken care of properly.
It is important that you check the prongs carefully once in a while to ensure that your bracelet is not missing stones. Even a single stone that goes missing can be an expensive proposition. It is a good idea to get it checked by your jeweler for loose prongs every few months.
The clasp needs to be checked for safety too. Remember, that is how Chris Evert Lloyd had the bracelet christened, by losing it to a loose clasp!
It is mandatory to wipe off sweat, and grime from the bracelet when you remove it. The acidic sweat may erode the metal and loosen the stones.
The diamond tennis bracelet is best washed with a mild detergent and water with a soft cloth. Rubbing with a brush or any harsh chemicals may be a bad idea.
The metal that is the base of the bracelet needs to be cleaned as appropriate. Gold needs a soft shine with a buff cloth, while platinum needs nothing at all. If you have opted for silver, you might want to work a little harder to remove the tarnish that tends to settle on the metal from time to time with a mild cleaner. The modern sterling silver bracelets are tempered with an anti-tarnish agent that creates a protective layer to repel oxidation, so it is important to clean them accordingly.
If you store your diamond tennis bracelet securely in a soft suede pouch away from humidity and dust it should last you a lifetime. After a diamond friends forever.
Where to buy
Buying a diamond tennis bracelet is relatively a simple choice as the design has very little variation. Think of rows of matched diamonds in perfect symmetry and you have your bracelet etched in your imagination readily. Now, all that you need to do is choose the metal of your preference, and the size and cut of diamonds. The metal of choice often determines the budget that you set aside for the bracelet. Platinum tends to be the most expensive choice while sterling silver is the cheapest one. Tinted gold is good for people who like designs, while the classic yellow gold and diamond linger as hot favorites with most women.
Choose the size and cut of the stones in your diamond tennis bracelet carefully. Too big diamonds would look gaudy, while the ones that are really small would appear inconsequential and unsubstantial. The size of the diamonds happens to be a major factor in deciding the budget of your bracelet. The bigger and clearer your stones, the higher the cost.
Way Forward
Most stores carry the diamond tennis bracelet in many variants. You can choose the one that graces your wrist perfectly. Stores may offer a discount on these bracelets as a promotion during tennis season to cash in on the marketing rampage, so it may be wise to wait and watch the deal section across the stores. The latest trend is to buy your diamond tennis bracelet online.
There are many jewelry stores that have debuted online and offer diverse varieties at very attractive prices. There are many deals available as most stores offer special prices to promote online shopping. The helpful side of buying online is that you have a huge bouquet of designs to browse through at the tips of your fingers. You do not have to go from store to store to determine which bracelet suits your design sensibilities and your budget both!
Do buy the perfect watch to accompany your tennis bracelet. The slender dainty ones need an equally dainty watch on the other wrist, while the showier and chunkier ones need a chunky watch to balance the look. Whatever your choice, you can be sure that your bracelet is an asset that will be in vogue forever. Unlike other jewelry that might look inappropriate after a certain age, these diamond bracelets remain evergreen and exotic for years in a row. The timeless appeal of these bracelet makes them a "must have" in your wardrobe too- buy one today!