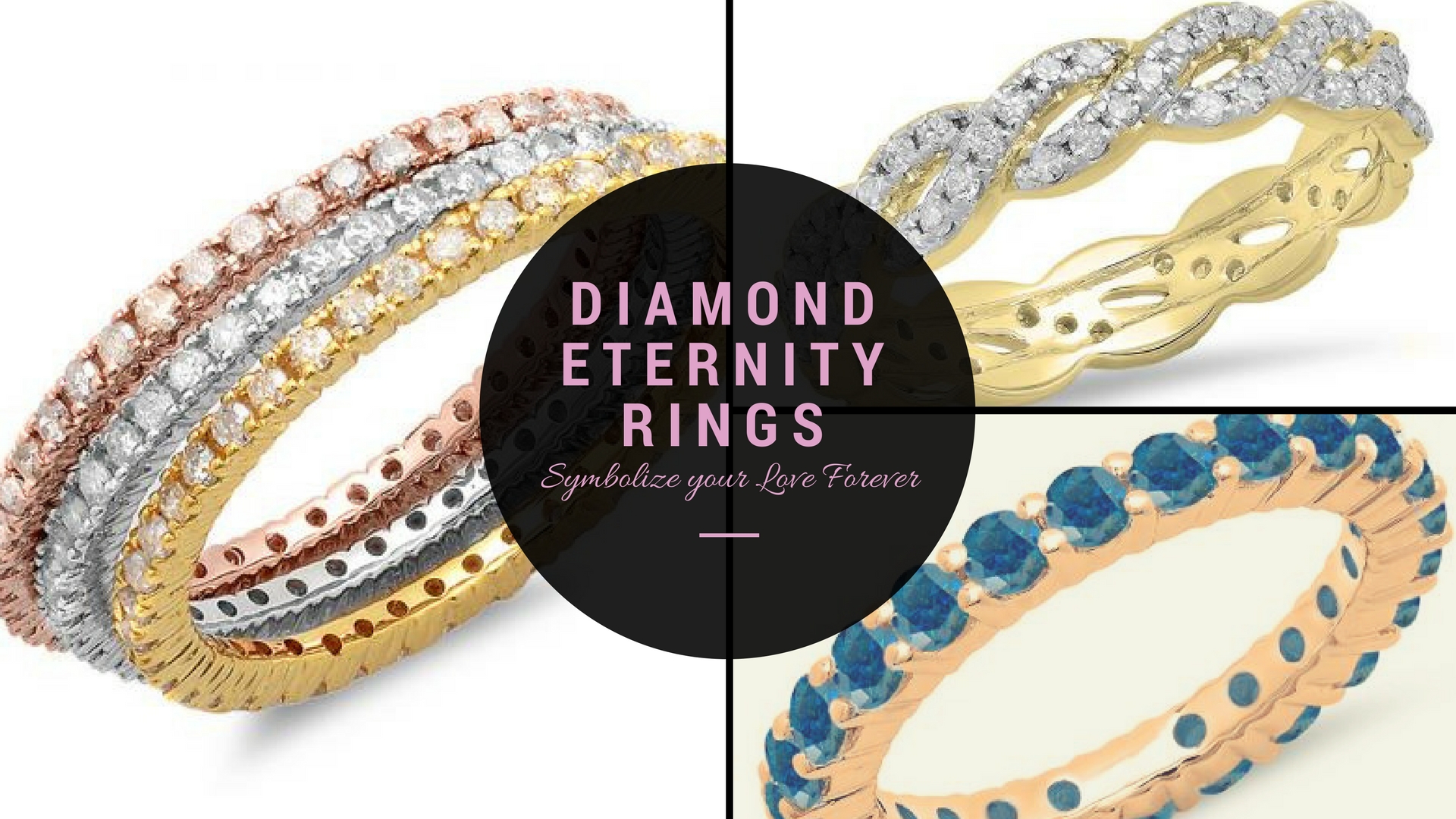 Are you looking for the most wonderful way of marking an important occasion of your life? Certainly, the truest celebration of love, diamond eternity rings are available to make your love-filled moments all the memorable and special. These long-lasting and beautiful rings are usually made from high-quality stones and are purchased for gifting to a loved one on a special occasion such as an anniversary, engagement, marriage, birthday and so on. You will be happy to know that among many other ways of celebrating your love, presenting your special someone with exquisite-looking eternity rings is the right way forward. Regardless of whether the band of one such diamond eternity ring is made of platinum or gold; the inlaid gems will make your love sparkle like no other.
Crafted to perfection by ace designers, these exquisite pieces of jewelry are for keepsake and undoubtedly add volumes to the collections of young and old wearers. The most popular designs of this rings are the ones that boast of pave or channel setting of diamonds or any other precious or semi-precious stones to make jewelry collections more worthwhile. The most used gemstones are diamonds, sapphires and rubies that are studded for covering the entire band, just the top part of the band, or to be arranged in any other fashion that's deemed suitable by the wearer of diamond eternity rings.
In the 1960s, De Beers, the very reputed diamond firm, had come up with the interesting idea of launching high quality and elegant rings. These profound pieces of jewels that showcased the eternal love of their wearers were targeted at married, older women. If we go back in time and fish out the marketing slogan that made them the cynosure of all eyes, you would be smitten to read the words that mentioned, "She married you for richer or poorer. Let her know how it's going". However, in those days, as these rings were not compulsorily exchanged between lovers, there was no hard and fast binding that they are purchased from dealers and local vendors on special occasions. In most cases, these rings and bands were in the form of simple eternity rings made of gold, silver, and other metals.
Very soon, the rage of buying and gifting dazzling eternity rings caught up like no other and it became common for ladies to start flaunting them at social dos and occasions. Be it weddings, anniversary parties or birthdays, these beautiful rings and bands were seen making their mark in more ways than one. The best part about the use and purchase of these everlasting ring was that they were not merely restricted to traditional occasions like 60th marriage anniversaries, or diamond anniversaries, as they are commonly called. In fact, instead of waiting full six decades of one's life, wearers started flaunting rings made of precious and semi-precious stones at just about each phase of their life.
From celebrating one-year, five-year, ten-year of any other wedding anniversary to marking the birth of a child or any other special occasion considerably, these diamond rings were the right way to celebrate. For instance, even till date, the birth of a child is often celebrated by the gifting of an eternity ring set studded with either diamonds or sapphires, or both – blue sapphires are generally used for boys while pink makes it to the jewelry collection of young moms who have given birth to baby girls.
According to experts in the field of manufacturing and selling different types of diamond rings, there exists a pertinent trend of young couples purchasing these kinds of rings much sooner in life than it was being done in the past. In some case, it is very common to find couples in their first few years of marriage exchanging rings to complement their engagement rings and wedding bands to perfection. Platinum eternity rings and diamond rings are invariably the most popular of the lot because of their long-lasting and durable nature. If you look around carefully, you are likely to get access to many different kinds of e-catalogues on reputed websites for jewelers selling diamond eternity rings. Most of the products sold online in this jewelry category, especially the best quality eternity rings crafted to perfection, are the most coveted of the lot. They reflect elegance and grace and are known to possess sparkling gems that add to their value in multiple ways.
The eternity rings sold by online jewelers offer the charm of emerald cuts that reflect the femininity of things that are softer. In usual parlance, these rings are worn by wearers on the opposite hand to that on which the wedding ring is worn, mainly because of the bigger stones they flaunt. Once you come across an impressive collection of diamond rings of your choice, do look for round brilliant diamonds that are interspersed with high-quality diamond-set bars – you will love to flaunt them on your fingers or gift them to a loved one.
In case of wearers who are married, eternity rings are generally worn in between or above the and engagement ring. If the band happens to be wide, such that it fails to create a sleek appeal, it can be flaunted on the third finger of the left hand or on the right hand. For gaining the look of the ring trio, it is indeed a well-accepted idea to invest in this rings that are of the same kind as the other rings in your existing collection. There are several jewelry designers who design diamond wedding sets to complement rings purchased at any later stage of life.
Concerned about the cost of purchasing it? While the ones categorized as full eternity rings have an entire circle of diamonds and other precious or semi-precious stones studded on their circumference, they end up costing up to 2-3 times more than the half eternity rings that have stones set on their upper portion only. The full eternity rings are traditionally known to express eternal love and have an additional number of stones than half eternity diamond rings that are quite popular among those with a limited budget.
It is interesting to note the ways in which the fine line between eternity rings and wedding rings is getting blurred these days. In fact, there are many jewelers who list eternity rings in the wedding rings and bands section of their product catalogues. Contemporary, striking, and providing full value for investors' money, platinum wedding bands crafted with baguette-cut diamonds often make for the best and most perfect eternity rings.
In a nutshell, it is clear that diamond rings are no longer confined to the genre of diamond wedding rings and diamond engagement rings only. Exquisite and high-quality diamond eternity rings are equally glamorous and stylish. Truly, you cannot have too many of these beautiful rings that pledge your eternal love in the most sophisticated and interesting manner.
Go ahead and invest in the diamond eternity rings of your choice, you will not be disappointed.