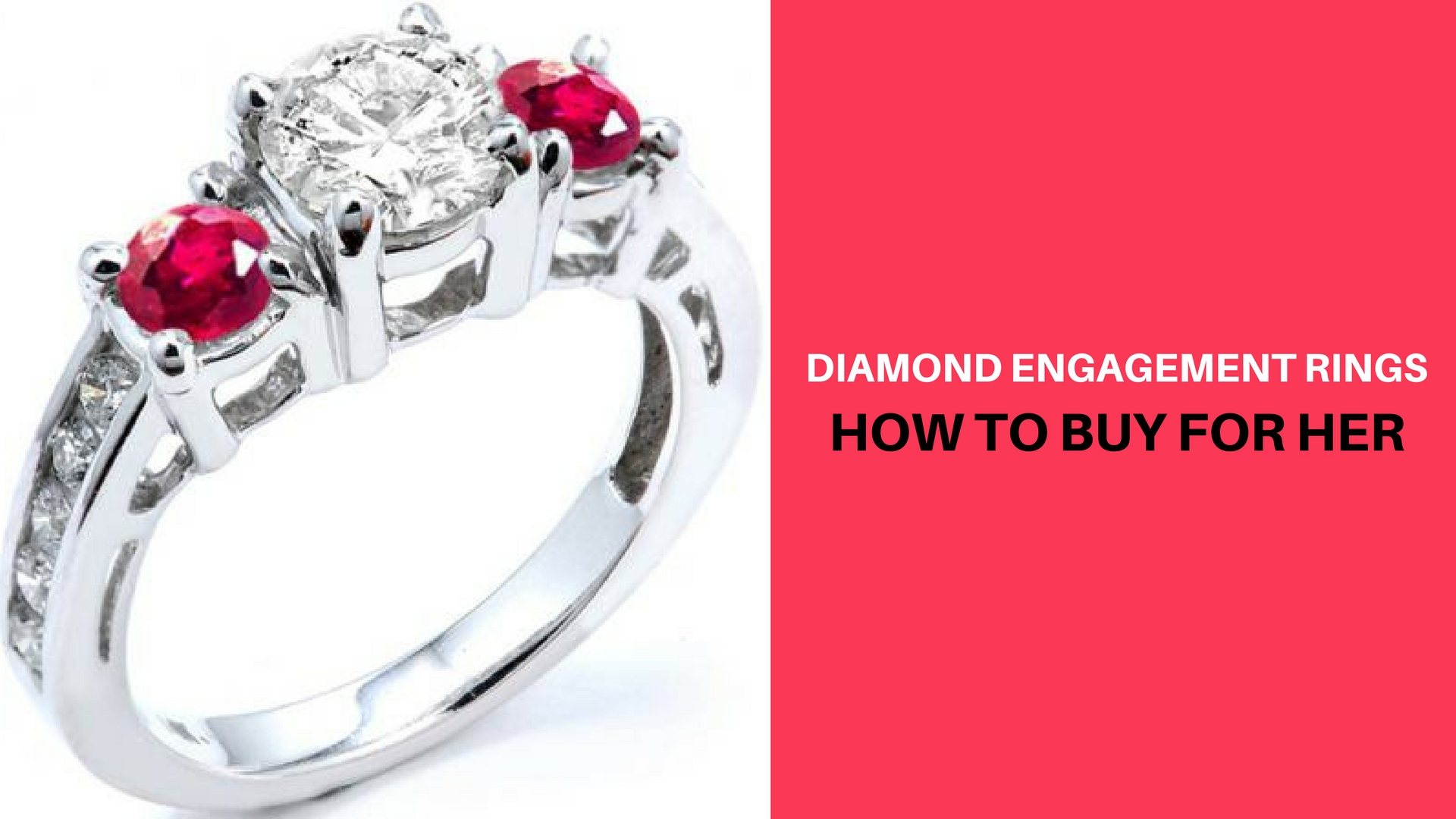 Diamond rings are forever and must be the most important purchase of your life. Not only do they signify your commitment to the love of your life, they are also (most probably) the most expensive purchase that you may have made ever.
It is important that if you want to buy cheap engagement rings all on your own, and without her help, you must be aware of a lot of factors that go into the purchase of this important piece of jewelry that has a lot of sentiments attached to it.
Check out here how to pick an engagement ring for her. These essential tips for buying an engagement ring will help you to find out the perfect ring style for your partner.
DECIDE ON BUDGET BEFORE SHOPPING
The first thing that you must keep in mind is that you should keep a fixed budget. When you are buying something so close to your heart, a manifestation of your love to your soul mate, it is easy to lose perspective. You want to buy the best that is available, but there is a word of caution here.
Fix a budget before buying an engagement ring and stick to it. Engagement rings are available in a wide range and there is one to suit every budget.
UNDERSTAND YOUR PARTNERS PREFERENCE
It is of utmost importance that you know and understands your partner's taste in jewelry. It is a good idea to pay attention to what kind of jewelry she wears on a regular basis.
Is she partial to classic pieces or is she the modern and cutting-edge designer type? Is she more fond of white metals or gold? Does she lean towards delicate pieces or are chunky pieces her scene?
Keep a track of her choices as they will the blueprint of your choice. If you are aware of her choice you have very little chances of going wrong when buying an engagement rings.
These days, there is absolutely no dearth of designs to choose from at online and offline stores. All that you need to do is chalk out your preferences and budget and you are good to go once you have put in ample research hours.
KNOW HER RING SIZE
Does your partner wear rings? If yes, you are almost there. "Borrow" her ring and trace the inner side onto a piece of paper or press it onto a bar of soft soap to get an impression. If that sounds difficult, just slide the ring down one of your fingers and mark the place where it stops.
Voila! You have her ring size. Your jeweler should be able to use these measurements to get the size of her ring. It is a tad more difficult if she does not prefer to wear rings. The way out is to make an educated guess.
The average size that ring wearers in the U.S use are size 6. If your fiancée is slender and petite, a ring size of 4 ½ to 5 ½ range would serve as the right size. If she is bigger boned or even taller then the ring size could be 6 ½ to 7 ½.
It is a good idea to buy a bigger size as it is easier to resize a bigger ring than a smaller one.
KNOW HER TASTE FOR DIAMOND SHAPES AND COLORS
Shapes are a personal preference and also can affect the cost of the ring. So, if you are on the lookout for a bargain, do look out for shapes that are easier on the pocket.
If your partner is more traditional and likes clean lines in clothes, furniture etc. she is more likely to appreciate round or square shapes as well as more traditional colors like white.
But if she likes to experiment you can pick an engagement ring with a pink, orange or yellow diamonds too. After all, whatever the color, diamond rings are the best ways to impress your girl.
KNOW HER PREFERRED CUTTING STYLE
The cut of the diamond refers to the facet arrangement that is done while it is prepared for consumer use.
Diamonds are cut in brilliants, princess, marquise, cushion, Asscher, emerald, oval and many more cuts.
These cuts (again) determine the look of the unique diamond rings and their value. If you have a low budget look for cheaper cuts like the cushion and the Asscher cuts.
A solitaire is always a solitaire, regardless of the cut!
DECIDE ON A CARAT
The bigger the carat weights of the diamond the bigger the price tag. Do not break your budget when you buy diamond engagement rings.
Look for a size according to your pocket. A friendly tip, buy a stone with uneven carat weight to get a good bargain.
For example, instead of a full carat look for a 90 cent stone, it will be considerably cheaper.
CHOOSE THE PERFECT SETTING FOR HER
You may want to decide the setting and the style and buy a readymade ring. There is an exhaustive range of engagement rings that are available in offline stores and online jewelry portals in many designs and settings.
Else, you may decide to choose a stone first and then create a setting for the stone according to her choice or your idea of what she would like.
Your jeweler will be quite happy to create a design for you.
PICK AN ENGAGEMENT RING WHICH SUITS HER STYLE
If you are already aware of your partner's likings things are easy, but it is wise to remember that people wear their engagement rings till they are married.
It is a safer bet to not go for a very modern or edgy design as trends change with age and a classic ring looks good through the years. Do also keep in mind that the engagement ring is often paired with the wedding band and a classic design is easier to match.
When you finalize a design, you need to keep in mind what kind of lifestyle your partner follows. If she is the sporty and outdoorsy kinds, she would like a ring that is smaller and less ornate.
The ring should not be likely to hit or snag things easily. If she is the quieter kinds she would probably like the rings which are a little more elaborate but classic and evergreen.
A flashy and outgoing girl would like a ring that suits her personality, a ring which is large, striking and a conversation starter. Diamond rings are available in varied cuts, colors, shapes, and settings, choose the one that suits you best.
FIND A JEWELER
Be sure of the type of ring you want to buy. You are likely to be confused once you see the variety that is available in the market. So, make a note of your loved one's preferences and then start looking.
Do not deviate from your choice even if the sales attendant shows you a mind-boggling variety. After all, the recipient of the engagement rings has a choice of her own.
Look for bargains as most stores have some offers or the other going on across the year. It is a good idea to look for deals online. There are many stores with an online presence that are known to offer promotional deals that can save you a lot of money.
Pick an engagement ring for her and demonstrate your love in the best possible way. Once you manage to choose the right engagement ring, it is essential that you understand the methods of taking good care of the same.
Your diamond engagement rings are meant to last a lifetime and will be worn in conjunction with the wedding rings.
Given this, it is a good idea to take all necessary steps to keep scratches and abrasions at bay – you would not like to flaunt dull –looking rings, would you?