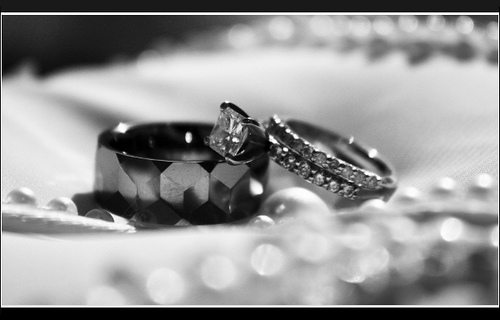 The beauty of a wedding ceremony is ethereal and the vows affect romantics all practical guests alike; given this, hardly any dry eyes are found at a wedding. It is not necessary that the rings be elaborate and expensive or too over the top in design. It is the thought that matters in the long run. Weddings ring sets are available in large quantities in the market. So, don't worry if you have a tight or shoe-string budget; you can always upgrade to a better version when you are able to afford better pieces.
Wedding rings are often not as elaborate as engagement rings and are often designed to be worn together. It can be as simple or as elaborate as the inclinations and desires nurtured by a couple. A simple band or a twisted eternity ring is what most couples opt for as a declaration of their love. There are many others who do not wish to invest in affordable rings for a wedding and would rather go for showy and large rings.
You don't need to sacrifice with the quality of your wedding ring just because you are looking for an inexpensive ring for a wedding. Here, we have mentioned some quick tips and guide to buying the wedding ring sets on your budget:
DECIDE RING STYLES MUTUALLY
At the very onset, both partners need to set forth their expectations and dreams in unison. It is a big decision. They need to be on the same page regarding whether they want to wear their rings regularly or occasionally. Then, they have to mutually decide and agree if they desire simple or elaborate rings, or would they rather exchange family heirlooms and rings. Most importantly, they have to figure out the budget that they have in hand.
DECIDE HOW MUCH TO SPEND
It is imperative that you set a budget for buying a wedding ring. The costs of arranging a wedding are humongous and overwhelming. You don't want to over budget or keep too little for such rings. It is advisable that you budget carefully before you start looking for A ring sets.
Ideally, the costs should be from your savings as it is definitely not a good idea to get your wedding rings financed by a loan.
METAL CHOICES: PREFER STERLING SILVER OR STAINLESS STEEL
The prime consideration should be the metal that should also be your choice. Gold and platinum are natural choices but might prove to be very expensive. sterling silver or even stainless steel will be a good option. Silver might be prone to tarnish, but a little care will take care of this problem. So, the appropriate choice of metal is very important to gain access to high quality yet affordable ring sets.
Engrave your choicest inscriptions on sterling silver bands to create a masterpiece that is also eminently affordable. You can also opt for stainless steel bands with colored stones or Art Deco rings which at once look stylish and are quite affordable. You can always opt to change them for something more permanent when you can afford the same.
BUY ONLINE TO GET DISCOUNT
Look for a good store that has a large variety and low margins for profits. There are many stores that provide good deals and humongous discounts if you buy both your engagement rings and wedding rings together.
Buying rings online is also a smart option as you get to browse through hundreds of catalogs containing wedding jewelry from within the comfort of your home. There are often very attractive promotional activities which can provide you with bumper deals. The prices can be compared to a large number of jewelers and so can the designs.
GO FOR TITANIUM BANDS
Titanium bands can be a good option as they are simple and not too expensive; they do not require embellishments.
10 CARAT GOLD INSTEAD OF DIAMONDS
If you are stuck on choosing gold and diamonds try 10-carat gold as a choice. These rings can have small diamonds on their face for added appeal. They look attractive and classy.
CHECK RETURN & REPLACEMENT POLICY
Do make sure that you study their return policy with great care. It is possible that the fit is suspect or your fiance does not like the ring. The stone studded rings need a guarantee period for repair and maintenance as you can assess the quality of the rings only when you wear them regularly.
You might even ask about replacement policies, so as to gauge the time when you might want to upgrade to a more lavish ring.
TAKE CARE OF YOUR WEDDING JEWELRY
If you are planning to wear the rings regularly, do be careful to keep them clean and sparkling. Check regularly that the stones are secure and the prongs are sturdy. If needed, do get them professionally serviced as and when necessary.
For plain wedding bands, a simple soft cloth and gentle detergent will do well. Buff the metal to get a good shine. A little tender loving care will go a long way in keeping your valuables safe.
Choose well, be flexible with your choice and treasure the rings and the love behind them.