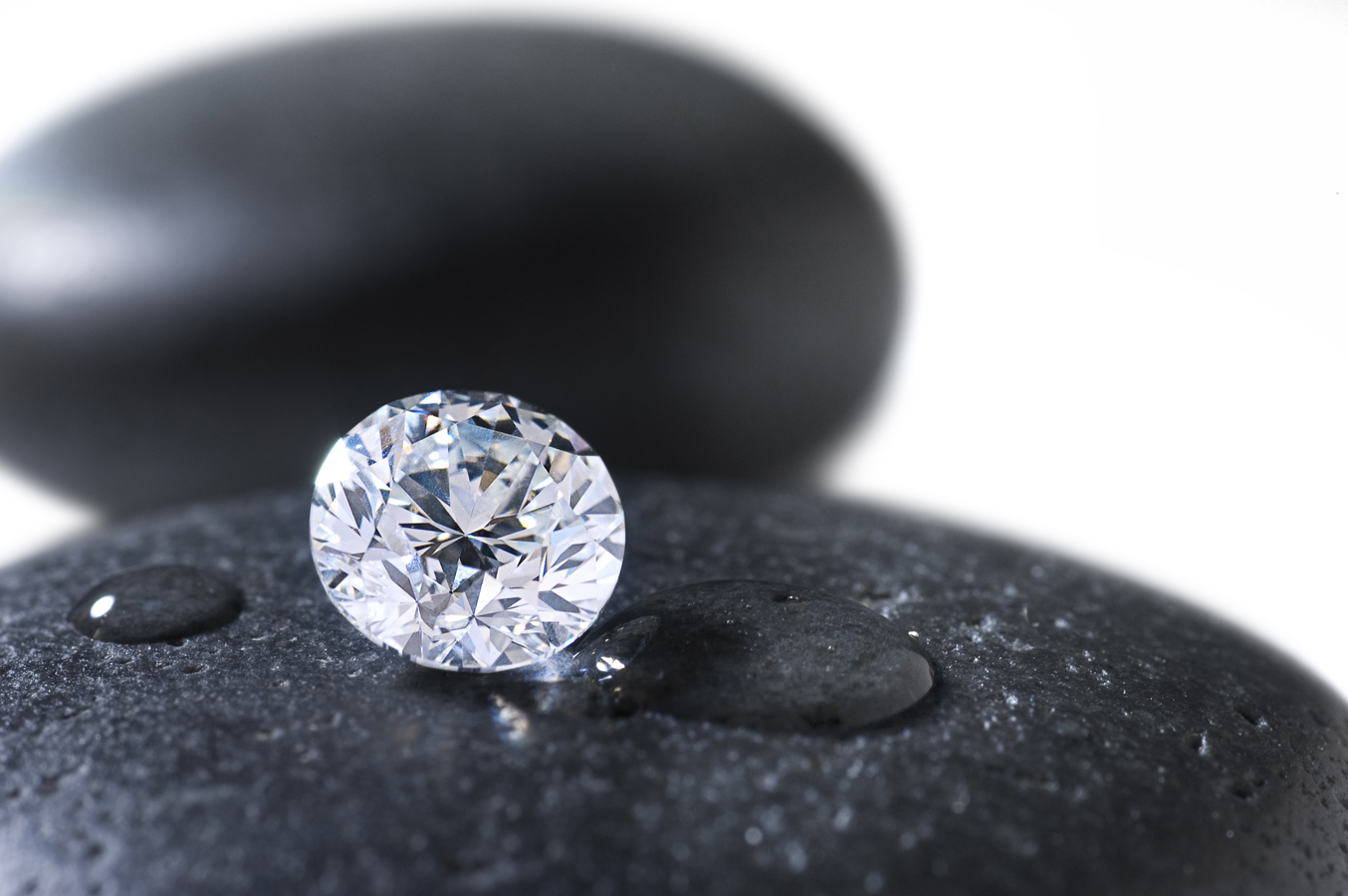 What stone sparkles like diamond but isn't diamond? If you're looking for something that looks like a diamond but is more affordable than diamonds then you are in the right place. We will discuss some of the best diamond alternatives that will be just as beautiful as real diamonds. Now you must be thinking what is this diamond alternative. So to give you a little clarity, a diamond alternative is simply a gemstone that people choose instead of a diamond because of its affordability.
Here's a list of precious gemstones – some shine as brilliantly as diamonds, and some have their own elegance and charm that sets them uniquely apart from diamonds. Keep reading to understand everything about diamond substitutes to check if they will make a perfect fit for you or not. Also, these gemstones are not only perfect diamond alternatives but the wearing of these gemstones gives you positive vibes also.
Let's dive in and find out more about these gemstones for good luck.
1. Moissanite
Take a look at the moissanite. The original precious gem is very rarely found in nature. Thankfully, this lucky gemstone can now be made in the lab. Ten times brighter than any diamond, a moissanite can give the best of diamonds a complex with its brilliant sparkle and fire! The price is budget-friendly, too, making a moissanite one of the finest options to substitute for a diamond.
2. Cubic Zirconia (CZ)
Cubic Zirconia (CZ) is another alternative to diamond that costs a fraction of what a diamond costs and yet has an intensive dazzle that shines in comparable brilliance. This stone is the cubic crystalline form of zirconium dioxide. Like the moissanite, this stone is synthesized but it is not as hard as a real diamond. If you're looking to substitute diamonds with CZ, then choose a smaller carat CZ which tends to look more like real diamonds. The problem with CZ, however, is that they absorb oils and may become cloudy over time if a little extra care is not taken.
3. Amethyst
The discovery of large deposits of amethyst in Brazil brought down the price of this precious gem. It has a mass appeal and yet its rich look is suited for royalty. It is the most popular purple gemstone and its hardness makes it a durable choice for earrings, bracelets, rings, and pendants. The amethyst in its lavender felinity lends such grace and elegance to the piece of jewelry being worn.
This gemstone is also considered the lucky stone. As it is usually purple and it is believed that darker hues are more powerful to bring more good luck. If you are having some bad luck, having amethyst around you can reverse that moment into good luck.
4. Sapphire
The timeless sapphire in its simple beauty is another favored choice. White sapphires are a beautiful substitute for diamonds. These dazzling gemstones are heat treated to increase their brilliance, lighten the color or improve their appearance. With the choice of pink, yellow, black, or blue sapphire you have the choice to pair them with whatever colors you prefer to bring out the beauty of the stone.
Sapphire makes a perfect choice for an engagement ring as they are made up of the world's most durable elements and come at 9 on the Mohs scale. If you are looking for the best gemstone rings for your engagement then sapphire can be a perfect fit.
5. Emerald
Emerald is the most famous and most valuable green stone in the beryl family. The lush green shine of an emerald is said to purify the soul and ignite the imagination. Generally, the paler the green the less expensive it is. Paired with any other pastel color makes emerald, like royalty, stand out.
6. Ruby
The most valuable rubies come from the mines of Burma. Classically red and shiny, the ruby represents brightness and warmth. Its deep, almost blood red color makes it more appealing and desirable. It's the symbol and color of love. Pair it with gold, silver, and white gold and you have yourself a sharp and classy jewelry set.
7. Pearls
Pearls are simple, yet classy and many are enamored by their timeless charm. Their appeal lies in the fact that they add a beautiful touch of elegance to any outfit and are a great choice for any occasion.
Customization – Make Your Jewelry as Special as You
For those who want a customized piece of jewelry unique to your taste, you can get jewelry made to suit your taste, preference and design.
Dazzlingrock.com understands how special this is to you and can carefully craft jewelry to create a design that is as special as your occasion.
Whether you're on a budget or willing to spend much, you can shop by collection, jewelry, gemstone, metal or price at Dazzling Rock. Browse through the Swarovski crystal collection for very delicate and sophisticated jewelry, unique to the Swarovski brand. You'll even find a clearance section where you're bound to find some great discounts. And remember, Dazzling Rock is in the business of personalizing your jewelry. The variety of gemstones has you spoilt for choice. Moissanite, cubic zirconia, sapphire, ruby, whatever your birthstone or gemstone choice, we can create a unique design just for you.
Spunk engagement, classy wedding, old school proposal – whatever the occasion, 'rock' it!
And do not forget to check our amazing collection of gemstone diamond earrings on our website!
Happy shopping!