Looking for a perfect gift for your mother on her 50th birthday? Yes, this special occasion demands for a special gift, so why not add a glowing sparkle to her appearance by gifting her a gorgeous pair of diamond stud earrings. Trust us, you can never go wrong with these simple yet elegant pairs of diamond stud earrings because they always fit right and can be paired with any kind of outfit.
There is no doubt that you will have to loosen the strings of your purse before investing in a pair of diamond stud earrings. So, you definitely need to plan well in advance for the occasion. Given below are a few tips and pointers that will aid your purchase of the best buy and guarantee full value for your money.
What is your budget? How much would you like to set aside for a pair of diamond stud earrings? It is definitely a one-time huge investment, but you need to be realistic and invest in a pair of earrings that you can afford comfortably. Once you have set a budget, all you need to do is look for perfect pair of diamond stud earrings within that price range. These days, if you have a decent budget, you will not find it difficult to get your hands on well-stacked catalogues with high-quality diamond earrings and studs mounted with other semi-precious stones to enhance their appeal. Check out all the available option before freezing your buy on one.
How to choose the diamond? It is very important to have some knowledge about the nature and physical attributes of diamonds on sale before you go looking for a pair of diamond stud earrings. Keep in mind the four C's of diamonds, the cut, clarity, color and carat. Some of the basic shapes like the round and princess cut emit and refract light in such a way that the fire and brilliance of the diamond are enhanced exponentially. That is what you are looking for, right? All diamonds have inclusions in them, but the ones that are highly priced have negligible flaws that are not visible to the naked eyes; these make them more expensive than others. This said, while investing in a pair of diamond stud earrings; keep in mind the clarity of the stone that is on offer.
Remember, just because the diamond is big, it is not necessary that it is better. The carat weight in a pair of diamond stud earrings refers to the total weight of the diamonds used for the making of the set. When two diamonds of equal weight are cut differently, their settings can make them look bigger or smaller. Therefore, according to your budget, choose the size of the diamond and set it in such a way to make them appear larger than what they may be. The time and money invested in choosing the perfect pair of diamond stud earrings for your loved one will be well worth the effort when you see the sparkle of the diamonds in her eyes. By the way, men too love diamonds! There are some men who love to make a style statement by sporting a diamond stud earring on one ear. So, surprise your man this anniversary by gifting him a pair of diamond stud earrings.
Fall in Love with Diamond Stud Earrings
The shine and luster of the simple yet classy diamond stud earrings can lure any woman! And if you too want to own a masterpiece, there is one for every style and fashion!
Gorgeous Martini Style Diamond Stud Earrings
In this type of setting, usually, there are three prongs that hold the center diamond; a four prong setting is also quite common in this design. The diamonds in use have a rounded surface and gradually narrow down at the bottom. Imagine a martini glass, well, this setting and the shape of the diamond resembles a martini glass, hence the name. With less metal around it, the brilliance of the diamond is more visible in a martini style diamond stud earrings set.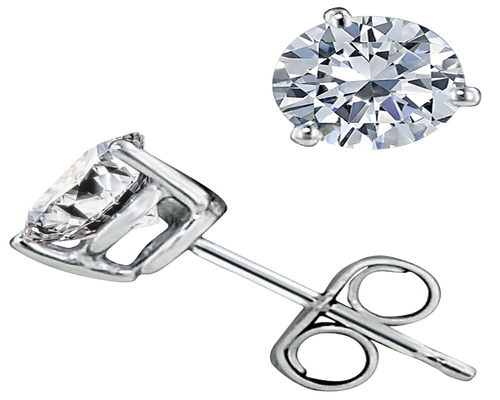 Brilliant Princess Cut Diamond Stud Earrings
If you are looking for class and sophistication, then a princess cut diamond stud earring is just perfect. The princess cut captures the brilliance of the diamond perfectly; no wonder it is one of the most popular shapes. Square or rectangular- what will you choose? The fire and brilliance of the diamond in both shapes are equally spectacular. Choose the setting carefully; since the princess cut diamond studs have four corners, they need to be protected by metal, or else they will get chipped easily.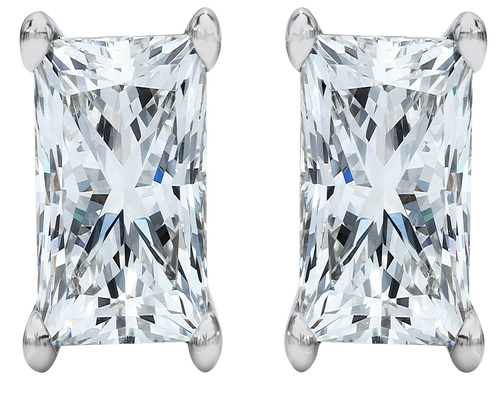 Sparkling Cushion Cut Diamond Stud Earrings
High-quality cushion cut diamonds have an amazing sparkle and fire in them. A perfect cushion cut diamond studs set needs a setting that will enhance the beauty of the diamonds set within. Unlike a princess cut diamond, the corners of a cushion cut diamond are rounded and have large facets on the surface to bring out the brilliance in them. White gold or yellow gold? Well, the choice depends on your taste and preference. Add beauty to your jewelry collection with a pair of cushion cut diamond stud earrings that are timeless.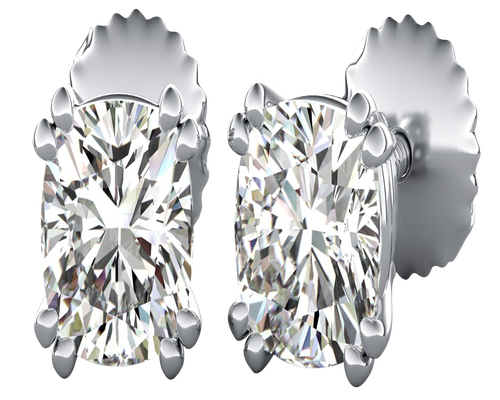 Royal Asscher Cut Diamond Stud Earrings
Unlike an emerald cut which is rectangular in shape, Asscher cut diamonds are square shaped. In most cases, their square elegance catches the eye of Hollywood diva, and you can see them sporting Asscher cut diamond stud earrings on the red carpet. The dramatic effect of these gorgeous diamond stud earrings is sure to attract the attention of one and all around you. They definitely are a great addition to any jewelry collection.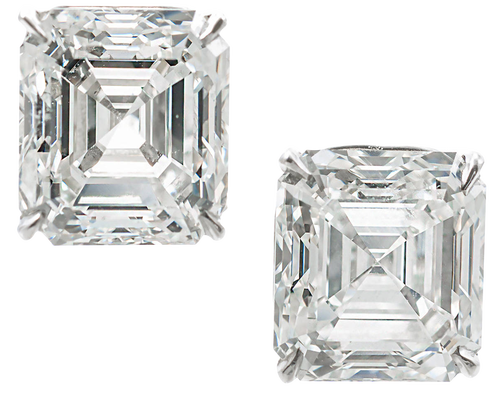 Exquisite Marquise Diamond Stud Earrings
Add a touch of sparkle to your outfit with these unique marquise shaped diamond stud earrings. The sharp and elongated edges of marquise cut diamonds add extra sparkle to any jewel, such that they resemble the sparkling smile of the beautiful mistress of Louis the XIV who loved wearing them too. Choose the metal and the setting style which will enhance the exceptional shape of such diamonds and bring out their fire and brilliance in the best possible ways.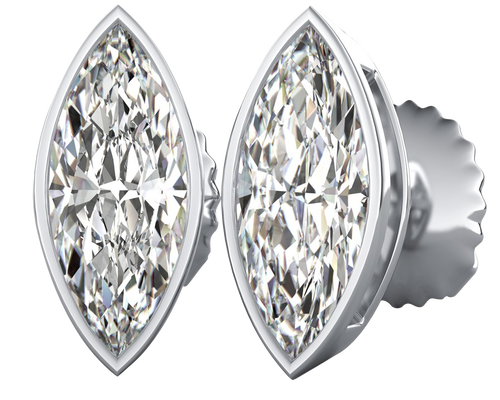 Classic Round Brilliant Cut Diamond Stud Earrings
These round cut diamonds look perfect in a classic stud design. Why not custom design your own stunning diamond stud earrings? Yes, with the help of a jewelry designer, you could design a pair of diamond stud earrings that are incredibly brilliant. Firstly, you may solicit help to choose two diamonds that match and are certified. Then, you would need help in choosing the right kind of setting to enhance the beauty of your diamonds. Don't hesitate to take professional help in designing a pair of diamond stud earrings which you are going to love for the rest of your life.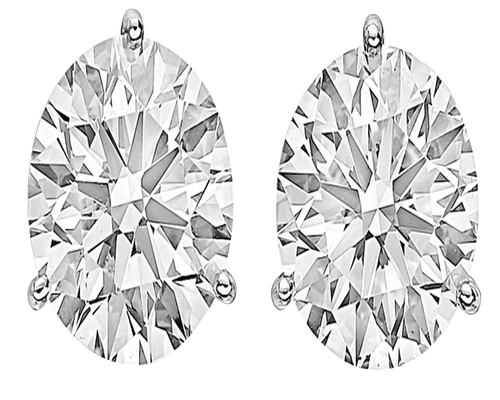 Diamond stud earrings promise to be a sparkling addition to your jewelry collection, go for them!