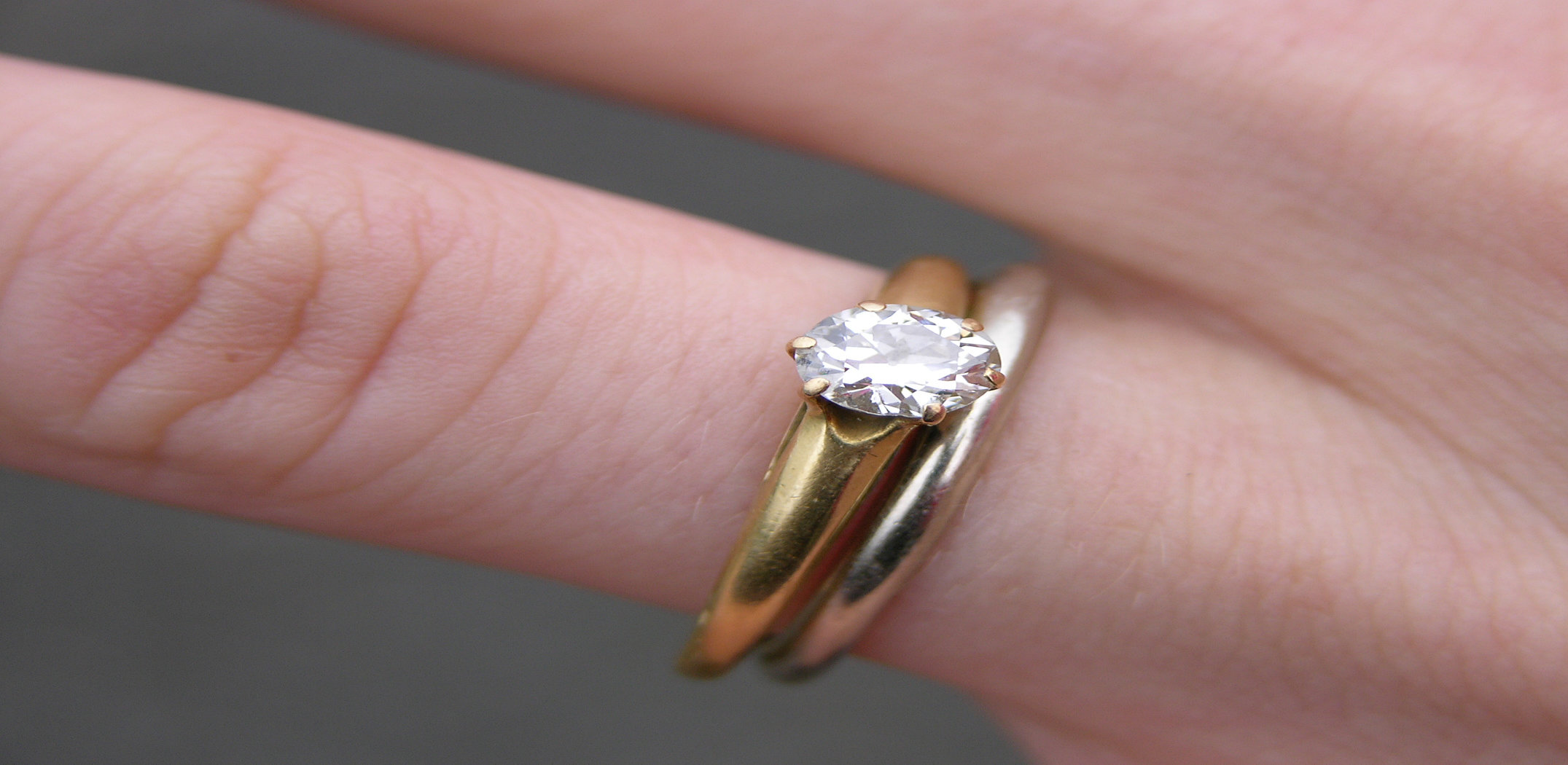 On your engagement, slip on a gorgeous diamond ring on your finger and watch your eyes sparkle. Here's what it takes to make your special day all the more special.
This is it! This is what I want!
It's your engagement, a very special day and moment in your life, and you want a ring that you can flaunt in front of your family and friends. It is a ring that you are going to be wearing for the rest of your life, and you want the best that you can afford.
Well, if it is a diamond ring that you are looking for, then the sparkle and elegance of a princess cut ring are surely going to grab the attention of all around you. Browse the online stores that have an amazing collection of cheap diamond engagement rings and select the style and size that suits your pocket to the hilt.
Eternal Bling of Princess Cut
A sparkling diamond is an exceptional way to say 'I love you'. Celebrate your engagement with an exquisite princess-cut ring. The lines and angles of this square shaped gemstone with sharp corners are designed to maximize the sparkle of the ring on your finger. Yes, the unique cut of such diamonds serves to be a perfect blend of quality and value and help you achieve the highest levels of brilliance, sparkle, and durability.
Fancy Colored Engagement Rings Are Trending
A diamond is a diamond! Going the traditional way, when shopping for a diamond ring, you always look for white clear diamonds. However, this trend is changing slowly. Fancy colored diamond rings are gaining popularity like never before. Today, modern brides-to-be are open to experimenting with different color gemstones on their engagement rings. These engagement rings with bright colored stones stand out and add color to their personality in more ways than one.
There are many stunning colors that you can choose as the center stone of your engagement ring, let's elaborate on a few of these colored gemstones.
Black Diamond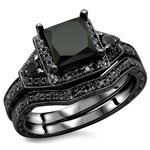 Black diamonds are dark and seductive and they will surely grab the attention of onlookers. Imagine black diamond rings with a princess-cut black diamond mounted on it, now isn't that a treat for the eyes! This unique and stunning combination of black gold with black diamond or white gold with black diamond makes for a magnificent ring.
When Carmen Electra received a black diamond from her boyfriend, she told the People magazine, "It's a black diamond, perfect for us. Different- it's our style."
Pink Diamond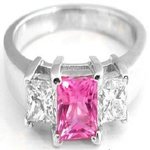 When we hear pink, the first thing that comes to mind is 'Baby Pink'.
A pink diamond is beautiful! It exudes soft, gentle and mesmerizing beauty, unlike any other colored stone. All in all, gorgeous princess cut pink diamonds have a romantic appeal to them, making them ideal for use as an engagement ring.
Jacob Arabo created a pink diamond masterpiece for Mariah Carey, it was a 10.02-carat emerald-cut pink diamond which was flanked by two side stones and then surrounded by pave diamonds.
Sounds exquisite, right?
Yellow Diamond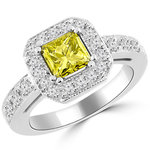 Yellow is a symbol of joy and prosperity.
A yellow diamond will remind you of the sunny afternoons that you have spent with your loved one walking in the park. Capture your special moments and slip that yellow princess cut diamond ring on her finger, trust us; the girl of your dreams will be floored.
Victoria Secrets Supermodel, Heidi Klum, flaunted a 10-carat canary yellow stone which was accentuated by smaller yellow diamonds along the band. This absolutely gorgeous yellow diamond engagement ring was designed by Lorraine Schwartz.
Blue Diamond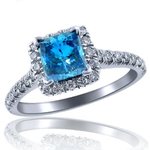 The beauty of a blue diamond is impossible to match. Such diamonds are rare; therefore, they are highly priced.
These blue diamonds are found with a natural hue and are further heat treated to enhance their coloration. See the color of the ocean reflects in the eyes of your loved one when you finally slip a blue princess cut engagement ring on her finger.Talk about a ring being timeless!
Prince William, Duke of Cambridge, gave his mother's deep blue sapphire ring to his wife Kate Middleton. It is a beautiful oval-shaped blue sapphire surrounded by a halo of tiny diamonds on a white gold band. The deep blue sapphire ring looks as beautiful on Kate Middleton's finger as it did on Diana's finger.
Orange Diamond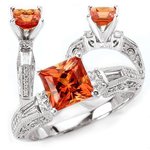 Orange is the new black!
This trendy color is gaining popularity amongst the young generation. From clothes and shoes to handbags and jewelry, orange is in. Orange diamonds are energetic and vibrant; their warm color will definitely make an impression that will last a lifetime. Being a rare color for a diamond, these gems are highly priced. Engagement rings with bright orange stones are a fabulous choice for a bride who flaunts an equally unique personality.
A fancy princess cut orange diamond mounted on a gold band will boast of enhanced colors, thus making it even more beautiful. Another option is that you can mount a bright orange colored diamond on a white gold band and surround it with white diamonds; this will lighten the color of the orange, giving it a soft touch.
So, what are you waiting for? Go ahead and get the perfect center stone for your princess cut engagement ring.