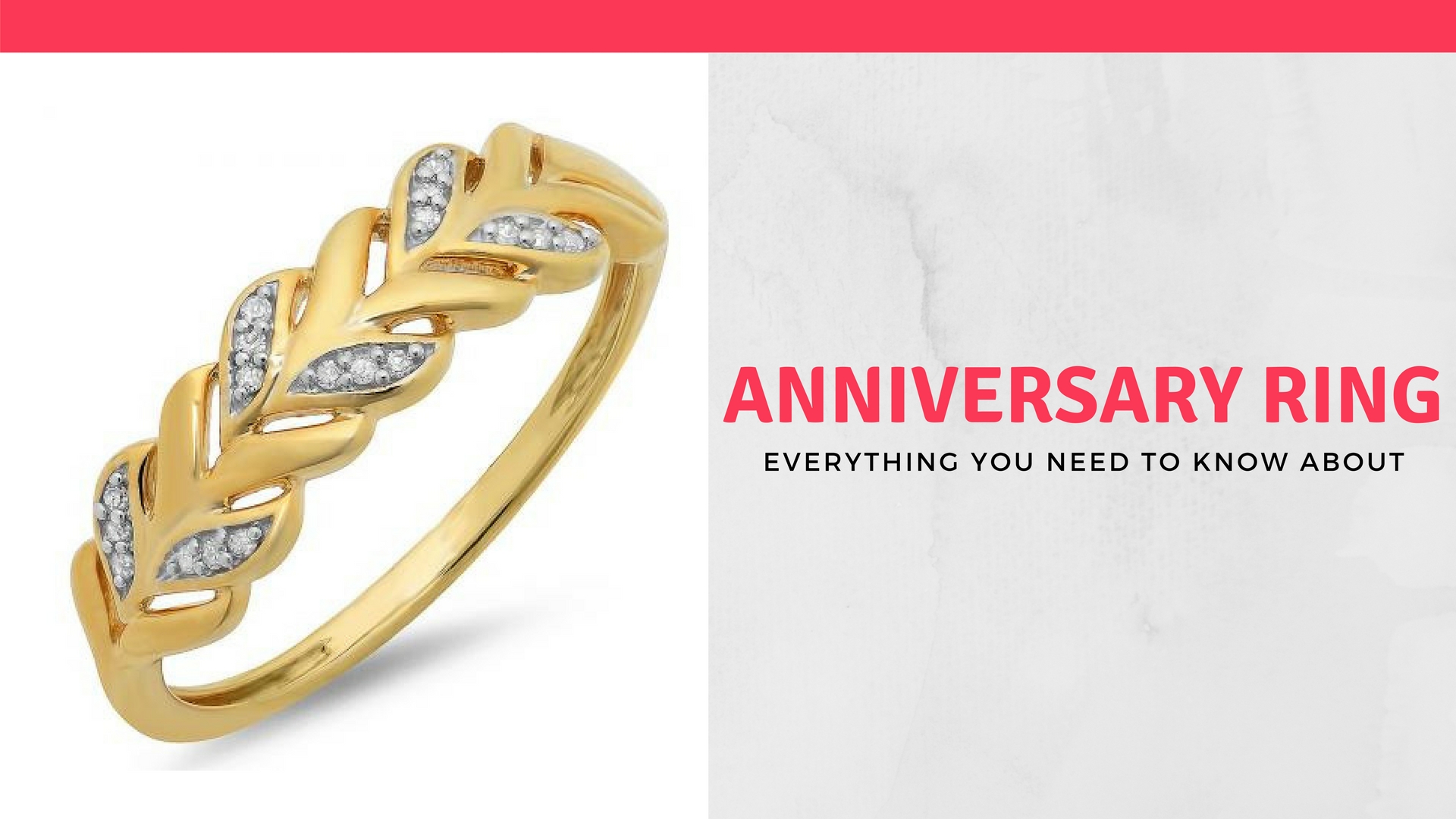 Anniversary rings are as eternal as your love. They symbolize your vows and promise a lifetime of togetherness. Is your wedding anniversary just around the corner? Why not surprise your better half by gifting her diamond anniversary rings on this special occasion?
In all probability, your spontaneous reaction would be, "Are such diamonds rings specially marked for anniversaries?"
Here, we throw light on how these rings are different from engagement or wedding rings. Not really as expensive as a solitaire engagement ring, they promise to flatter your bridal rings and other jewelry selections extensively.
WHY IS ANNIVERSARY RING SPECIAL?
Before going ahead with why anniversary rings are so special, you may like to remind yourself of why anniversaries are so important.
Yes.
Just as your anniversary marks the celebration of your togetherness and re-confirms your faith in the relationship, these rings do the same. These beautiful rings may have diamonds or gemstones studded in them. In some cases, they may be in the form of bands – just like a wedding band or eternity band sold online.
These days, with diamond rings catching the fancy of one and all, couples are investing in a wide range of rings with dazzling diamonds set in them, especially on special occasions like anniversaries.
WHEN SHOULD YOU GIFT IT?
It's true that a 60th anniversary is termed as a "Diamond Anniversary" but why should you wait so long?
You can make each anniversary as special as the 60th wedding anniversary by gifting something spectacular. A diamond-studded anniversary ring symbolizes your love in every conceivable way and can be presented on every single marriage anniversary.
In case you plan to buy a diamond bracelet or a diamond necklace as a special gift this year, you can choose any other occasion –say your birthday, the anniversary of the day you both met for the first time, or that special day when you get a promotion – to do the honors.
In other words, even though your marriage anniversary happens to be the most opportune timing for gifting a precious diamond ring, you can do it anytime.
HOW MUCH SHOULD YOU SPEND?
Of course, diamonds are expensive. And if you choose to buy a high-quality diamond ring after considering all the 4 C's – carat, cut, color and clarity, you can expect the price to be high.
But then, there are absolutely no written down rules for spending. It's absolutely up to your budget and comfort.
On your anniversary, your feelings and emotions take center stage with money coming in much later.
So, go for a pricey anniversary ring only if your pocket permits; else, invest in a ring set with more affordable gemstones to make your anniversary equally special.
DECIDE THE STYLE FOR ANNIVERSARY RING
In case money is scarcely a concern and you desire to buy a very stylish and contemporary looking ring for your spouse, then bling on a three stones diamond ring.
Undoubtedly, it would be the best way of expressing your eternal love with the three diamonds symbolizing the past, present, and future of your relationship in the most attractive way.
Yet another way of making your special occasion more special is by representing the years in your anniversary through an equal number of stones. Say, if it's your 10th anniversary, your ring can be custom designed with ten small sized diamonds to give an exquisite appeal.
You may also style your anniversary ring with your birthstone or other vibrantly colored stones to make it look different from the rest.
CHOOSE THE STONE FOR A RING
What's the color of your favorite stone?
Yes, if you do not wish to invest in a diamond-studded ring, you would surely fall in love with the appeal of rings with colored stones.
These days, there is absolutely no dearth of wedding anniversary style bands and rings in platinum and sterling silver to choose from – especially the ones set with birthstones and diamonds that blend into perfection.
Start thinking out of the box and invest in exquisitely colored gemstones that will match with the remaining pieces of jewelry in your trinket box. Ask your jeweler to design an alluring anniversary ring for you with your newly purchased colored stones.
You will love to see the result of your custom-made contemporary anniversary band.
WHICH HAND TO WEAR ANNIVERSARY RING?
There is no written rule about which hand is the right one for flaunting your anniversary ring. You may wish to go by the engagement ring rules, wherein the expected norm is to wear the ring on the left hand.
However, it all depends on your individual choice and comfort. Some women like combining their anniversary bands with their diamond wedding rings, while others love to a wear a trio of their diamond engagement rings, wedding ring and anniversary ring at a single go.
It's always a good idea to use the same metal in the anniversary ring as in the wedding or anniversary ring to make the lot blend with each other.
IT IS A TOKEN OF APPRECIATION AND LOVE
With more and more couples opting for anniversary rings as their first choice of gift, this token of eternal love and gratitude has started symbolizing relationships in more ways than one.
For instance, eternity rings are unique in themselves and showcase long-lasting marriages that are meant to last forever. You may like to buy diamond eternity rings that have a band encircled by diamonds with no beginning, or end – just as your love story.
Then, there are right-hand anniversary rings that represent commitment sans the need for traditional wedding rings on the left hand. Such right-hand diamond rings serve as perfect gifts for your marriage anniversary and are certainly the right way to go if you already have diamond rings in other styles in your collection.
THE LAST WORD
Your anniversary is indeed one of the most special days of the year. So, you as well as your sweetheart deserve a special gift in the form of diamond anniversary rings.
Do not restrict your purchase of diamond rings to merely engagements or wedding ceremonies, they can be gifted or purchased as tokens of romance any time of the year.
Regardless of whether it's your 1st or 20th anniversary of togetherness, a well-crafted anniversary ring would melt his/her heart right away.
Do share your ideas about which diamond rings are best suited for this occasion. We would love to know more about the diamond rings purchased on your earlier anniversaries as well!