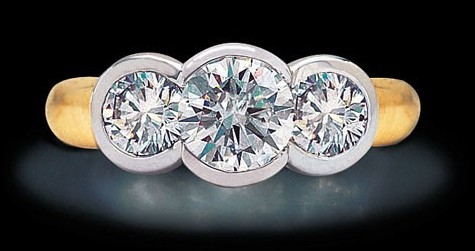 Strive to be different. Flaunt a special look on your fiancé's ring finger by gifting her a three stone diamond ring on this valentine day.
Yes, go the unusual way and look beyond the eternal charm of the typical solitaire diamond ring. Opt for a dazzling jewel from the catalog of three stone diamond rings. You will love what you end up choosing!
WHY IT IS SO SPECIAL
When you choose a ring for your "would be", you would obviously choose a ring that embodies your eternal love bond to perfection on this valentine day—right?
Moreover, you would like to select something that would suit your special someone's style preference and your budget too.
Give this most enduring symbol of love that will dazzle you with three diamonds, not just a single one.
Well, most couples would still go for the classic ring and not be too inclined to explore the enhanced intrinsic worth of three stone rings; but then, you are obviously different.
Boasting of the much-adored classic look because of the size and pattern of three large-sized diamonds, these rings are surely special.
They mesmerize you with their eternal beauty and refined looks. Chic and stylish, these fine pieces of jewels promise to add more worth to your bride-to-be's jewelry collection on valentine's day.
So, think no longer and explore the many designs and different settings of glittering unique diamond rings offered by a reputed offline or online jewelry store – you will fall in love with the first one itself!
BEGIN YOUR STORY WITH THREE STONE RINGS
Three stones in a diamond ring hide a beautiful story in their heart. The stones that are carefully embedded in an engagement, wedding or diamond anniversary rings, usually stand for the past, present, and future bond of relationship that couples desire to form.
Hmmmm……these rings are about loving a partner with the same fervor, in all phases of life. They rightfully symbolize enhanced emotions of love, friendship, and fidelity that are the three most important pillars of any relationship.
If you are looking for a diamond ring for your dearest one on valentine day, then a three stone ring is the perfect valentine's day gift for her.
So, begin your story of love on this valentine day with these three pieces of diamonds set in the most beautiful way, and nurture your relationship bond, forever!
MAKE HER STAND OUT FROM THE CROWD
Let your to-be-bride make a statement by looking all the more special on valentine day. She will be more than happy to see your choice and will certainly fall for you—all over again!
The striking three stone ring selected by you will place her miles apart from the rest, and make her the cynosure of all eyes, and how.
So, give her an opportunity to flaunt your impressive love story to the world and celebrate the commitment you two are set to make for life.
Here, you may like to make this special engagement gift a little more stylish by choosing an interesting combination of colored diamonds. The colorful trinity ring chosen by you will boost your bond for sure and make an ultimate avowal for the evening!
DECIDE YOUR BUDGET
Well, take stock of your budget before freezing your purchase. Set with two extra diamonds, these three stone rings are certainly more expensive than traditional solitaires.
In case you have fallen in love with a particular design and are restricted by your wallet, you may go a different way, and yet, attain the same appeal. A customized ring with two less expensive diamonds (think Zircon or American-diamond) flanking a more expensive one can help you gift a similar look – go for it.
However, if you are open to the budget, an authentic trinity ring is surely what you should be buying.
SEAL YOUR LOVE BOND WITH THE PERFECT VALENTINE'S DAY GIFT
Steer yourself away from buying a classic ring which is the perfect Valentine's day gift for her. Tell the world your tale of love through an attractive diamond ring set with three stones. Wait no longer, choose the perfect ring that would be a symbol of your everlasting love and see her eyes sparkle in its glint – you will love it all!