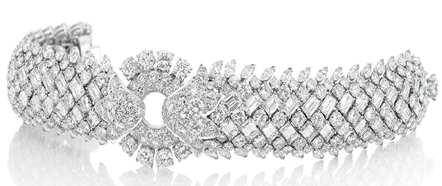 Looking for a fancy diamond bracelet that will add volumes to your style and persona? Look no further than the e-catalogues of reputed online jewelry stores that offer nothing but the very best in design and pattern alike. These days, there is no dearth of jewelry ideas that is catching the fancy of young and old buyers. From attractive diamond tennis bracelets flaunted by young and energetic wearers, to richer looking high-end bracelets that can be worn with just about all jewelry pieces; the assortment of designs and patterns is indeed plentiful.
Read on for why you should be looking towards buying a diamond bracelet for yourself too. You will love to flaunt it before your friends, colleagues and all others!
Away from the Stereos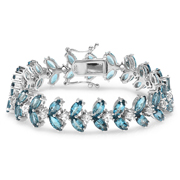 You need to think out-of-the-box and opt for a good looking bracelet design that will set you apart from the rest. It's a good idea to go for an unconventional piece that will make heads turn your way……..whether worn at a friend's do, office party, anniversary or a golf prize-distribution ceremony.
Such bracelets are designed to grab eyeballs and ensure that they get noticed without you trying too hard. Just a simple twist of your wrist and you will find others looking at the glint imparted by your favorite jewel piece. Stylish and steeped in value, these bracelets are set with different qualities of diamonds, semi-precious stones and other gems. So, instead of waiting any longer, redefine your looks with what you would like to flaunt. Get your shopping cards together and trigger off your plans of buying the best gift till date for yourself. You will love the impact these bracelets have in your circle!
Buying a Fancy Diamond Bracelet – the Right Way!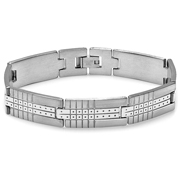 Fancy diamond bracelets are unique in themselves and enhance the look of any ensemble you choose to wear to work, or an evening out. Depending upon your budget, you can pick the diamond settings on the bracelet of your choice. Multi-liner diamond settings look enchanting on any wrist. Browse through the catalogue of different online stores to locate the perfect design for you. Select the one which gives you optimum value within your budget.
You may like to visit reputed jewelry stores in your city to get a first hand feel of how these fancy bracelets set themselves on your wrist. Go through online reviews; ask for testimonials from family members, friends and peers; or simply rely on your research to shortlist the stores that may have the product that best aligns with your needs, and wallet alike.
Browse through the many designs and patterns of diamond-set designer bracelets on display on online and offline racks. While some are sober and simplistic in appeal, others may be more fanciful and exquisite in design. Before you freeze upon your buy, it is good to consider the 4 Cs of the diamonds set in them. Assess the cut, clarity, color and carat of the diamonds in question; catch the reflection of light; and check the brilliance of their setting in metal. Only after being satisfied to the hilt should you click on "pay" or flash your plastic money in-store.
Selecting the Band Metal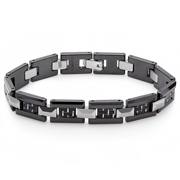 Bracelets are jewels whose beauty is further enhanced because of the design and pattern of the metal band put to use. The selection of the metal for your preferred bracelet is another task that requires careful consideration. You cannot always go with the standard metal for a fancy bracelet. Different metals have different impacts on a bracelet. For small cut diamonds, yellow gold can provide a perfect support and look completely irresistible. As a thumb rule, platinum is considered as the best metal for setting diamonds.
Because of their budget related issues, some buyers may choose silver or cheaper white metals. They look equally good too! So choose the design and pattern to decide on the metal of the fancy diamond bracelet that you wish to buy –you will be glad of your time investments and research done for this cause.
Fancy Diamond Bracelets are what YOU Need too!
Fancy diamond bracelets are surely one of those exquisite jewelry pieces which you would also like to blend in with your collection. They are simple, elegant in looks, and add volumes to the sophistication of any ensemble or occasion. So, buy a diamond bracelet of your choice and accessorize yourself to get a more cosmopolitan look. Yes, this affordable piece of jewel serves to be a striking accessory in itself and puts up a perfect show!
A Quick Recap before Purchasing Diamond Bracelets Online
Since diamond pieces are often tiny, and in the form of grains, the chances of paying for duplicate pieces are quite high. Authenticate the diamond pieces set in your chosen bracelet before going ahead with your buy.
Obviously, you are looking towards assured purchases. With this in view, it is definitely a good idea to buy your jewels from genuine stores that are reputed for selling the best in design and quality.
Get the right metal for your bracelet. To make a better choice, you may like to request the store to show you the same bracelet design in different metals.
Go ahead; flaunt a fancy diamond bracelet to attain the ultimate elegant look. You will love the look it imparts with your elegant party gown and / or other traditional wear!
Just go for it!