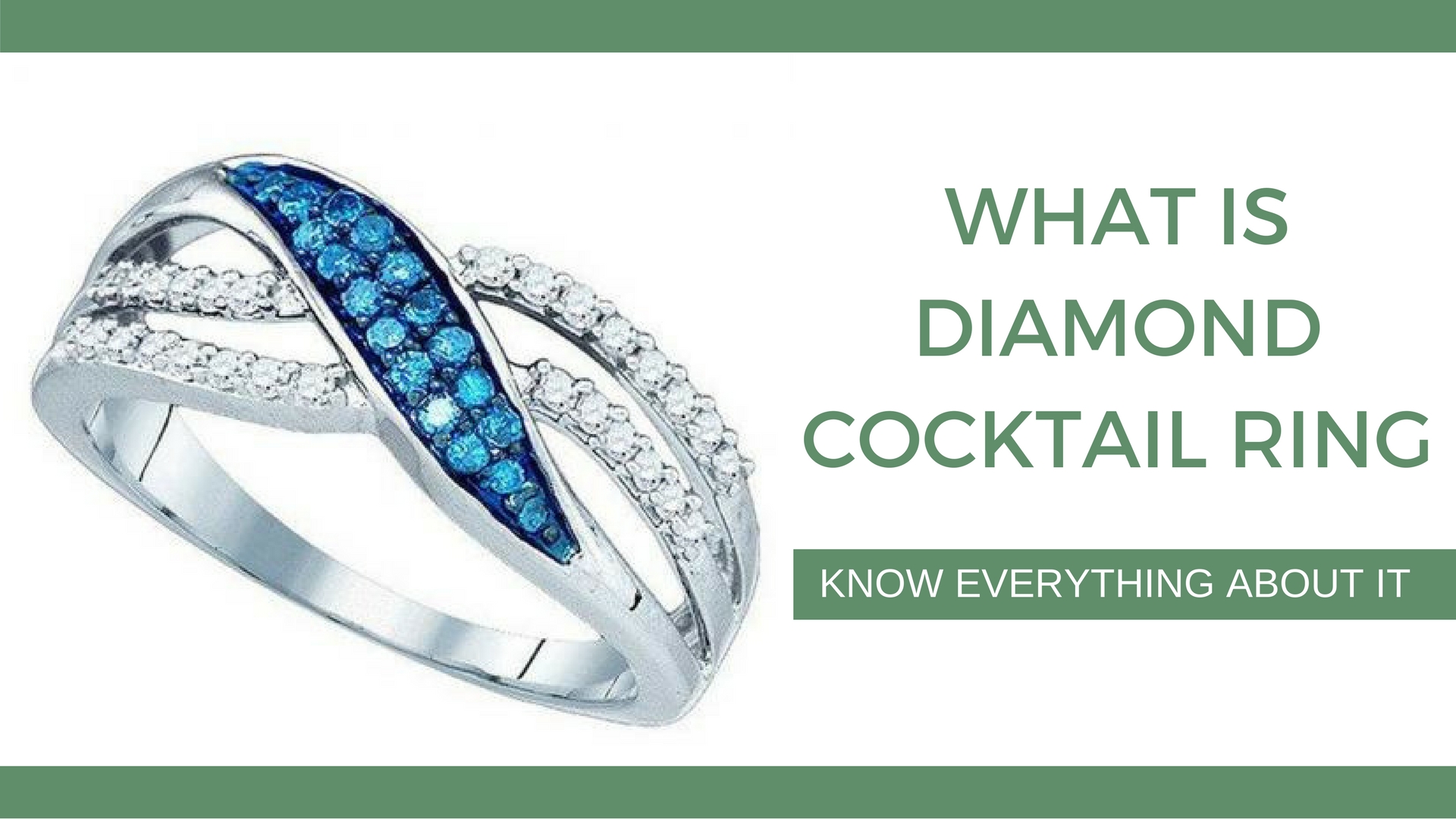 What makes a cocktail ring a boon of high prospects, and an exquisite choice for big occasions? Is it this ring's prolonged revolutionary history? Or is it because it flaunts tailor-made, handcrafted carvings of great finesse? No longer just a means of attaining a sense of societal prestige, a diamond cocktail ring is a sum of it all. The uniqueness of these rings lies in their phenomenal size that is larger than life. The absolute way of donning premium jewelry – for those who are looking to add something distinguished, yet classy to their looks – these rings always succeed in making their impact felt, and how!
It can be worn on all special days, be it an engagement, anniversary, cocktail party, and so forth. More often than not, such rings serve to be limelight hoggers. They attract attention in more ways than one; flaunt heavy stones and a fabulous look, and provoke others to appreciate the same….. Like no other piece of jewelry.
Origin of the Cocktail Ring
Go back to the 1920s; especially if you go by the myth of how they were worn by the glitterati of United States during the prohibition period. These rings served to be their way of saying that they were drinking illegally and that they were doing it with pride and style. Later, as time passed, it became more of a social affair to wear these diamond studded rings at cocktail soirees, especially in the early 1940's. That's how these rings got their name. Today, there are many more events than mere cocktail parties that are keeping the trend on its feet. Yes, these rings are being worn with a lot of fanfare to make their significance all the more worthwhile.
How To Style A Cocktail Ring
The rightness of a cocktail ring lies in the rock, and it is enormous. It's big enough to attract all eyes in the room. It's large, it's gaudy, and it's good for occasional flattery. The stone shapes that are best suited for these rings are either cocktail round cut rings or cocktail emerald-cut rings. These cuts serve a definitive purpose and give off the right look.
The second most important criterion that requires consideration is that these rings have to be of at least 3 to 5 carats to cast the right impression. Loud and expressive, the uniqueness of these rings lies in their stones that are supposed to be bold, opulent and grandiose.
What Finger Should I Wear My Ring
It is not your everyday jewelry. However, it's hard to not fall in love with one. It remains classy, vintage and comes of age if you preserve it and use it on all your big days. The ring is only meant for frivolous use and to add a sense of showmanship at a gathering. There are no particular guidelines to wear it. It can be worn on any finger, except your left hand's engagement finger, unless of course, it's your engagement. This is why, the right-hand finger is usually chosen for this ring, which can also be flaunted with flair on the index finger.
The Right Outfit With Cocktail Ring
The ring is rich and flamboyant, but it doesn't really mean that the outfit you wear with it has to be extravagant too. People are seen wearing such large-sized cocktail rings for movie releases, corporate dos, weddings, parties, award shows, and so forth. Complementing beautiful gowns and eye-dazzling outfits to the hilt, they lift the glamour quotient of wearers with a casual appeal. Which is why they are best worn with block color clothing or patterned textures.
Purchasing the Cocktail RIng
You may like to get your ring after searching various mediums. The most proclaimed being public auctions or estate sales, as they have the means to fetch you the most exquisite vintage jewelry. Most elite wearers are always on the lookout for unique diamond rings that are limited in a collection as they are the best pieces to add to their lush collection. Apart from their high luxury quotient, these rings are a source of core memory to some, especially those who have had the luxury of donning them on their big days. In the online shopping scenario, online jewelers are the way to go. They help you in finding the best ring, with the best deals on the web, and the highest degree of reliance and guarantee.
Way Forward
Given its infamous and awarded name, a cocktail ring is what you should be wearing at the next do. These rings look best against a Martini glass or a champagne flute. So, wait no longer to make your presence felt in the right way. Flaunt your style and persona through these rings set with high-quality diamonds and other stones – you will love their feel!