Every diamond has its own story to tell. Flaunting an exquisite and timeless appeal, it is born out of years of pressure and heat combining deep within the earth's core. The sparkle in a diamond reveals all that it has gone through. Your pair of well-cut gemstone diamond earrings; complete with the impressive fiery play of light/ color that it imparts, speaks of a similar story too. Romantic, eh?
Luxurious and exquisite to the core, these precious earrings are made of diamonds and other gemstones that match all kinds of jewelry to the hilt—including your diamond solitaire necklaces diamond tennis bracelets, and more. Take a look at what makes them so popular.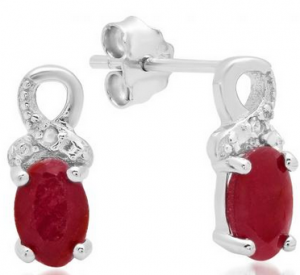 Classic yet Trendy
Gemstone diamond earrings boast of an eternal and universal appeal. While trends in fashion jewelry keep changing with time, pieces such as diamond drop earrings are evergreen in nature and never go out of style. The same rings true for hoops and studs too. But wait; there is lot more on offer for those who would rather go in for styles that are other than seemingly conservative designs. Think dazzling diamond chandelier earrings. Presenting a fanning cascade of hand-picked diamonds, the intricate appeal of such pairs varies with contemporary preferences, but always manages to retain its appeal. Similarly, diamond flower earrings, cross pendants and other diamond gemstone earrings designs manage to leave their mark too!
Timeless Gifts
Your lady love, mom or any other woman in your life would love to have a set of gemstone diamond earrings as her birthday, anniversary or wedding gift. Symbolizing affection and love in every conceivable manner; these beautiful earrings always remind one of special occasions and people in their life. More so, April babies can lay their claim on this gemstone as their own as it happens to be their birthstone. So, hoop earrings in diamonds make for the perfect birthday present for a special someone born in this month. Couples celebrating their 60th anniversary are likely to spend their special day with many more diamonds as well—after all, this beautiful stone is the official gemstone that symbolizes another big milestone in their married life.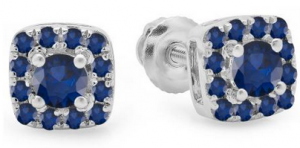 Caring for Diamond Gemstone Earrings
As diamonds are the hardest and most durable gemstones of all (and boast of a Mohs scale rank of 10), it's easy for owners to take good care of their gemstone diamond earrings. Every once in a while, or whenever required, soak your pieces in lukewarm soapy water and use an old toothbrush for edging out the grime. Soaking rinses off all accumulated dirt, last traces of hairspray/ perfumes, and lodged in particles that take away the natural luster of diamonds. In case your earrings are set in silver, then use a silver cloth to scrub the diamonds gently with a soft damp brush.
As last words, there's absolutely no way that you may go wrong with diamond earrings. If you are buying one for yourself, then recall all the other diamond pieces that you treasure and choose your latest collectible accordingly. In case you are thinking of gifting a pair to your friend, lady-love or suitor, then know whether she loves simple and elegant designs or would rather go for something that's more flirty and bold. That should not be difficult–c'mon, if you are buying diamonds for someone, you know her pretty well by now!
To know more, Visit this page