Diamond stud earrings are a timeless classic that will match any ensemble and ensure that you are always in style. Simple studs are an important part of any woman's wardrobe and will make you feel fashionable with minimal effort.
Few accessories woman can never forget to get the perfect look  and earrings are one of them. A nice earring can enhance the look of any outfit. When it comes to earrings then diamond studs earrings are the forever classics. That is must have in the wardrobe of any fashionable woman. It is an ensemble that can have power alone to change the entire look of your attire. One can look really gorgeous with minimal effort.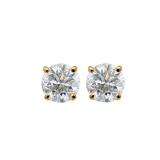 Most of the women have habit of spending money in trendy accessories which goes out of the fashion after the season. That not only wastes the hard earn money but also creates the clutter of the things in the wardrobe which you can even wear and always makes you confuse what way you can use them. Diamond studs earrings comes as a rescue as these never goes out of the fashion. Diamonds are forever and it really proves its worth every now and then. These earrings are available in the variety of designs and with various combinations.
A long diamond earring can give perfect look to the party gown and a small delicate flowery one can goes perfect with the formal office attire. A funky one suits best with the denim and casuals. These earrings are available in the combinations of gold and diamond, sterling sliver and diamond, platinum and diamond and even gold -platinum and diamond. This gives wide range of variety to choose from. Apart from this diamond jewelry stays for the lifetime and never goes out o the fashion that way you can get the maximum value of the money you have spend on that.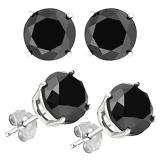 The wear and tear process is comparatively less on the diamonds and when you purchase the certified diamond studs earrings, it becomes good saving options too. The value of diamond never decreases with the time but it increases and it has same value globally as banks do not have any control on the diamond prices.
This diamond jewelry is as much essential as a little black dress in your wardrobe. Diamond studs earrings are the must haves for any woman to complete her wardrobe and flaunt her style statement with elegance.
Find more information at https://www.dazzlingrock.com/ or Feel free to call us at 213-622-3264