Diamond tennis bracelets have become very popular with extending the number of buyers for this type of bracelets increasing every year. Have you ever thought from where did this name 'tennis diamond bracelet' arrive? It was in 1987 Women's US Open Tennis match, Chris Evert misplaced her diamond bracelet while  playing the match. In the middle of the game she kneeled down to search for her bracelet that had unlatched. This event was highly publicized and those types of wrist pieces since then are now popularly known as diamond tennis bracelets.
A diamond tennis bracelet design is marked by single linked bracelet adorned with diamonds or coloured gemstones. In this type of bracelet the design is constant and symmetrical all over. You can find these bracelets in gold, silver and platinum metal with a single tone, double tone or three tone shades. Simplicity can be found in all designs of diamond tennis bracelets. This wrist piece looks good on all women, but delicate wrists look more beautiful with diamond tennis bracelets. One of its unique qualities is, this type of bracelet has bigger size diamonds than smaller ones.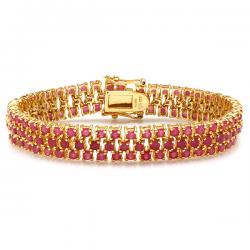 These bracelets are available in different variety of cuts like circular, rectangular, oval and square. You can wear these shinning bracelets to almost every occasion and anytime of the day. It goes well with almost every type of outfit. Diamond tennis bracelets are best choice for formal occasions or meetings. Gold or silver made bracelets, adorned with big size diamonds connected to each other without gaps make your wrist look attractive and delicate. As a woman you should have at least one piece of this type of bracelet in your wardrobe as it flatters your wrist and draws attention of people around you.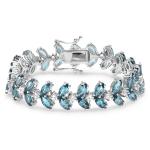 When you go for buying a diamond tennis bracelet be sure about the purity of diamonds. Look for four things in diamonds- carat weight, cut, color and clarity. If these things are perfect, the diamonds are of good quality. After all diamonds do not come very cheap.
Tennis bracelets are little expensive therefore shop them from a reliable source. Shop around and gather source information, you can buy them online from an authentic jewelry store. These websites can give you better deals with guarantee of quality of diamonds.
The use of diamond bracelets is not limited to women, men are increasingly purchasing and wearing diamond bracelets with unique designs developed for them. Thus it can be said that tennis diamond bracelet are here to stay, it can be a perfect accessory to gift someone as your love or token of appreciation.
Also Read: Yes, a Tennis Bracelet is just what you Need!