Gold has been favorite precious metal for jewelry making since the ancient times. People wear various types of gold jewelries that show their status symbols. In some cultures wearing gold jewelries are compulsory for the women. Gold chain necklaces are very commonly used jewelry piece which has to be perfectly made as it is easily noticed by the people. It's luster, thickness, design and texture affects the overall look of the person. Gold chain necklaces are a very common fashion accessory for both men and women. It goes well with every outfit and occasion. Gold comes in yellow and white color, hence you can match the necklace color according to the outfit.
The length and size of the gold chain necklace should be according to the wearer's sex and style. Some prefer small necklaces whereas some may prefer long chains. A gold chain necklace which is intended for evening and formal wear is thinner and worn with a pendant. If you want to accessorize your casual wear outfit and add a little drama to your dress, should go for thicker and longer gold chain necklaces. Gender wise women usually prefer thinner necklaces, and men prefer thicker width chains. They can be worn with different layers in a necklace which looks very elegant and luxurious. Such layered gold chain necklaces can be paired with your evening dress or any special occasion.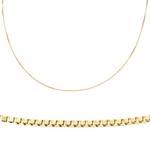 If you are planning to buy the gold chain necklace online, then browse the jewelry websites for the necklaces patters. Gold chain for men come with different links shapes like diamond, circular, rectangular and square. Good sites have exquisite designs that play and experiment with these link shapes. On the other hand men's gold chain necklaces are thicker in width with edgier patterns like snake, solid chains, curb and rope. Design selection depends on the choice and the personality of the wearer. If you are planning to gift it to someone, be sure about their choice of jewelry. For instance women who love the sophisticated look would go for box gold chain necklaces. These chains carry off pendants very elegantly.
Gold comes in two colors- yellow and white, choose them according to your preference. Yellow gold is most widely preferred color in gold chain necklaces.
While buying the gold chain, keep yourself updated with the carat of gold used and the content of any other materials used in making it. Prefer online jewelry stores that offer 100% guarantee of genuineness of the gold.
For more information contact us at https://www.dazzlingrock.com/