In spring 2021, diamond jewelry trends are becoming a lot more bold and exciting. As we enter officially into a post-pandemic world, it seems that these diamond jewelry trends are very much needed.
Everyone seems to be getting in on the act, from runaway models, musicians, actors, actresses to athletes. The best part about these diamond trends is that they have been incorporated into all pieces of jewelry.
From diamond engagement rings, diamond wedding bands to diamond tennis bracelets, everything is covered with these trends. So, what are the best diamond jewelry trends you should look out for in spring 2021?
Here are the ones you shouldn't miss out on;
1. Diamond and Pearls
This is one combination that nobody thought they wanted, but right now, they absolutely need. Diamond and pearls have been downed in almost all the biggest magazines of the year.
If you pick out Vogue magazine, you're most likely to witness this trend in the best way possible. There are a couple of reasons as to why this trend has received so much this year.
One of the reasons is because it's one of the best combinations you'll likely get on a piece of jewelry. The other major reason we can't overlook is how much love big-name celebrities have shown the trend this year.
One of the big names to down this trend has been the first female vice president of the United States. Kamala Harris added a touch of elegance to this trend that has wowed everyone in the entertainment world.
The sparkle of the diamond meets the ever-opaque feel of the pearls; this combination was bound to do well. The diamonds and pearls trend is basically the real-life definition of modern meets classic.
The best thing about this trend is that it doesn't seem to slow down. There is a great chance that we might be seeing this trend even more refined many more years to come.
2. The New and Bigger Hoops
Hoops have to be one of the longest-serving trends in the jewelry industry. Even though the ancients wore them, they always find a way to re-enter the fashion world. The best thing is that hoops always re-invent themselves and create an even bigger bang in the fashion industry.
For this continued success and longevity, we have to give credit where it's due. Runway models have been known to find a way to blend the hoops with even the plushiest of outfits. Diamond hoops are not your ordinary hoops.
This is because they ooze more class and significance, which grabs everyone's attention and leaves a lasting impression. Diamond hoops have become increasingly popular in spring 2021 than in most years.
This is because more public figures are wearing this iconic look in almost every significant public appearance. Whether you're going out with friends or at home for that zoom call, these hoops are the ideal choice.
Due to their glamorous nature, they look excellent in any attire, whether upscale or casual. With this trend, you won't even need to worry about switching up your hairdo because it's almost perfect with any.
3. Gender-Free Designs
In whatever gender you identify with, you have to admit that diamonds look great on almost anyone. During this spring, more fashion houses will be looking to incorporate more unisex styles in their designs.
This is to ensure that these pieces of jewelry are loved and appreciated by everyone. Whether you're going to purchase that wedding diamond band or that diamond tennis bracelet, you won't have to worry about the style.
This is because the design will accommodate you and the person you're looking to gift the piece of jewelry. The same thing applies to the diamond engagement rings; more unisex designs are bound to be unveiled this spring.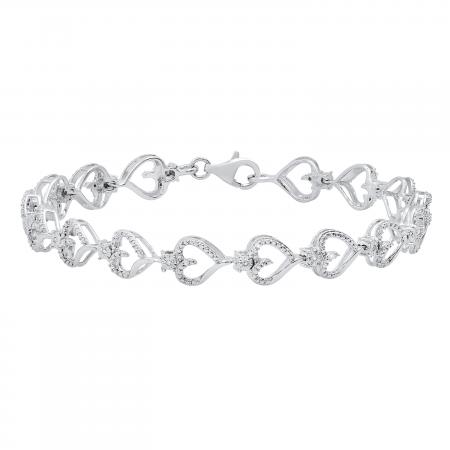 The best thing about gender-free diamond jewelry designs is that they are more comfortable for most jewelry lovers. Everyone wants to pick the best piece of jewelry in the store and walk home without worrying about the gender aspect.
In spring 2021, we'll get the smallest and finest pieces of diamond jewelry that speak to masculine and feminine in equal measures.
4. Heavy Metal Chains
There is no denying that this jewelry trend has been most evident in the music industry more than any other. However, this spring, things seem to be headed in a very different direction.
Designers are spending more time coming up with better styles for heavy metal chains that will be more feminine. The best thing about this diamond jewelry trend is that it's almost perfect with any outfit you have in mind.
Whether it's that baggy t-shirt or that slim dress, these chains will compliment your look effortlessly. The diamond heavy metal chains we are about to see this spring will be both classy and stylish.
Whether you're a 90's rap fan or someone looking to find their style, this trend is suitable for you. That stylish diamond feel will have you turning heads in every room you enter.
5. Marquise-Cut Diamonds
The ever-famous marquise-cut has been around the fashion industry for a very long time. Its longevity can be attributed to how versatile it is among different pieces of jewelry. However, this spring, we're about to witness the marquise-cut in an even better style.
This shape's versatility has improved a lot this year to appeal to old and new jewelry lovers. With the marquise-cut diamonds, whichever way you'll prefer to wear your jewelry will be just as good.
Diamond tennis bracelets and diamond engagement rings are bound to benefit the most from this trend. This is because its lower-set cut is both stylish and appealing while also offering an active lifestyle for owners.
Conclusion
This spring is undoubtedly going to be a monumental period for all diamond jewelry lovers. Regardless of your style, there is something in the works to appeal even more to you. All you need to do is wait for all the trends to unfold to pick the ideal style.