Are you planning to get a morganite diamond ring for your bride-to-be? It's trending so fast and for a good reason. It is beautiful, durable, and has enchanting shades of rose pink. With its pinkish, demure hues, it is the ideal centerpiece of every woman's jewelry collection. 
So if you are looking to buy a piece of morganite jewelry, you will find that choosing the best one can take time and research. Our guide will help you along that journey, providing you with all the information you need to know when shopping for a morganite diamond ring.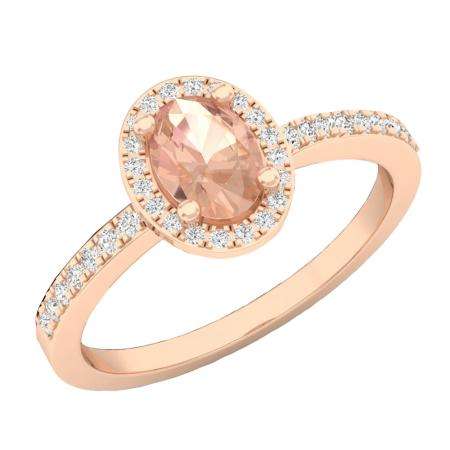 Let's have look at the most important things you need to know before buying morganite.
What is morganite?
Morganite is a semiprecious gemstone that is related to aquamarine and emeralds stones. The hue can range from coral to orange to salmon to a subtle pink, though you will find that light peachy pink is the most common. It is also known as rose beryl. As compared to other pink gemstones, morganite is much more affordable. It has a pretty pink luster, so it is both feminine and classic.
Morganite meaning and symbolism
As the gem's light peachy pink hue, many people often associate morganite with warmth, love, and innocence. It's believed that it's connected directly to the heart, so the body is cleansed of stress and anxiety. It is also believed that it can release negativity and resentful feelings of fear.
Wearing the stone allows joy to flow through the body, a sense of peace, giving way to acceptance, growth, and forgiveness. Therefore being a symbol of kindness and love, it is often bought as a gift for someone special as a means to deepen their relationship.
Whether these beliefs have any scientific credence or not, they definitely add to the allure of morganite and make them even more worthwhile.
Is morganite rare?
High-quality morganite gemstones are rare. When you will check out the price of morganite, you may find that they are much more abundant than emeralds because their price is very much affordable.
As it is a rare gemstone but that is not reflected in its price. It remains an affordable and precious gemstone.
Take a note: Many retailers will try to raise the price of morganite by trading them by the name of pink emerald. It is true, as we discussed above that morganite is a variety of beryl and so it is very similar to emerald. So remember this is a misleading way of marketing the stone.
Can you add diamonds to a morganite ring?
Who wouldn't? Diamonds are an excellent addition to any morganite jewelry piece. Once you have chosen a quality gemstone, you will then want to add personality to your ring. So it is possible through diamonds. Morganite blends perfectly with diamonds as it enhances the sparkle of the diamond even more.
While diamonds have a dramatic luster, morganite is a subtle undertone that can give your ring a bold appeal. When selecting diamonds for a morganite ring, consider the following points:
The selected diamond will display the pink hues of a morganite gemstone which give a pinkish coloring to a ring.
If you want a soft look, you can go for diamonds with yellowish tints and can contrast this with a morganite gemstone.
If the diamond is colorless or transparent, you can choose a morganite gemstone that has a dark tone.
The perfect diamond setting for morganite stone is a halo embellishment but you can also choose a split shank or a three-stone setting.
How to pick a morganite diamond ring?
As you shop for a morganite diamond ring, keep in mind the following points for picking the perfect gem.
Color: Color is a very important criterion while considering the quality of a morganite. Morganite is famous for its transparent peach-pink color, although its color varies from pale pink to pink, peachy pink, violet pink, or salmon color. To enhance its pink color, morganite is always heat treated. Heat drives off the orange or yellow tinge, which gives a stable and pure pink color.
Clarity & Luster: The clarity of morganite is a clear stone that has no inclusions or imperfections and can be seen with a naked eye. It exhibits a glamorous vitreous luster when polished and cut.
Buyer's note: Since morganite gemstone is rare, many people do the forgery in the jewelry market. So to ensure that you are purchasing a genuine morganite ring, always ask for a gemological certificate.
Cut: Cut is also an important factor to consider while purchasing a morganite diamond ring. Popular options include oval, round cut as well as cushion cut. It is a popular metal for its unique fantasy cuts and hew.
Carat weight: Morganite is mostly discovered in large sizes, thus carat weight does not have any impact on the price. So it's advisable to choose a larger-sized morganite diamond ring as the vivid color of the morganite flaunts better in stones that are larger than 5 x 5 MM without changing the price per/carat.
Cleaning: Morganite requires minimum care, because of its hardness and durability. The easiest way to clean a morganite is to take warm soapy water and then scrub it gently with a soft clean cloth. Ensure to rinse the entire soapy residue. Do not use any harsh chemicals. You must keep the morganite jewelry separately from other gemstones as it can easily scratch them.
Want to buy a morganite diamond ring?
So the gemstone has a romantic appeal to it, you should not be surprised by its popularity. It is a perfect choice with pleasing value.
So if you are in search of a unique diamond ring then you are at the right place, morganite diamond rings are the best choice. For many brides who need something different without breaking the bank, a morganite diamond ring comes with a fair share of benefits. A morganite is an affordable way to show your look with a natural and elegant gemstone without overspending.
You can check our collection of morganite diamond rings here.