Flaunt your finger with the mesmerizing cocktail rings!
Have you ever noticed yourself those sparkling, oversized, dramatic rings worn by ladies at parties, gatherings, and weddings? Such stunning diamond cocktail rings are just enough to turn heads! Once you see, you would personally adore these rings since it instantly adds to the style and makes one stand out from the crowd.
What exactly are cocktail rings?
Cocktail rings go way back in the 1920s when the ladies use to flaunt them to protest the ban on drinking alcohol while drinking alcohol. After that, cocktail rings were very popular till the 1940s, and thereafter it played an in and out in the fashion trend.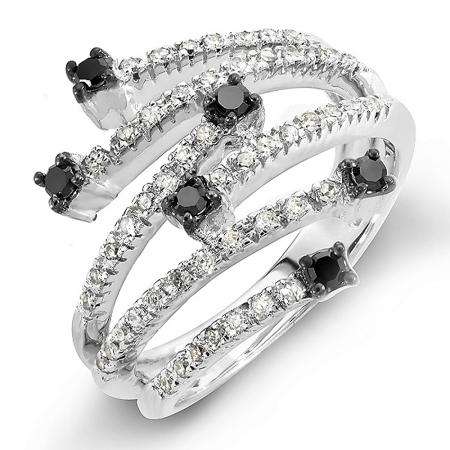 Cocktail rings are made of either gold, silver, platinum with a large diamond or precious or semi-precious stone in between. These are larger than regular rings and therefore grasp people's eyeballs instantly. To increase the value of a cocktail ring, the best way is to go for diamond cocktail rings.
The designs are often intricate with smaller gems or diamonds surrounding the bigger gem studded in the middle. Most of the youngsters are drawn towards cocktail rings and choose them even as their engagement rings.
Do these cocktail rings possess real or artificial stones?
Since the stones studded are large in size, the ones with real stones turn out to be highly expensive. Therefore, colored stones or semi-precious stone is usually used to make it reasonably affordable. For example, instead of a big sized Ruby, Tourmaline is replaced.
Also, these colored stones are treated with heat to enhance its color, luster, and clarity. But, for people who love to wear original Ruby, Sapphire, and Emerald, and are willing to pay the price, nothing like it!
Get yourself x voguish looks for 2020 with a correct cocktail ring
Countless different designs are available to choose from– floral, spiral, animals, geometric, antique and more. The metal used could be gold-yellow, white or rose gold. It is generally worn on the index finger, but no such rule which can't be twisted. Try it on a different finger to make it your own fashion statement.
The types of cocktail rings:-
● Amethyst diamond ring
Amethyst is a beautiful purple colored semi-precious stone. A big amethyst in between enamored by smaller choke diamonds studded in white gold comes out to be the stunning piece.
● Pave set floral diamond cocktail ring
A cluster of diamonds in floral shape set in pave setting in yellow or rose gold looks fabulous.
● Oval shaped Tourmaline with round diamonds
Red-colored stone but not ruby that is what Tourmaline gives the impression just like a Ruby. A big oval-shaped Tourmaline studded in gold surrounded by small round shaped diamonds just takes the cake away! And moreover, it matches most of your outfits and can be worn on multiple occasions.
● Emerald stone with marquise
A huge emerald-cut emerald stone in between surrounded by marquise-shaped diamonds studded in yellow gold or white gold.
● Solitaire mix
A single cocktail ring can consist of more than a diamond solitaire of different shapes like heart, emerald cut, pear-shaped and so on, studded in rose gold looks jaw-dropping.
● Colorful opal with platinum
If you want something different than the regular above, a fiery opal stands out studded in the metal platinum just grabs the eyeballs.
Last word of caution
Please check the setting used to make the ring, and make sure it enhances the beauty of the stone and not get it dull.
Make sure that the setting structure is not weak and is holding the stone tight so that it may eliminate the risk of the stone falling down. Also, check the finishing and polishing of the settings especially the prong setting where the prongs are properly twisted to hold the stone in its position.
Take note of these things before buying a cocktail ring
First things first. Of course, the budget. Because of bigger the ring, bigger the size of the diamond or the stone, higher the price you pay not only for the stone but also the metal that will be used to make the ring, which is normally in gold.
Match with your style. Many cocktail rings will be spread on the table, but with your intuition, which matches your attitude, the color that suits you and overall blends with you and glorifies your style statement.
Also, choose the one which can be worn on multiple occasions and which matches with most of your wardrobe collections. It should not look gaudy, therefore wear minimal jewelry whenever you wear a cocktail ring.
Should you buy a cocktail ring?
Not everyone can carry off a diamond cocktail ring with ease, and not everyone is comfortable wearing it. Not everyone has a taste in them. So, it is completely a personal choice. Wear only if you are comfortable with it, otherwise, it shows on your face and would not be worth the investment.
Summing up…
Wear the diamond cocktail rings with great care and caution, since they are larger in size, risk may be that they keep banging against or entangling with one thing or the other. Also, it needs to be cleaned and polished frequently and stored safely. Also, at times using an intelligent technical setting, the same ring can offer changeable stones that can match your outfit without buying more than one ring. Don't forget to check on that!