How to Choose a Diamond Solitaire Pendant
When it comes to beautiful glittering jewelry, nothing comes close to a diamond solitaire pendant. It is one of the most popular types of diamond jewelry because it is worn in a conspicuous position. A solitaire pendant rests close to the heart and adds a dash of style to your upper torso.
The unrivaled Impact of a Diamond Solitaire Pendant
A single hanging diamond pendant adds fire and sparkle to your outfit and oozes elegance and sophistication. The simple necklace instantly transforms your outfit and makes it classy and glamorous.
Unlike diamond rings, a diamond solitaire pendant is easier to gift without any confusion about your intentions. It is the ultimate gift for any special person in your life, or for any occasion.
The simple styling of a solitaire pendant makes it the perfect piece for people of all ages, and on all occasions. It will become the easiest piece to wear in your jewelry collection. A diamond solitaire pendant is a perfect gift for a valentine, your anniversary, as promise jewelry, graduation, or a gift on mother's day. 
Shopping For a Diamond Solitaire Pendant
As it is with all diamond jewelry, buying diamond solitaire pendants is not easy. There is a lot to consider before selecting a pendant. The things to consider include necklace styles, sizes, chain styles, metals and diamond varieties, among other things. Many jewelry lovers regret their purchases because they never took the time to do their research.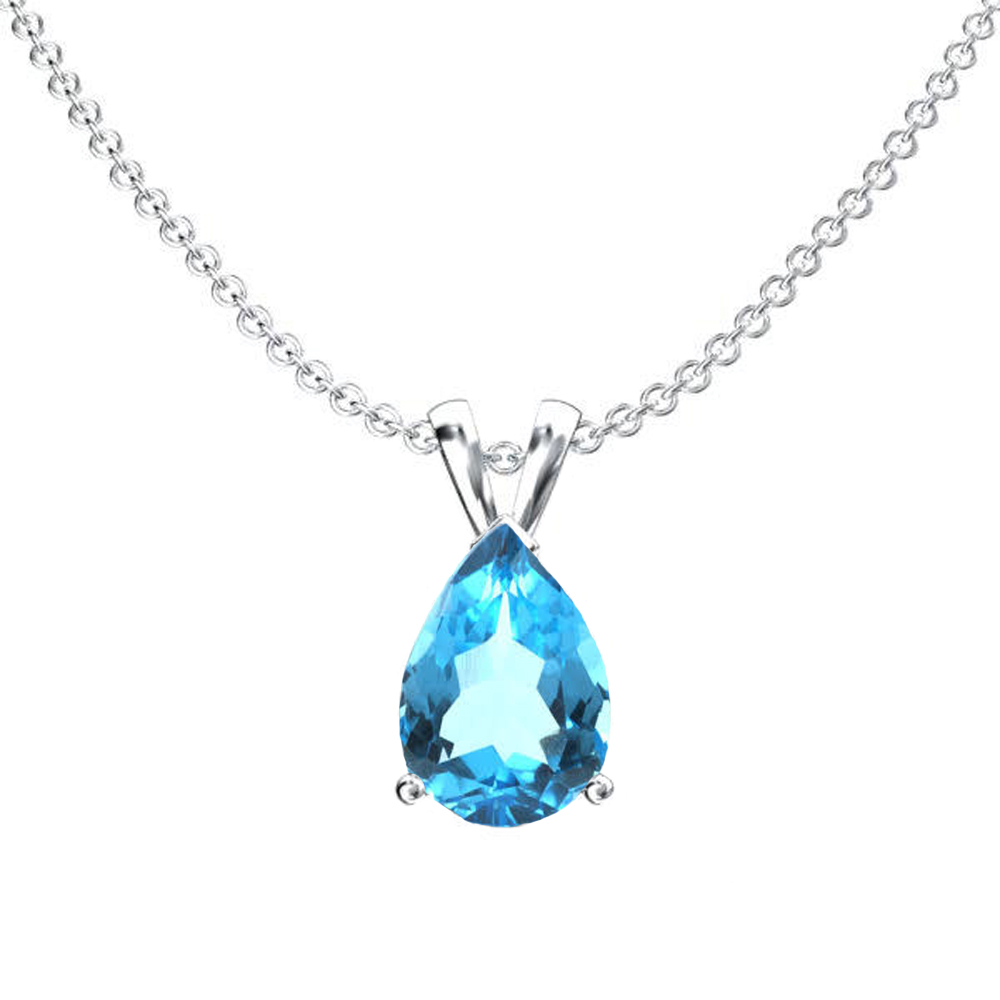 This guide seeks to make things easier by offering effective solitaire pendant shopping tips:
1. Set your Budget
As a rule of thumb, you should never go shopping for jewelry without a budget in mind. If you love jewelry, it is easy to get sidetracked by the beautiful pieces you see everywhere you look.
Shopping without a budget might end up with you buying everything else except that diamond solitaire pedant you needed. A budget also makes it easier for your jeweler to find the perfect pendant for you.
2. Buy the Perfect Diamond
If you want your solitaire pendant to dazzle, then you have to take time shopping for the right diamond. You have to consider the 4Cs of diamond quality, namely:
Cut: This is the most important factor when shopping for a diamond as it determines the sparkle, fire, and brilliance of the stone. Always spend more on the cut and upgrade further if your budget allows. While choosing a pendant, go for a good, very good or excellent diamond cut.
Color: Although most expensive diamonds are colorless, you do not have to spend much to find a beautiful stone. You should consider stones from the color range of 'F' or 'G' for better fire and brilliance.
Carat: This is the measure of the weight of a diamond. A one-carat diamond is visible enough and will work well for your pendant. If you have the budget, you can go for a heavier stone, but remember defects in the stone, if any, will be more visible in a larger diamond.
Clarity: This is the measure of inclusions in a diamond. You should ensure that the stone you choose has no visible blemishes. Pendants are in a direct line of light and any inclusions will diminish the beauty of the piece.
Diamond shape: Diamonds are available in a wide variety of shapes. Choosing the right shape all comes down to your preferences and style. Popular shapes include the princess cut, oval shape, heart shape, emerald cut, pear shape, Asscher, cushion, round brilliant cut, and others. You should also look for a diamond shape that complements the shape of your face.
Diamond certification: Make sure you purchase diamonds that are GIA certified to ensure your peace of mind. Such certification by an accredited third party guarantees the stone is authentic and graded on the 4Cs.
3. Diamond Pendant Setting
Gold and platinum are the most popular metals for pendant settings. These do not tarnish easily and work well with the brilliance of a diamond. When choosing a setting for your pendant, consider the safety and level of visibility of the stone. Some of the common pendant settings include bezel and prong setting. Prong settings leave a lot of the diamond surface visible, which adds to the sparkle and beauty. However, this setting is not very safe as the prongs can break or bend, thus releasing the diamond. Bezel setting, on the other hand, is safer but wraps a larger surface of the diamond. If you have concerns over the safety of your diamond, you should go for a bezel setting. You should take the time to look at other settings to find a style that suits your needs perfectly.
4. Choose the Right Chain
After spending so much on the diamond and spending time selecting the setting, you have to get the best chain to go with your pendant. The material has to be tough and durable especially if you plan to wear your necklace every day.
The best chain length is around 16 to 18 inches and allows the pendant to fall right into the sternum for perfect visibility. This length range is comfortable to wear and it works well with most outfits. You should avoid wearing diamond pendants on chokers or very long chains.
The metal used to make your chain is also important. You can select gold or platinum for a classy or elegant look. Yellow gold has a vintage/classic touch to it, while platinum complements the brilliance of your diamond pendant. 
Wrapping Up
Diamond solitaire pendants are a great addition to your jewelry collection. A solitaire pendant is also an ideal gift for any occasion. When shopping for a diamond solitaire pendant, set your budget, take time to choose the perfect stone, find the best setting, and a strong chain for your necklace. Go on and use these tips to buy that dream pendant for your necklace.